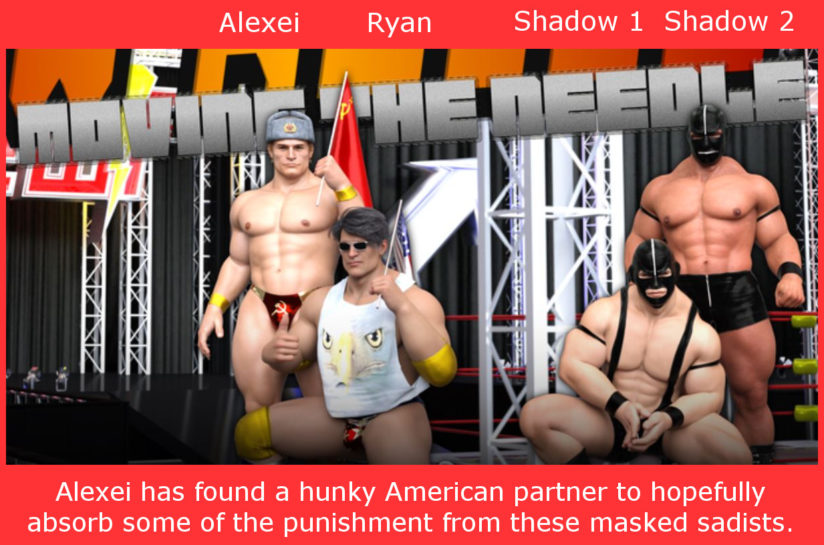 Before I transfer to my new blogging platform at wrestlingarsenal.newTumbl.com, I want to let you know that the artist known as Perfect Slam has completed another violent and sexually explicit graphic novel in his Few Rulez series. Episode #9 is a Tag Team contest (my FAVORITE!) featuring Alexei — the artist's beloved Russian whipping boy — and his beautiful new partner Ryan. Their opponents are a pair of muscular brutes in kinky black fetish wear.
This whopping 72-page eComic is available for download for $15 on Gumroad. Check it out! I will post some screencaps below of the action, gear, and amazing artwork to give you a sense of how detailed and sexy this is. Damn I love Tag Team wrestle-art!
---
First, we get a brief introduction to the new Heel team, the Shadows, by way of a few frames recapping their recent squash match where they defeated and took into custody some unfortunate Black jobbers.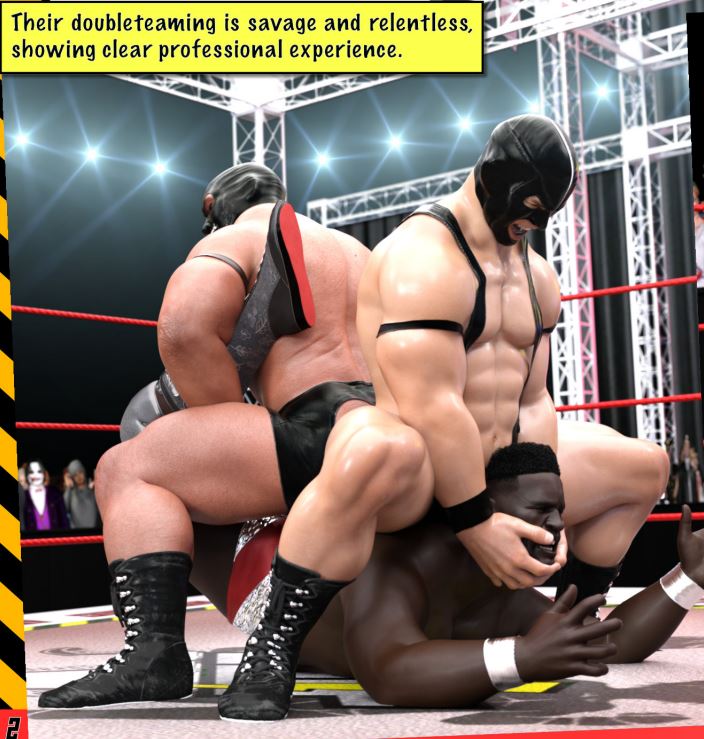 Apparently the Shadows like to kidnap and hold hostage their beaten opponents, which certainly raises the stakes for poor hapless Alexei and Ryan, looking amazing in their little flag bikini trunks!
The artist must've been in a sadistic mood when he wrote this story because he didn't even give the Good Guys a couple pages of Baby-Face Shine. He went right into a Heel Stomp-a-Thon before the bell rang followed by tossing one of the Baby-Faces (Alexei) violently out of the ring and busting his nuts.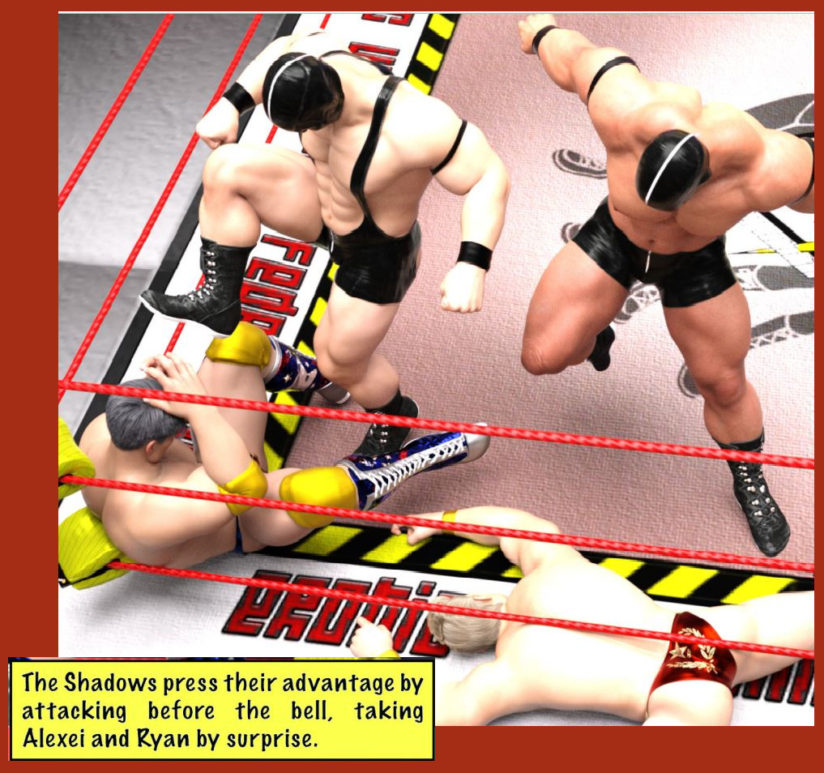 With nine eComics now under his belt, Perfect Slam is really putting together an impressive oeuvre of queer (and sometimes straight) wrestling artwork. The following chart provides links to my reviews of his previous eComics and a link to download a copy of each episode for a small fee. This is over 200 pages of high quality wrestle-porn featuring your favorite moves and holds, swole rassler physiques, great attention to detail, and plenty of post-match (and during-match) sexual situations.
---
After Alexei is tossed out of the ring, one of the Shadows follows him out to Suplex him onto the ringside steps. This is perhaps my favorite image from this ebook — although there are several other really close contenders:
Now with Alexei injured outside the ring, we get to the part of the match I always savor: Double-Teaming of the lone Face-in-Peril…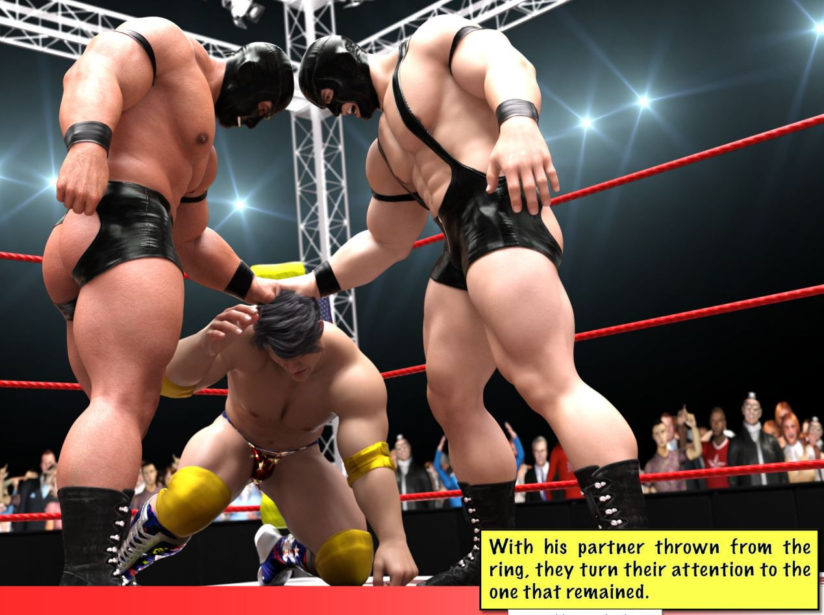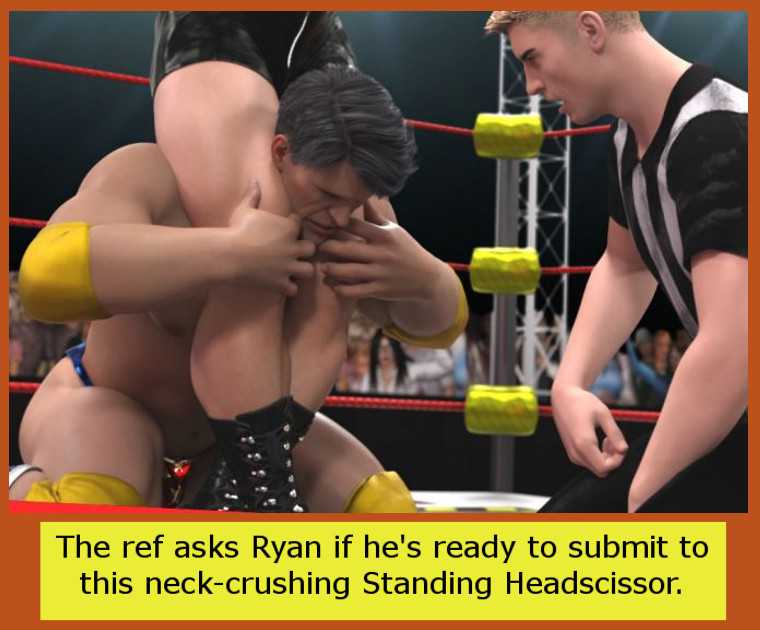 The above Scissor really does it for me — the curvy legs, the criss-crossed boots, the handsomeness of the victim. The whole "Ask Him Ref" scenario. I cut off the top of this image to save the surprise for when you download the book, but the Shadow is actually flexing both biceps in dominance and looking buff as he pours on the pressure, which is HAWT! Then he has a speech balloon: "Your pain is my pleasure!" I thought that was pretty sexy too — you'll see what I mean when you download the whole thing.
Holding the bitch by the hair as he makes the Tag — brilliant! This is the sort of subtle moment we see all the time in Tag Team wrestling which absolutely eroticizes a match. Perfect Slam "gets" pro wrestling and incorporates moments like this which I totally appreciate and enjoy.
---
Well I'm supposed to start work now so I will stop here. What I'll do is continue my review and post the additional images I created from this match on my newTumbl blog. You can Follow me there for more of this hot artwork, or obviously just go download the eComic.