Many pro wrestling matches use sexual innuendo to entertain and titillate the audience (The ability to sense that erotic vibe may determine which viewers are turned on by pro wrestling.)
This match between Ethan Page and Tyler Nitro recently posted to YouTube is a good example of sexual suggestions used in the ring.
---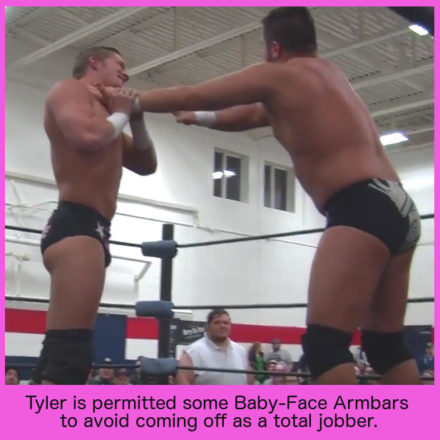 I last blogged about Ethan Page — the victim of this Wristlock — after his violent and kinky match against Jimmy Jacobs (which was Jacobs' swan song.)  Hot damn, Page has continued to bulk up wonderfully and I like what I see!
What a big, glorious, dangerous heavyweight he has blossomed into. we need more Big Shirtless Men in pro wrestling!
---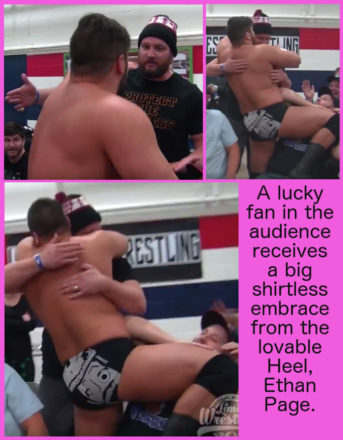 I believe Nitro had flipped off some loudmouth fan at ringside who was heckling him.  Ethan Page decides to kick off the sexual innuendo by showing the insulted fan some Bro Love, exiting the ring to wrap his arms around the guy.  The fan willingly accepts this warm Bearhug, getting his arms all around Page's thick bulk and holding him tight.  Awwww.
While embracing the affectionate fan, Page plants his boot in another fan's lap, his massive leg pinning the guy to his chair.  Did he really need to do that?  Couldn't he hug Fan #1 without mounting and humping Fan #2?  Or is he just spreading more love?
---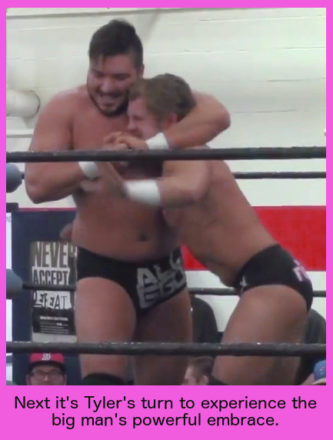 Back inside the ring, Page proceeds to brutally knock Nitro's dick in the dirt and it is glorious to watch!  Page is so heavy and solid, like a Sherman Tank, and Nitro is like a graceful gazelle getting run over and crushed by said tank.
One story line behind this match is that Nitro is lost and helpless without his former Tag Team partner, Cam Zagami.  We saw last week on 9/11 where their successful male bond was severed, enabling a female wrestler to over-power Nitro.  If a girl can beat him, this huge, masculine stud Ethan Page is going to totally OWN the kid!
---
Adding to the sexual innuendo in this match was Tyler's frequent adjusting of his too-snug little trunks.  He is constantly pulling them down out of his crotch and crack, drawing the audience's gaze each time.
Other viewers of this YouTube video noticed Tyler's "small bikini," posting comments such as the one underneath this animation.
---
Have I written enough already about how much I'm digging this big, masculine Ethan Page?  He is a living, breathing sexual innuendo in his trunks and boots.  The last time I blogged about him, a reader noted his attractiveness and provided a helpful link:
"The handsome devil has continued to bulk up over the past couple of years to the point where he's earned a place of honor on the HotFatBoys tumblr site:
http://272gold.tumblr.com/tagged/ethan-page
The added heft only serves, in my opinion, to amp up the sex appeal of Page, who without a doubt is one of the hottest Doughboys grappling on the wrestling circuit these days!"
---
I enjoyed this innovative and devastating move by Ethan Page.  Tyler climbs the ropes, preparing for some fancy aerial attack.  The big man grabs his wrists and just WHIPS him down, utterly destroying the lean pretty-boy.  As I wrote back in 2016, I really need to watch more Ethan Page matches!
The most blatant sexual innuendo of the night occurred after Page whipped Nitro to the ropes, then leaped up in the air.  Nitro then refused to run underneath Page's split legs, which prompted Page to complain:
"You go underneath!  I jump, you go down.  You go down RIGHT HERE!" (while pointing suggestively at his crotch.)  Ethan Page knows how to get us to want to watch more wrestling.
---
Page finishes off his smaller opponent by grabbing him by the seat of the pants to slam him on his back, with Page's bulk adding to the breath-taking force.  Spreading Tyler's legs in those tiny trunks implies a sexual violation, prompting one viewer to comment:
"i got a boner by watching nitro getting pinned almost naked."
To conclude the video, the big man steps on Tyler's gut, crushing him under his boot.  This is a nice final display of nastiness, an unnecessary bit of humiliation to further emasculate handsome Tyler Nitro.  If you're into it, there is a ton of sexual innuendo — a kinky S&M vibe — to be found in big Ethan Page walking all over his submissive victim.