I recently saw Ryan Howe in a match on YouTube and enjoyed what I saw.  Known as the "Wrestling Rockstar," he wears the long golden hair, headbands and wrist cuffs of a late 1980's Glamrock lead singer.  But it's that swole body that got me interested, no matter what costume he is wearing.
In the 1980's, the fashion of heavy-metal rock merged with the fashion of pro wrestling, and many wrestlers used the "Rock 'n Roll" gimmick.  The hard-jamming and hard partying lifestyle of the rocker was co-opted by wrestlers who wanted to portray that vibe.
The long pretty hair, jewelry,  and sometimes make-up worn by rock stars was meant to challenge gender roles, blending masculine attitude with feminine flirtation.  Wrestlers could see this was a turn-on for the fans and quickly incorporated flamboyance and sissified antics in their matches.
---
So this "Rockstar" Ryan Howe is a throw-back and I am digging it. He reminds me of a young Triple H or Chris Jericho, who both got me off in their younger days.
Howe's opponent in this recent Ohio Valley Wrestling match is this well-built baldie in all white gear — Randall Floyd.  It seems I need to start watching more of OVW on YouTube if they have talent like THIS these days!
---
One nice thing about Howe is that he doesn't wear the jeans or long tights favored by most Rockstar wrestlers.  Instead he wears these snug little trunks made of a thin stretchy fabric.  And spectacular silver boots — I am digging his look.
His muscular physique adds a lot to his visual appeal as well.
---
Maybe my appreciation of Howe's gimmick stems from the many Young Rockers who looked just like this, and who I watched obsessively.  He's got the classic wrestler look.  He looks like Mickey Roarke looked when he played the archetype of a veteran wrestler in the movie, The Wrestler.
---
The commentators tease Ryan Howe's finishing move — the "Whammy-bar" — each time he twists Floyd's arm.  I love how the Rockstar uses a music related term for his patented Killer Move and I can't wait to see it.
---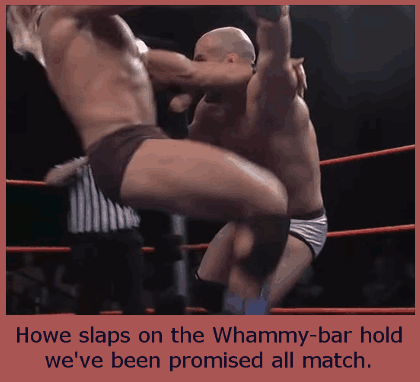 This is the Whammy-bar, with Howe bending his victim's shoulder against the joint.  The move is meant to resemble a guitar player tweaking the lever on his electric guitar to distort the tone of the music.  I think it's a sexy move, with Howe playing Floyd like his instrument.
I like both these guys and definitely want to see more of them.
---