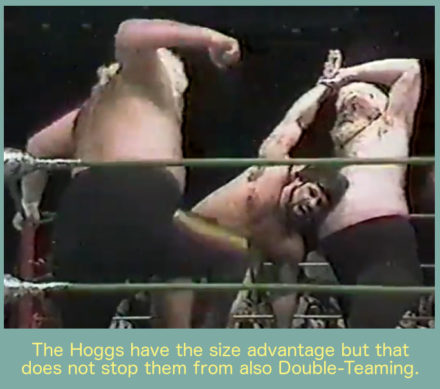 A Tag Team is referred to as a "Bookend" when the partners look and dress alike.  I've noticed that I'm more turned on by a Tag Team match when both teams are Bookends.  To my delight, an old video was recently posted to YouTube featuring the Batten Twins in matching turquoise trunks against two blond bearded Beasts named the Wild Hoggs!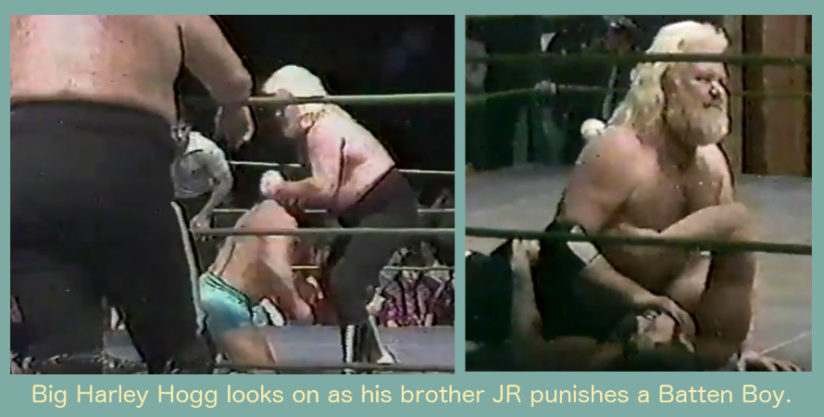 Damn, these big Hoggs are glorious with their long platinum hair and viking beards!  They're nice and fat too — adequate in weight to convincingly crush the much-smaller Batten Boys.
This 1985 match happened before the Batten Boys became a competent team that could sometimes win matches — they were still White-booted Jobbers when the Hoggs got ahold of them.
---
The yellow stripes down the sides of Harley Hogg's legs are everything – striped black tights are the best Old Timey Heel look.  I just wish his brother JR had the same stripe so they would match perfectly.
The Hoggs can wrestle too, by the way.  They don't just throw punches and belly-buck like Big Daddy for example.  They employ Body Slams, OTK Back Breakers, all the good old moves!
---
The Hoggs implement the old Spike-His-Face-Into-Your-Partner's-Knee maneuver, with JR taking Batten by the hair and running him full-speed into Harley's waiting kneecap.   The Battens are wonderfully obedient when you grip them by the hair, letting you control them like a doggie on a leash.
I appreciated the unusual camera position for this spot — outside the ring watching from behind the outside partner's back.
---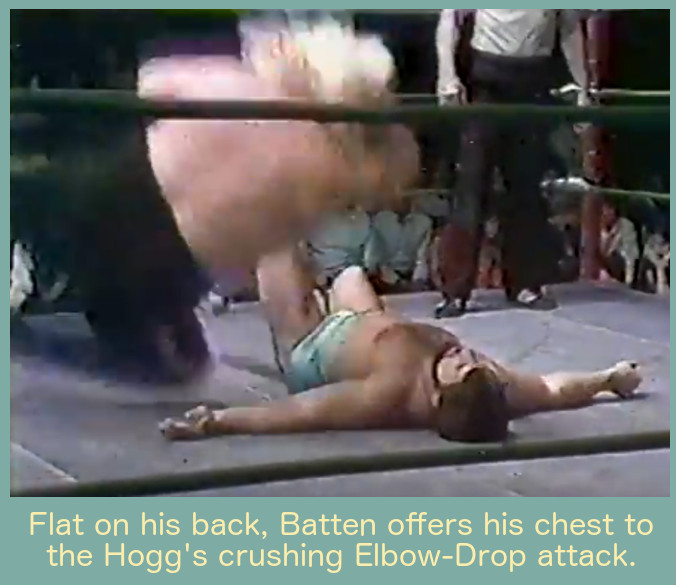 Here is how the Hoggs defeat the submissive Batten Boy — the old Joining Hands Double Clothesline.   They look so pretty doing it — so synchronized and matchy — that I'm willing to accept this as a legit Finisher, from which Batten cannot recover.
Plus, both Hoggs fell on their backs after the move (which nearly broke the ring), so it made their Double Clothesline seem more impactful.
---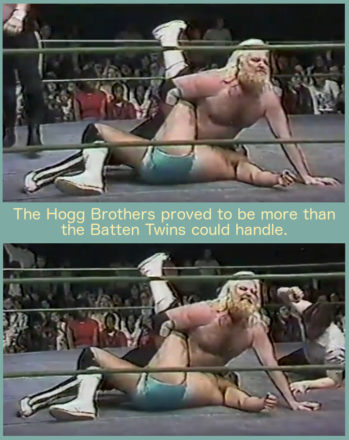 Some of you may be thinking: "Why does Wrestling Arsenal post these old Monster Squash matches??  It's blurry footage and the Hoggs are not even hot."    Well in my defense, I always love seeing the Battens in action (recall my fetish for Bookends) and I had never seen this match before.  It's a deep cut, a rare gem.  And the Battens are acting especially submissive and jobbery here, more than the will later in their careers, so that's a turn-on.
Plus, in defense of the Hoggs, I do in fact find big hairy monster Tag Teams hot in their own way, especially when they both look menacing and dress alike.  I may not fall in love with them like I'd love some cuter younger studs, but they can still be a turn-on a different, dangerous, physically dominant, hyper-masculine way.
I believe you don't need (or shouldn't even have) six-pack abs if you're the Monster Heels.  Be as ugly as you wanna be, flaunting your brutishness and raw masculinity, and I'll be swooning for you if pro wrassling is involved.