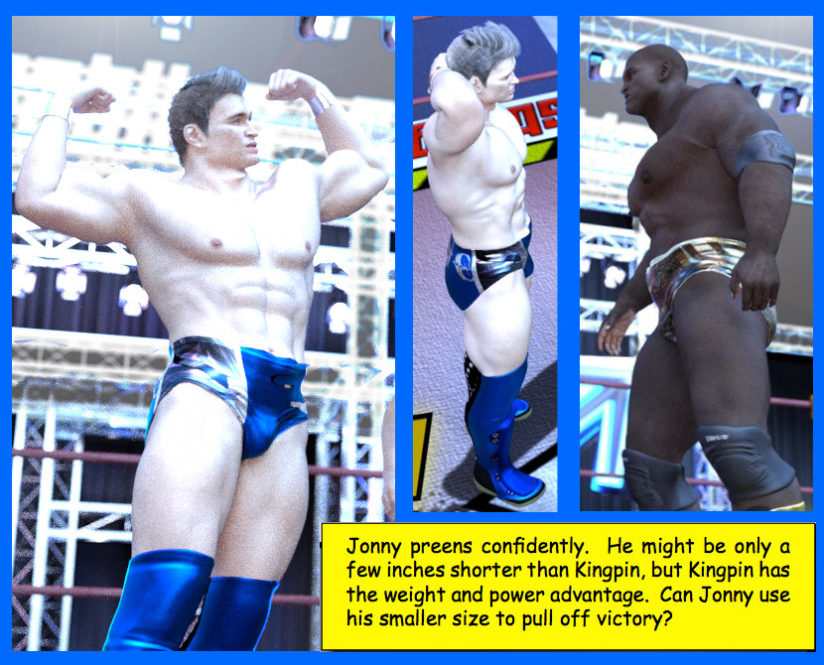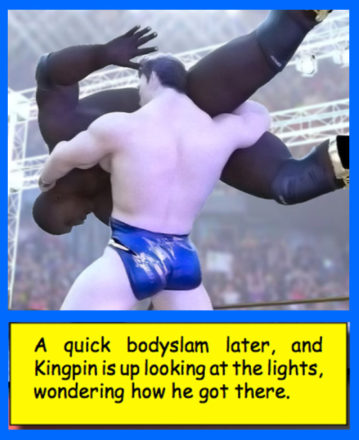 The artist known as "Perfect Slam" has completed his second pro wrestling comic book, called "Sex and Violence — All the Good Things in Life."   You can go download it for $7.58 from his new online store.
As you can see, the match involves a brash and beautiful White Meat Baby-Face known as Jonny Havoc against a "hulking behemoth" named Kingpin.  You fans of inter-racial matches will love seeing the gorgeous contrast in skin tones rendered by the artist — Jonny's translucent pink flesh pressing against the dark-complected King Pin.
---
Perfect Slam's attention to detail is remarkable — their boots are drawn beautifully with even the lace holes visible (and what pro wrestling lover doesn't get a boner from seeing the lace holes?)
Their trunks are also stellar and highly detailed, especially Kingpin's metallic gold number.
By the way, you can review more of this talented artist's work in my 7/3/17 article — "More Masked Muscle."  As I said in that article, this artist has a great eye for rasslin and can depict the most complex moves accurately (and erotically.)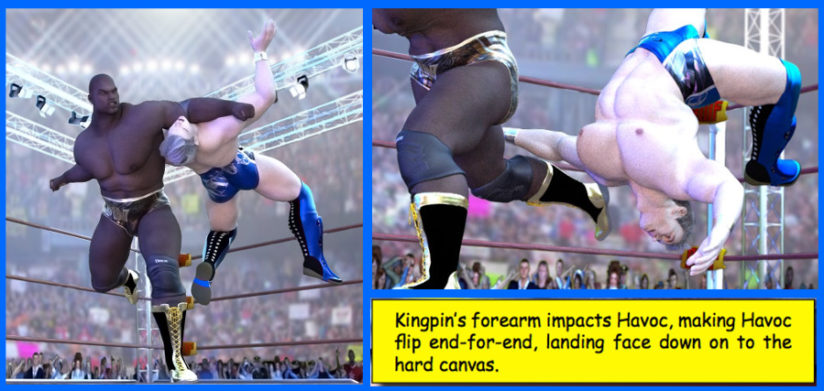 As you might have foreseen, pretty-boy Jonny begins to suffer a painful squash inflicted by the powerful champ.  Look at that body on Havoc — what artistry!  Is it weird to lust over a cartoon character?
Kingpin slams the pretty-boy's face into the corner turnbuckle — a classic Dickhead Heel tactic used to dizzify the jobber so you can take advantage of him (spoiler alert.)  You will have to download the full comic if you want to see all the post-match shenanigans.
---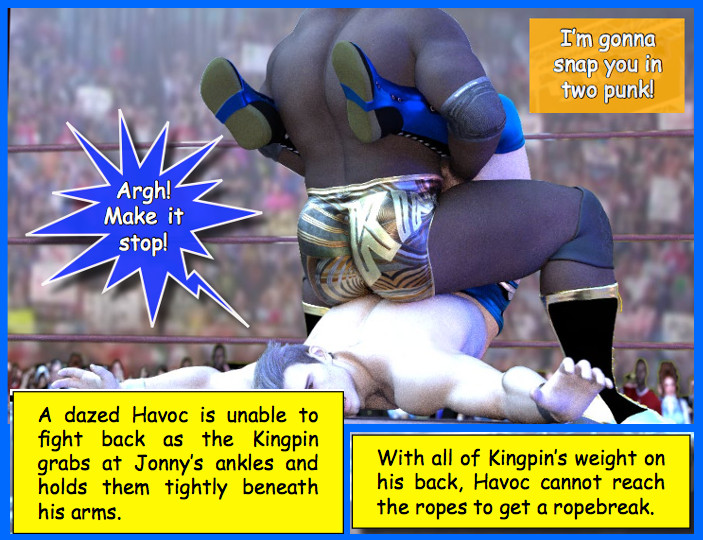 I am so pleased to see more and more artists using pro wrestling as their muse, especially Male-on-Male pro wrestling.  So I'm happy to support their artwork on this blog (which may lead to even more hot rasslin' artwork being created.)

After my prior article celebrating Perfect Slam's work, he noticed an increase in sales, so he gave this blog the above Shout-Out in his second comic — thanks bro!  In fact, he was thinking about creating a Male-on-Female story for EWF Volume 2, but switched it to Male-on-Male (i.e., Jonny vs. Kingpin) to supply our demand.
So I want to thank you guys, my loyal readers, for purchasing EWF Volume 1 and I encourage you to get Volume 2 also — it's like under $8, it's over 30 pages long, and it's hot.  You can also see more of this artist's work on his free Tumblr site.