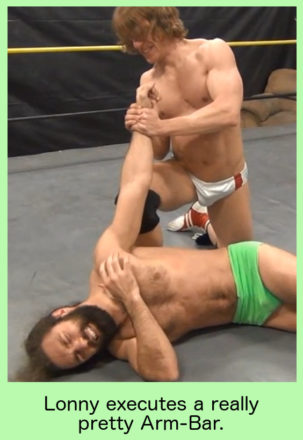 Two of my favorite Underground wrestlers — Lonny DuMont and Zach Reno — faced off  in this recent offering from the Wrestler 4 Hire website.  I download most Lon DuMont videos I come across (what a smarmy, clever, sexy Heel he is!) and this one was no exception.
Lonny's body is lean and hard, which makes it plausible that he can dominate even the much larger opponents he faces.  He loves to put dudes to sleep and then pose with one foot on their chest as you can see in my earlier articles singing his praises.
And Zach Reno is pure eye-candy with his fit, hairy body and manly beard.  I've gotten off on his matches plenty too.
---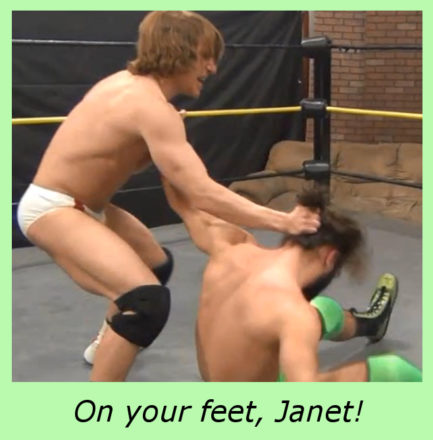 But what drew me the most to this match was the promises of hair pulling in the description:
"Reno's scrambling fingers become entangled in DuMont's golden mane…"
"a rough and ruthless back-and-forth exchange of aggressive hair pulling…"
"DuMont returns the hair pulling favor with sick satisfaction."
---
Damn I love hair-pulling in a wrestling match, especially when they have long hair.  And in this match, it's the gimmick.  It just feels so wrong and unfair, but sexy at the same time, to fight like a bitch by pulling hair.  It's effeminate to grow a long hairstyle but even more effeminate to fight by pulling hair, so it's a titillating gender bending.
---
By the way, I decided while watching this match that Lonny DuMont reminds me of one of the von Erich brothers — mostly Kevin Von Erich.  I guess it's the facial features, the long wavy hair, and those rock-hard abdominals.  This realization makes me enjoy and appreciate Lonny even more.
---
In Lonny's running commentary during the match (another thing I love about him), he talks about hair and mentions hair pulling often, to really tease us with it:
"Be CAREFUL pulling my hair, Janet Reno!  You've got a lot to pull yourself, you know!"
And have I mentioned the bulging white dick-sling that Lonny wore for this match?!  We've seen him wear it before — see my 5/25/16 Sleeper Creeper article.  However I think the pouch has gotten more stretched out and bulgey since then.  It's hard not to stare at that prominent white moose knuckle the whole time.
---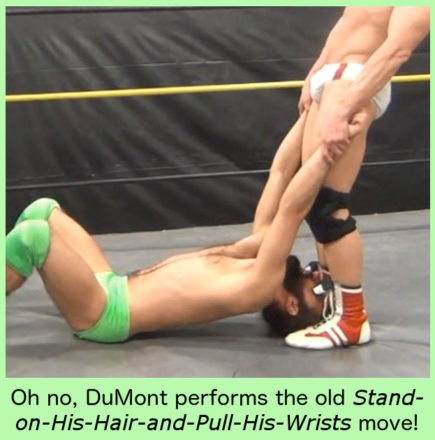 Like most of Lonny's matches, this bout has a classic old-school pro wrestling vibe (which I get off on.)  It's sleazy, campy, and a little gender-bendy.
For example, the more masculine, more straight Zach Reno with his hairy chest and manly beard, suffers under the cruelty inflicted by the smarmy, smooth-bodied villain.  It's a recipe for a hard-on to witness the emasculation.
---
Then there was this really beautiful long Sleeperhold.  At one point, Lonny makes some comment to the effect of, I've got you until I feel you go limp in my arms.  My oh my — he definitely got me with this one.   This Sleeper scene was not the finish of the match by the way — Zach woke up and they wrestled much more.
---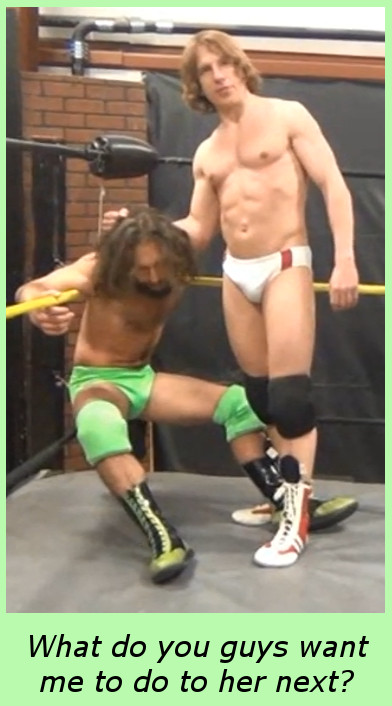 So to sum it up, these guys did a fantastic job and struck all the right chords for me — ripped dudes in pro style gear, bitchy hair-pulling tactics, sexy trash talk, several long Sleeper scenes, a foot-on-his-chest Victory Pose (take a guess who), and much more.  It's a Must See for wrestling fans who get off on hair-pulling.
If you don't understand why hair-pulling can be exciting, check out some of my old articles on the subject where I explain why I dig it: