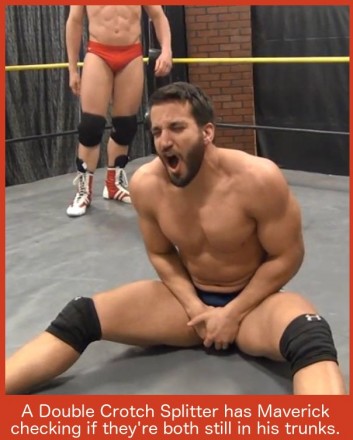 A couple of days ago, Cameron launched his new underground wrestling video download site at Wrestler4Hire.com.  Of course I had to subscribe to check it out and to give you guys an overview.  (Tough job, but I can handle it.)
There are about 200 videos available for download, so I was torn over which one should have the honor of being my first.  I finally settled on Lon Dumont and Ethan Andrews working over Maverick.  After all, I am a sucker for two-against-one matches, and all three of these studs are Sure Things — each of them having put me over the edge on more than one occasion.

Lon and Ethan, in their complimentary orange briefs, work together to quickly subdue big Maverick.  If you get off on totally unfair muscle squashes, this one is tailor made for you.
Check out long-haired Lon with that cocky One-Elbow-Leaning-Scissor as Ethan slides in to lock his legs around their squeeze-toy's neck.  This is great work!
The recurring motif in this match is "big guy out cold."  Over their long careers, both Lon and Ethan have perfected many variations of the dreaded Sleeper Hold, and they want to try them all on the buff, bearded Maverick.
With his gym-built physique and authentic full-sized pro trunks, one should expect the big pro to dominate these little underwear scrappers, but one would be wrong.
Maverick is so great at what he does  — just look at those big arms draped helplessly over Lon's legs, his head drooping pathetically when the sadistic little jackal has mercy and releases his grip.
And Lon is the master of trash talk, expounding several times on the bulk and power of his defeated play-thing.  He tells Maverick: "You've got arms that are the size of legs, and legs that are the size of… fat midgets or something."  You can tell Lon and Ethan love their work, relishing their feelings of power as they stand and pose with their feet planted in victory on Mav's chest.
So in case you can't tell, I really dug this match and highly recommend it.  However, full disclosure, it was not available through my $40 monthly subscription to Wrestler4Hire.
The subscription gets you access to maybe one-tenth of the 200 videos at this time and to all the image galleries.  You have to pay again to download ($26) or stream ($17) most videos.   This one was sure worth it in my book!