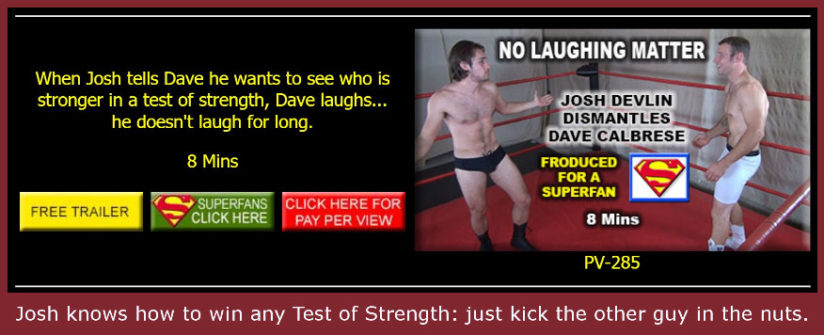 This gallery continues the recap of one of my reader's experiences with ordering customer wrestling videos from No Rules Wrestling (NRW).  My reader, who happens to run the WR Screencaps wrestling blog, wrote detailed scripts to be acted out, depicting the pro-style action and moves he wanted to see. Here are his comments…
---
"I also enjoyed my third video No Laughing Matter: Josh Devlin Dismantles Dave Calbrese. 
Babyface Dave is confident of victory but a low blow knocks the wind out of him and Josh goes on to dominate the match."
---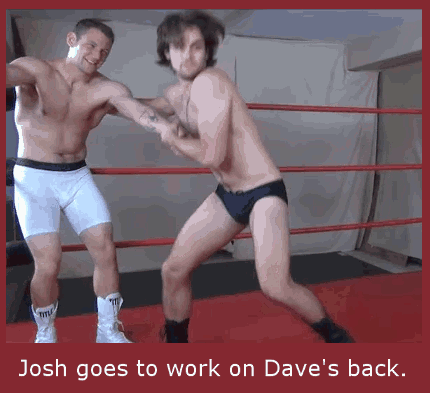 "Dave tries to hang on but he's overwhelmed by Josh. The script wasn't followed as closely as my first video, so I'd rate it slightly lower, but it's still well done."
I agree.  This one was hot — especially that revealing little black bikini and matching boots on Josh Devlin.
---
---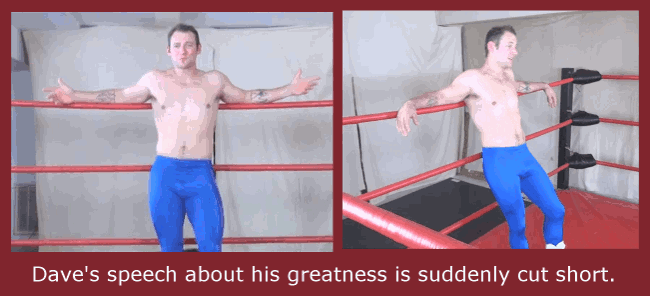 "My fourth video was Jeff Clark Destroys Dave Calbrese. They're both good wrestlers but the energy level is a bit low. It just seemed like they were going through the motions.
It also bothered me that Dave's gear was changed without asking me. I requested Dave wear a blue speedo or trunks but they had Dave wear tights. I would've had Dave wear a different color, if they felt it was clashing with Jeff."
---
I downloaded all of my reader's videos (they're only like $10 each) to check them out and to create the images in this article.  I actually found a lot of similarities between his third and fourth videos.  For example, both feature Dave Calbrese as the over-confident show-off  being broken down to a submissive jobber:
Both include a gorgeous Over-the-Knee Backbreaker scene:
In both matches, we get to enjoy some hot Elbow Smashes onto Dave's injured lower back.  I really dig the old-time pro wrestling action that W.R. included in his scripts!  And I'm kind of digging the blue super-hero tights with white jobber boots on Dave Calbrese, actually.  Check out Dave selling his spinal pain each time a stiff elbow strikes his lumbar vertebrae:
---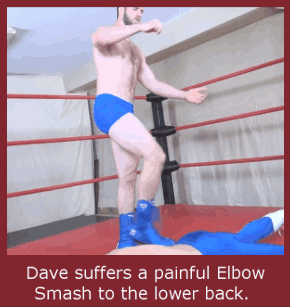 ---
We start to get a sense of the holds and scenarios my reader likes best: back punishment, one-sided squashes, dirty sneak attacks.  As a pro wrestling fan from way back, I'm into exactly the same things so I'm happy that he decided to invest the funds to purchase these customs.
We also see a tight, devastating Bearhug performed in both of these matches, see below.  Actually we saw really hot Bearhugs used in WR's prior two matches as well (Jason on Luca, and then Luca on Dave.)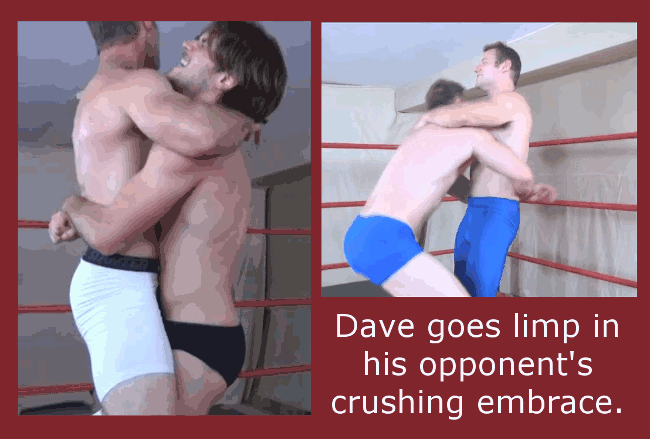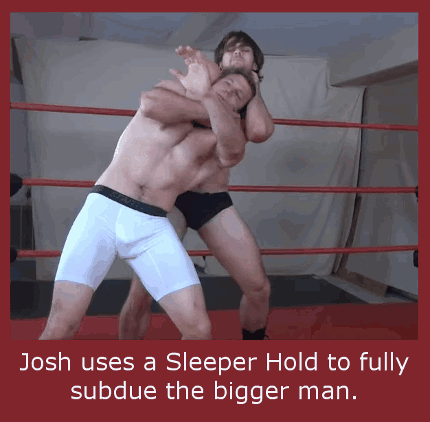 And what wrestle-porn video would be complete without some long, sexy Sleeper Holds?  Both Josh and Jeff utterly ragdoll poor Dave with some prolonged Rear Naked Chokes.
I like Backbreakers.  I like Bearhugs.  I like Sleepers.  So if I had written the scripts for these Custom matches, I would've included many of the same holds.
---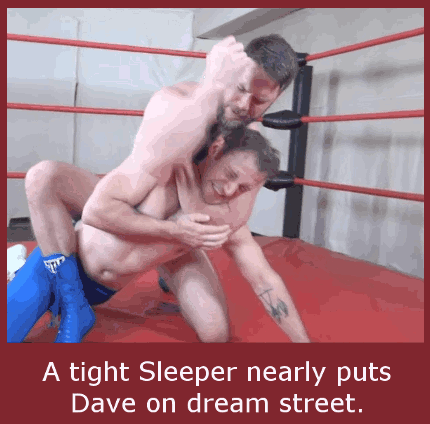 By the way, my reader mentioned another inexpensive source of custom videos not focused on wrestling — so it may not be my cup of tea but maybe some of you will be interested:
"I've found my best value customs have come from the fetish site Film 911. It's not wrestling but it has a similar vibe with "young men in peril". My personal favorite is Jonathan with Dr. Smith part 1.  It runs 12 minutes and it cost me $200."