The Wrestler4Hire website is holding a Fourth of July sale — 15% off any video downloads.  So if there's a hot match you've been meaning to grab, today would be the time to do so and save a few bucks.  Today (Sunday 7/7/19) is the last day of the sale however, so act now.
For example, I've been meaning to check out this Austin Cooper vs. Jaxton Wheeler gear fetish video, so I took advantage of the savings.  Doesn't Austin look absolutely delicious in his white jobber trunks with red stripe at the hip?!?   I'm starting to think that I like him better as a Jobber rather than Heel.
---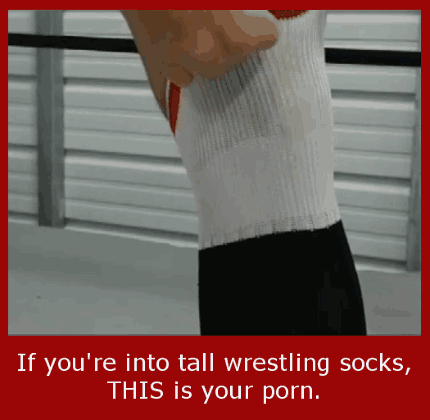 The gimmick of the match is socks — tall knee-high white socks which Austin yanks up practically to his nuts.
I suppose someone with a sock-and-boot fetish commissioned this match and it turned out so good, they decided to put it up for sale to the general public.  Thanks a bunch to whoever paid the big bucks to make this video — I sure enjoyed it!
---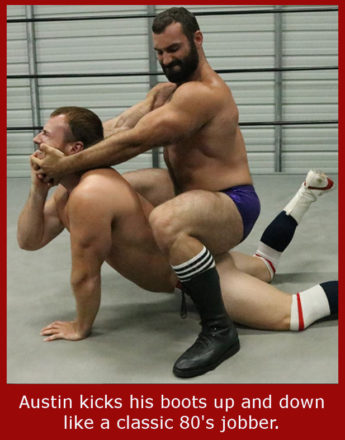 The match itself is essentially a Squash Job with pretty-in-white Austin playing the suffering Baby-Face and hairy-chested, swole AF Jaxton Wheeler as the dominating Heel.
Even if you're not into tall socks, this is still a visually appealing and well-performed pro wrestling bout with many hot punishment holds and great selling by the veteran Austin Cooper.  Even if you missed the 15% sale, this video is well worth full price — hell, they could've charged me an extra 15% and I'd still be a satisfied customer.
---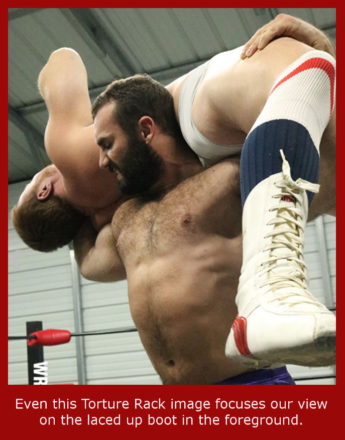 Someone did a fantastic job selecting Austin's matching gear — the white boots with a red swoosh on the heel, the white socks with red stripe, and even white trunks with a red side panel.   Very well coordinated, like a classic Baby-Face hero.
It is refreshing to see this fussy attention to detail, which we expect from the top tier pro wrestling federations, now at play on the Underground wrestle-porn scene.  I'm sure whoever commissioned this video noticed these subtle clothing details and appreciated them as much as I did (or perhaps he paid extra to get the costumes just right.)
---
By the way, this is not the first time Austin has wrestled Jaxton.  Back in January 2019, I blogged about a Sleeper Fetish match they did, where Austin was in control, repeatedly knocking Jaxton out.
These two always do great work — they're obviously at the top of the list when someone requests a kinky, fetish-specific video.  I like how they take turns dominating each other — Austin on top in January and Jaxton in control now.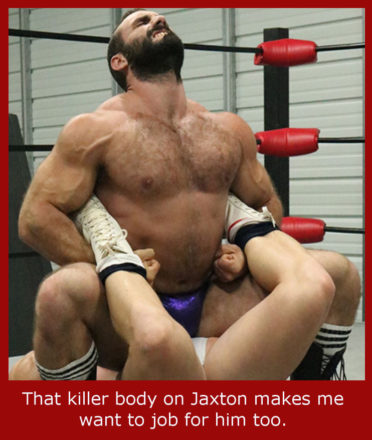 But today, Austin is the boy toy and Jaxton gets to portray the dominant Heel daddy — and what a specimen he is!  That hairy chest, those big swole biceps, the manly beard — I am definitely a big fan.
Jaxton would go on to unlace and remove one of Austin's boots, which I suppose whoever commissioned this bout paid for specifically.  I understand the image of vulnerability — Austin's socked foot exposed while Jaxton has the booted power advantage.  However, this isn't really my thing, so I didn't make any images of the boot removal.  You can buy the video if you're into that.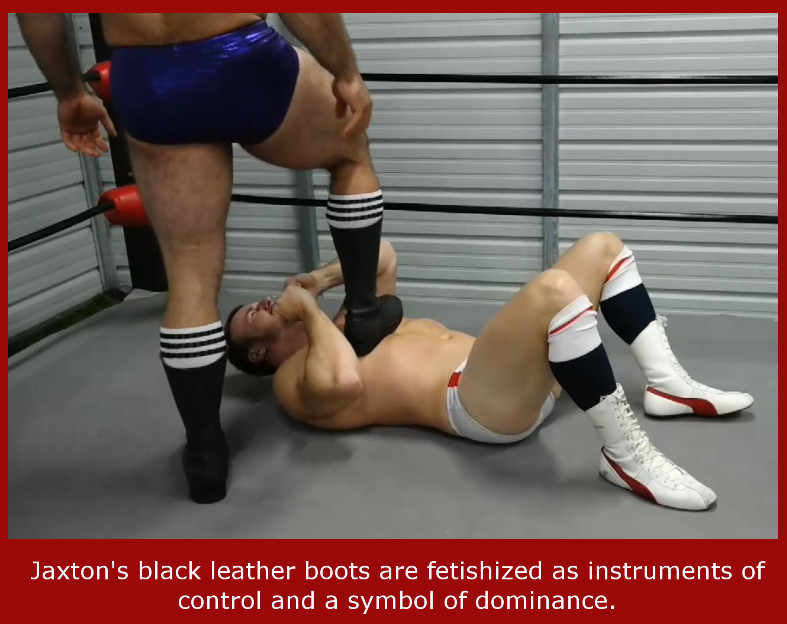 ---
Jaxton does a great job drawing our attention to the danger inherent in his sexy boots — definitely a fetish I can get off on.  The contrast between power and vulnerability is apparent when his stiff black boot-sole strikes Austin's bare flesh, pressing him back down to the mat.
Another great performance by these gorgeous studs!  Hmmm, now I think I need to write up some wild wrestling scenario and pay these two willing hotties to act it out…
---