It is a brand new year, so let's review this Blog's traffic statistics to see what Search Terms you've been googling to find this website.  You may be curious to know what wrestlers, scenarios, and holds other people have been seeking so far in 2013.  Here is a review of some of the most popular or interesting searches being conducted to date this year and a couple of images to fulfill each searcher's quest:
brad maddox
Wow, you guys can't get enough Mad-Ox.  The top search term used most frequently (besides "Wrestling Arsenal") to locate my website has been "Brad Maddox" — including any variation that pairs "Brad Maddox" with a specific part of his anatomy or something sadistic people want to do to him ("..pantsed", "…spanked", etc.)  Sorry — I don't have any images that specific, but here are a couple shots of Mr. Beef Mode himself, and if you want more, review my recent articles on Brad Maddox as a referee and as a wrestler.
schoolboy pin wrestling
I know I used the good old SBP when I actually was a schoolboy myself (and long after…)  If you want to see more variations and pinning positions, take a look at my "Pin Pals" article from early 2011.
overweight wrestler
It sounds like somebody out there is a "Chubby Chaser" when it comes to pro wrestlers.  Hey, I like a little meat on a wrestler myself, as I stated in my "Loving Large" article.  If you also like your losers to be large, don't miss my co-author's series on Doughboys.
wrestling men legs spreading
I think I get what you're looking for.  I've blogged about the wide-open legs of the modern wrestling poses in my Show Offs article, and in Trunk Show Part 1, and Trunk Show Part 2.   Are these sort of spread-eagle images what you had in mind?
foot on chest
Some of these are actually pictures of "foot on neck" instead of "foot on chest," but it's the same idea:  crazy sexy domination.  Here is an article I wrote about this very common Foot on Chest victory pose used in the wrestling ring, or check out the images below..

bondage used in the wwe
Yeah, I can dig that.  I remember enjoying some very explicit bondage used on young Jamin Olivencia in a review I wrote about one of his matches.  Here are some more ropes and chains posted here for your viewing pleasure.
biting in wrestling
I'm always glad to know I'm not the only wrestling fan who enjoys a little tooth action in his matches.  I was beginning to think I was a weirdo.  If you want to see even more brutal, bloody biting, re-visit my Halloween Gorefest articles from 2011 and 2012.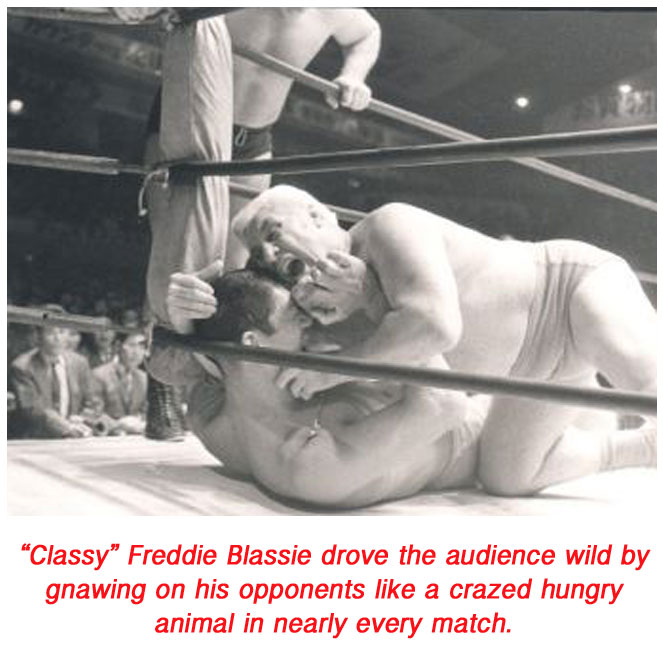 wrestling robes
You meant to type the word "robes", right?  Like what rich guys put on after a bath.  Not "ropes," or "robots," or "rubes?"   I wrote an article about the beauty and pomp of pro wrestling robes way back on Christmas Day 2005.  Here are a few more images of men strutting their stuff in some great gowns — and what review of wrestling robes would be complete without a couple photos of the Nature Boy himself?!?