I recently watched a provocative and heavily edited video on YouTube that begins with Jimmy Jacobs describing another wrestler as "gorgeous" and "a hunk."  He moans in a growling and throaty voice, as if he is maybe gently stroking himself as he expounds on the other man's beauty.  The captions underneath the photos in today's gallery are actual quotes from Jimmy's salacious voice-over commentary.
The video was produced by TNA Impact Wrestling as an advertisement for their subscription website: the Global Wrestling Network.  The producers of the video — and Jimmy Jacobs — clearly understand that sex sells, presenting the "Zombie Princess" as a homo-sexual stalker who is obsessed with the spectacular John Hennigan, AKA Johnny Nitro, AKA John Morrison or "JoMo", AKA Johnny Mundo, and now called Johnny Impact, or as Jacobs refers to him:  Johnny Gorgeous.
The premise is that Jimmy Jacobs has acquired a "Monster" — a big 400 pound savage named "Kongo Kong."
On a recent episode of TNA Impact, he unleashed Kongo Kong to assault Johnny's face — to maim the hunk while Jimmy watches, getting all turned on by the violence.
---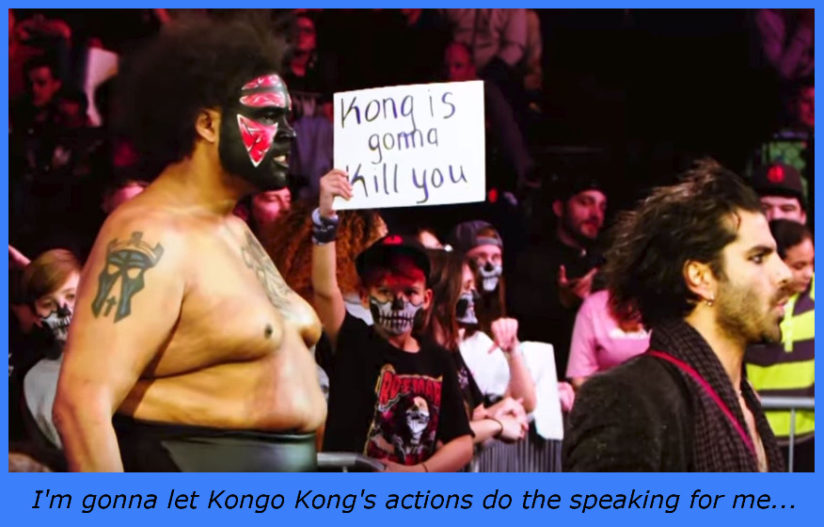 Young fans in the audience painted their faces to resemble the Heel — Kongo Kong.  And made signs threatening poor Johnny Gorgeous with destruction.
What's with this new generation, favoring the Beast over the Beauty??   Back in my day, good little boys cheered for the handsome Baby-Faces (although, I must admit, we too enjoyed it when they suffered…)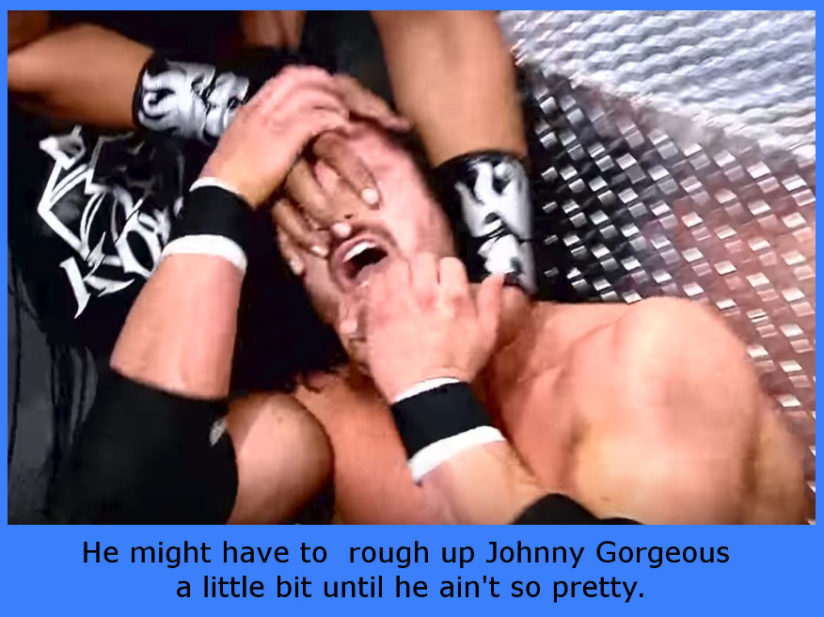 ---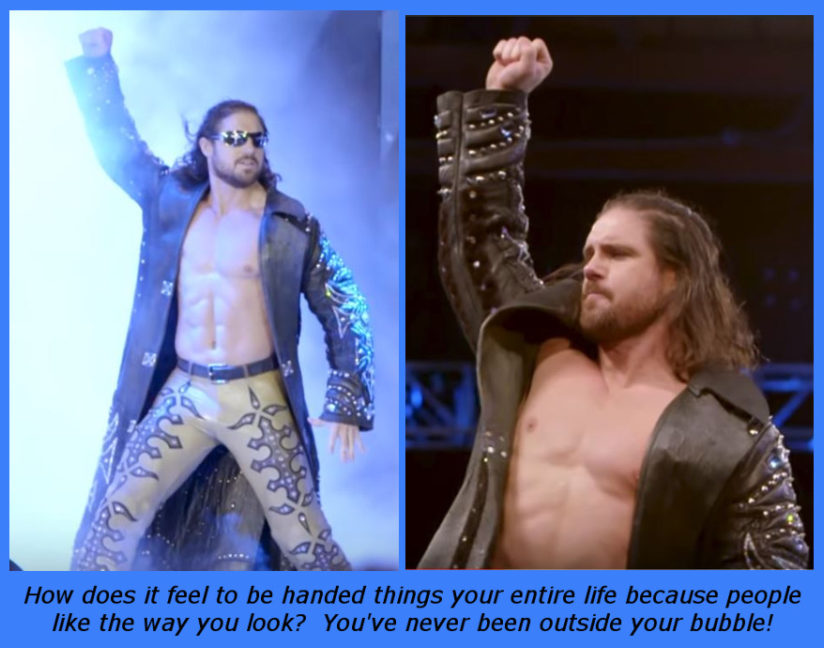 Jimmy reveals that his obsession with Johnny is mixed with sadistic jealousy.   His voice intensifies as he describes how he wants to see Johnny mangled, his good looks spoiled, out of envy for Johnny's privileged status as a beautiful hard-bodied Alpha Stud.  I'm sure they're aware that this scenario is a recipe for a raging boner.
---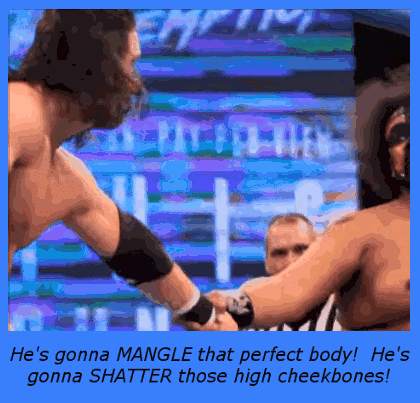 It sounds as if the Zombie Princess is really stroking hard now, nearing climax as his panting voice details the punishment his Monster will inflict.
The focus of the assault is on Johnny's beautiful face — his eyes, his cheekbones.  The Monster uses plenty of facial claws, punches, and Head-Butts to ugly up this pretty-boy, and Jacobs is on Cloud 9 or 10 as he describes it.
---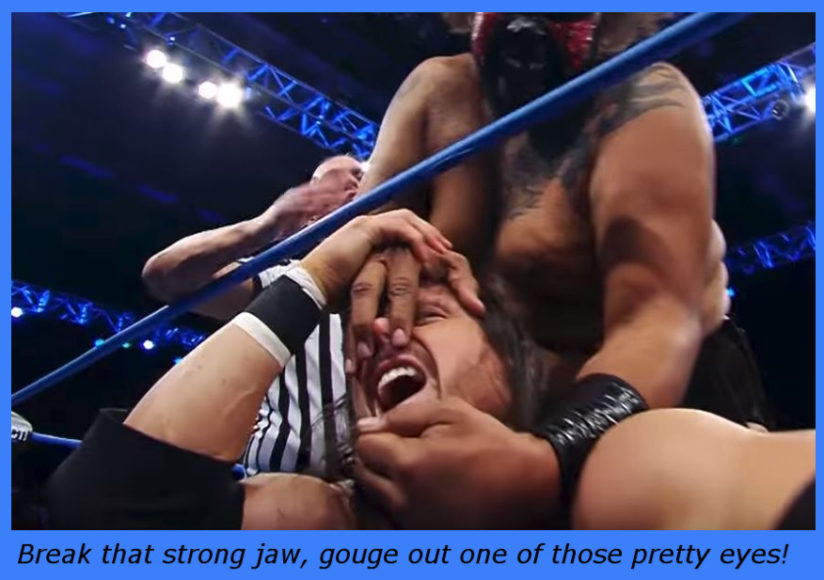 The Death Blow will be a sadistic "Lawn Dart" maneuver, with powerful Kongo Kong (King Kong) slinging Johnny Impact face-first into the steel ringsteps that the Zombie Princess has propped up on the ring apron.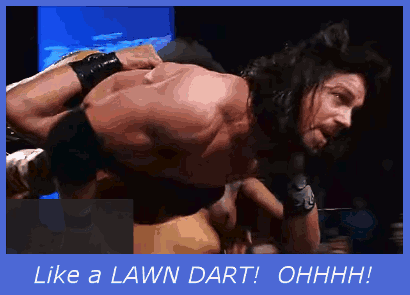 As Johnny's face bashes repeatedly into steel, we hear the commentators describing the punishment, using provocative words like "demise" and "annihilation."
Their excited verbal fluffing adds to the homo-erotic tone Jimmy has already set with all his purring and growling.
---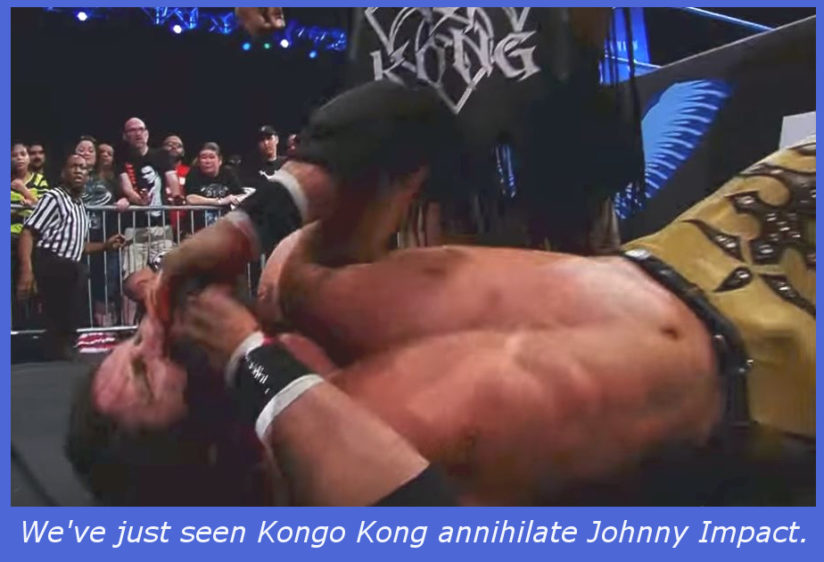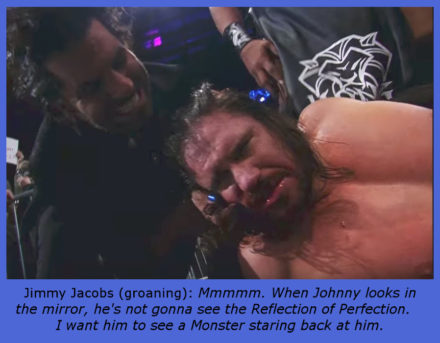 As Jimmy lifts Johnny by the hair to inspect the damage, I realize I'm sold.  I can't resist these sexy fuckers and their well-edited erotic violence!  I broke down and signed up for my subscription to TNA Global Wrestling Network and gave up my credit card #.  I'm at their mercy just like Johnny Gorgeous.
---