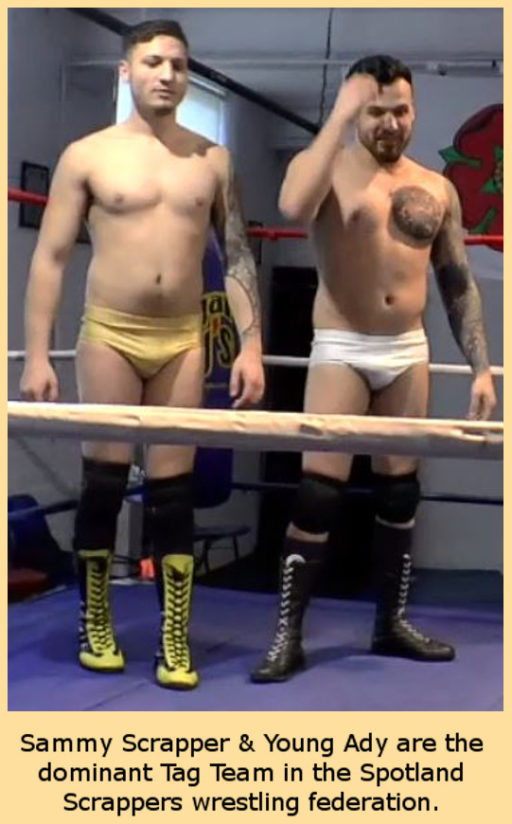 The Spotland Scrappers wrestling company in England recently posted a Tag Team bout complete with pro ring and classic trunks & boots.  I always make a point to purchase and blog about the Underground wrestling feds' Tag Team matches to encourage them to make more.
Young Ady wearing the white trunks is the dominant Alpha Male in the group.  His buddy and trainee Sammy Scrapper is his partner today, wearing snug yellow trunks and fancy pro boots.
Their jobber victims for this bout are their old friend Sam Smiler and a new guy named Franky.  I enjoyed Sam Smiler's suffering the best so I focused this gallery on his Face in Peril performance.
---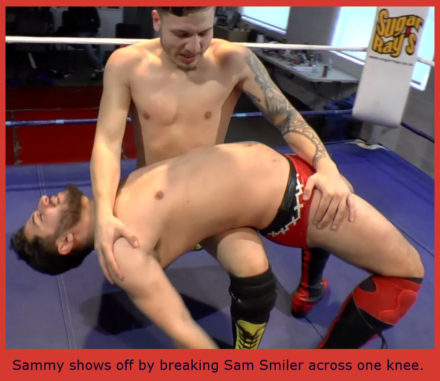 I get the sense that these buddies get together and wrestle all the time, like this is their hobby.  They just love the sport, like some guys play baseball because they've always watched it on TV.
They don't seem to care if they're being filmed and making money off the video sales or not — they will wrestle all the time just for the enjoyment of it.
---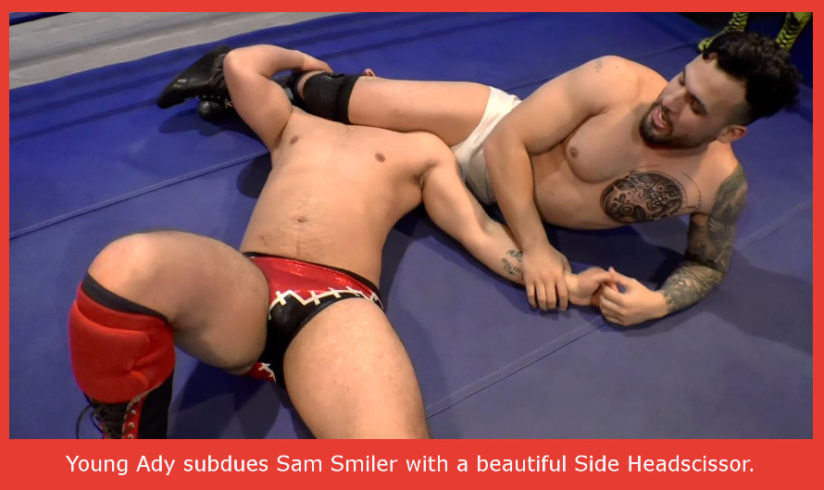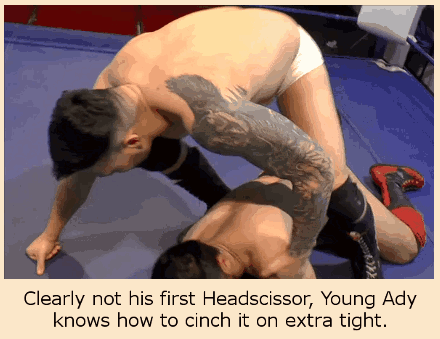 Some guys bowl together, some golf, or play cards.  These dudes rassle, in hot pro gear.
I'm pretty jealous — how often I've fantasized about finding a group of pals (especially fit, lusty  young pals) who get together once or twice a week to pro rassle around in a ring.
---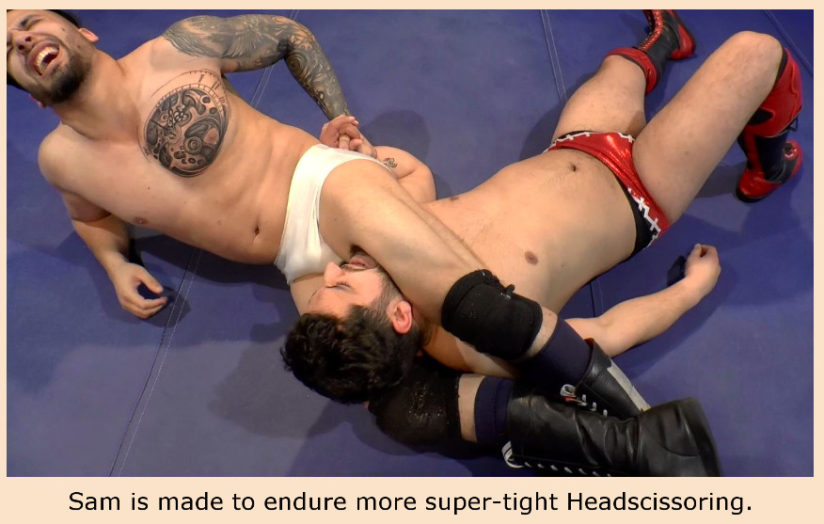 These lads are fucking GOOD by the way.  They know tons of classic holds which they execute beautifully.  They've practices so long and so often, getting together several times a week I suppose, that their wrestling skills are top notch, and they all sell wonderfully.
---
---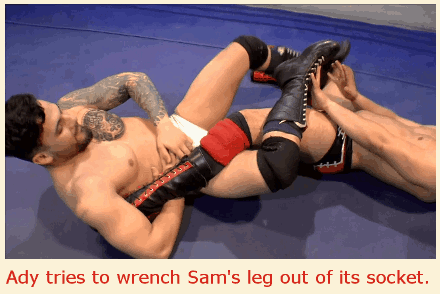 By the way, the Champs are even more vicious and abusive to Sam's partner, young Franky than they are to Sam Smiler.  I could create another gallery (or two) displaying Franky's agony and abuse, but today I'm crushing on Sam Smiler and his unfair abuse.
---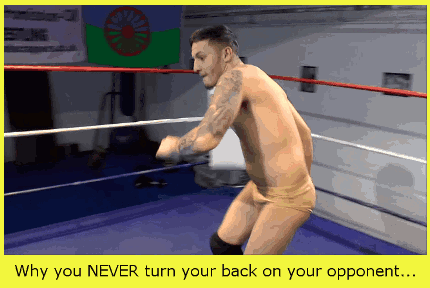 Here we see Sammy Scrapper disable Sam Smiler with a naughty Forearm Upper Cut to the gonads.  I get the sense that the two Sams always compete to be Young Ady's favorite.  This week, Sammy Scrapper is the Alpha Sam.
---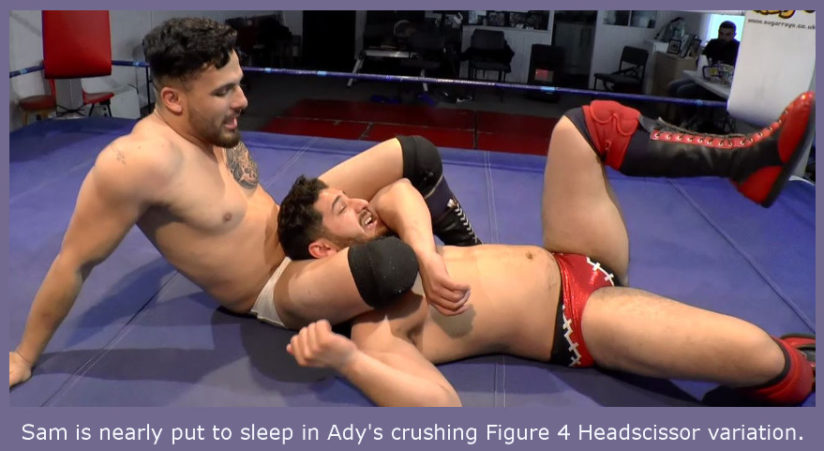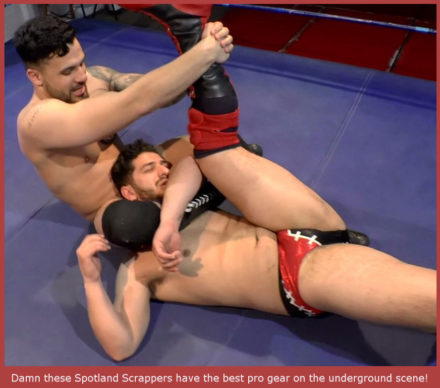 If you get off on Scissors, do not miss this match.  They inflict tons of Scissor Torture, I didn't even capture all the examples.
They use Figure 4 variations, and my favorite Lean on One Elbow types.  And if someone is not Scissoring someone's neck or body, then they Scissor his arm or his leg.  It's hot AF.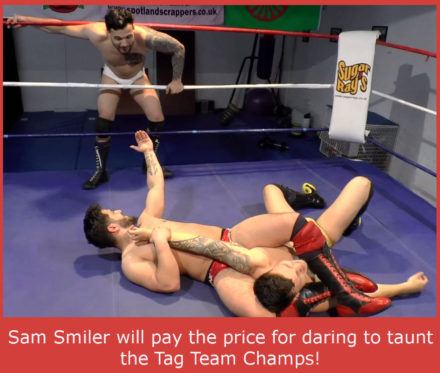 Sam Smiler got his licks in too — it was not a TOTAL squash match as I've made it appear.  I enjoyed this scene, his awesome red boots clamped together as he crushes Sammy between his legs.  He reaches up as if to tag in Young Ady but really he's just fucking with the Top Dogs.  He will pay the price for this cockiness later…
---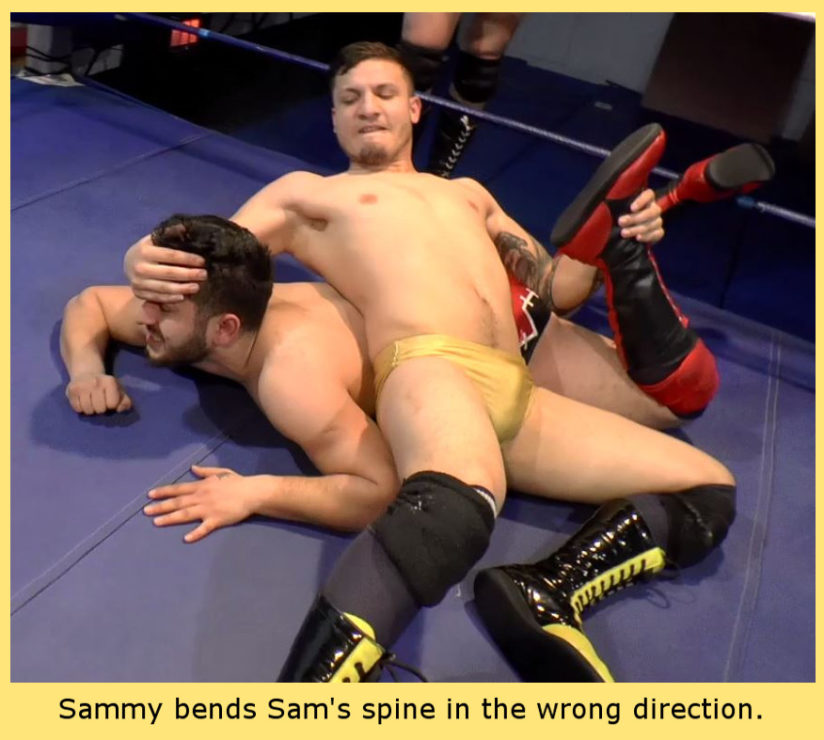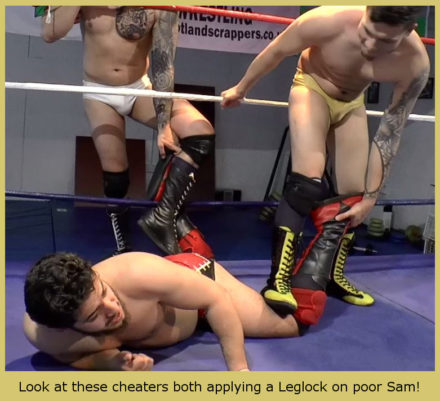 All in all, this was a very enjoyable exhibition of classic holds executed by guys who get the appeal of Trunks and Boots.
A couple of notes for the Scrappers if you're reading this: I actually would've loved even more cheating by Sammy & Ady — make the other guys the Good Boys who always obey the rules.  Matching gear, with the teammates in identical colors, is also a thing I like to see.  But as far as the wrestling and the suffering, I am definitely a satisfied customer.