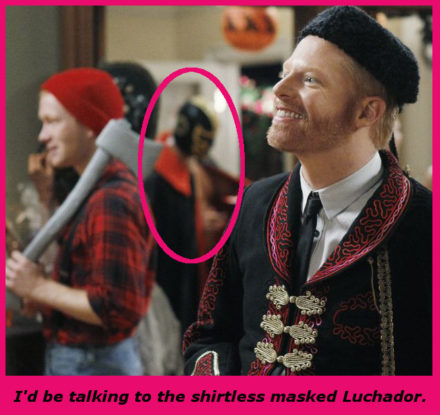 Just before Halloween, I watched an old episode of Modern Family from 2012 in which the gay couple hosts a costume party.  One of their guests dressed as a masked wrestler, which definitely caught my eye.
Unfortunately, he only appeared in the background a few times and I couldn't find a better photo of him online, but from what little I saw, he looked great in his tight mask and cape.  He is shirtless under that cape which would've had me chatting him up if I had been at that party, trying to find out if he's into wrasslin' with other dudes.  After all, Halloween is an opportunity to let other people get a peek, through the costume you select, at your secret fetishes and fantasies.
On Halloween, the YouTube channel Matto11011 posted over a dozen classic videos featuring hot masked wrestlers — mostly jobbers who perhaps wear masks to conceal their humiliation from their loved ones.  So in honor of kinky, sexy wrestling masks and the gayest holiday in general, here are a few recaps and images from Matto's recent uploads that also caught my eye: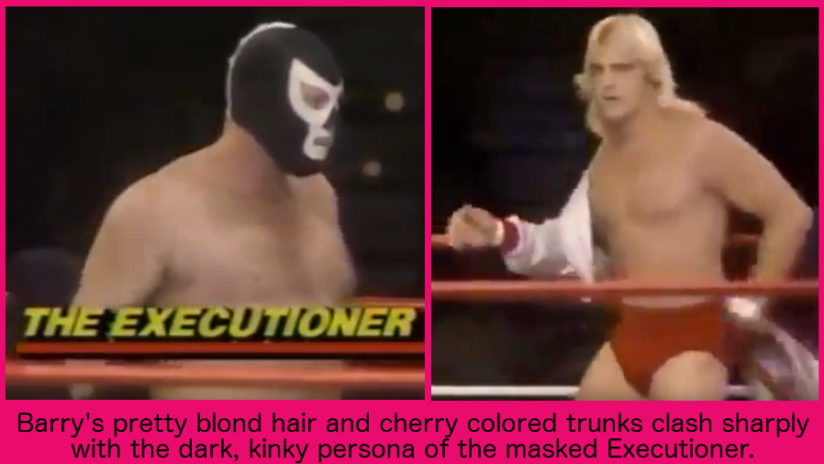 We open the series with one of my personal favorites: Barry Windham.  He never disappoints with those extra long legs protruding out of his cowboy boots, and those extra skimpy trunks, in this case a bright red pair.  The commentators verbally jizz all over him and his fit young bod.
---
The purpose of this match was to build our love and support for the blond bombshell by showing him easily destroying the creepy masked Executioner.  The rookie twists the helpless Gimp's arm in about a dozen Arm Bars, then sails across the ring to spike his masked face into the mat.  If his identity were not concealed, we might even feel sorry for this chubby jobber bitch.
---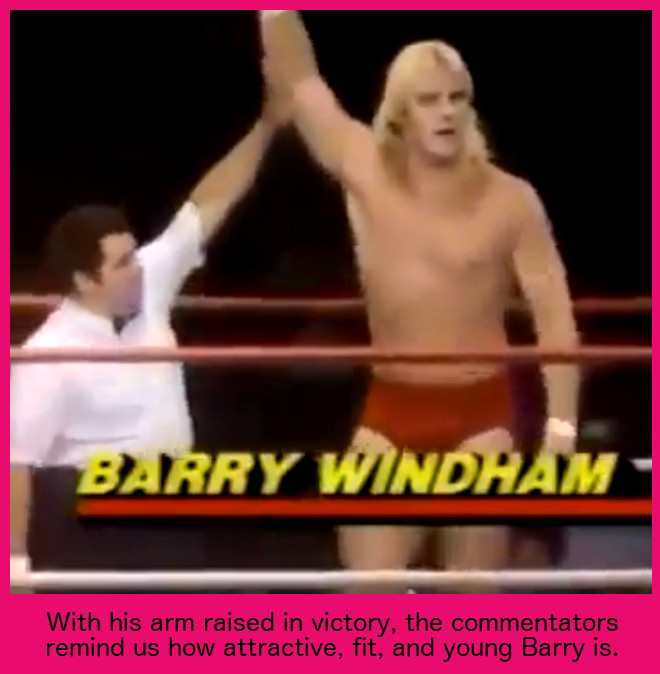 Next Mattto blessed us with another Good Guy vs Masked Freak exhibition.  Beefy, goateed El Bracero (also known as "Super Mex")  squared off bravely against the mysterious Black Saint.  I grew up watching El Bracero wrestling on local TV, but I don't remember him looking this hot.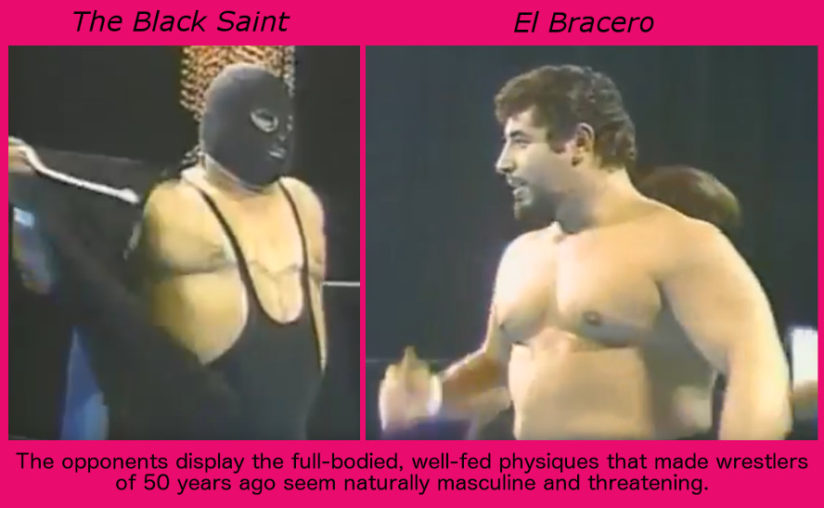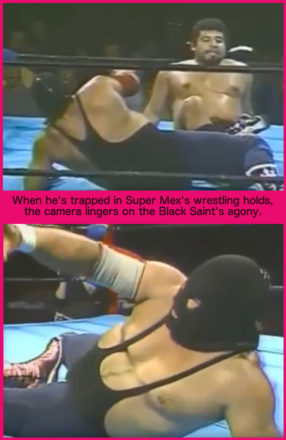 "El Bracero" means "The Laborer" in Spanish.  He is meant to represent the working man, the exploited blue collar ranch-hand.  He is beloved by the fans for his honest, hard-working persona (but also for that ruggedly handsome smile and big chest with those prominent, quarter-sized nipples.  I'd pay you a day's wages to wrestle me, El Bracero, and then what I'd do to those big nips…)
The name "Black Saint" is loaded with sinful, naughty innuendo.  Was he formerly a holy White Saint who fell from grace?  Did his fall from grace include kinky and sexual mis-behaviour?  His black mask and religious name give him a dirty, dark mystique.
---
For a bulky Luchador, El Bracero displays impressive agility. Check him out sailing around the ring with these sweet Flying Headsizzers!
I remember watching El Bracero as a youngster and not responding to his bulky, boxy physique.  But watching this match, now that my tastes have matured, I want to re-visit this sexy Super Mex and see more of him.
---
El Bracero pounces fearlessly off the top rope with that rotund body, utterly crushing the Saint under his bulk to win the match.  This was a surprisingly risky and devastating finisher from the beefy Super-Mex!
---
I had planned to discuss more of the many great masked wrestling videos that Matto11011 had uploaded on Halloween.  But then my computer crashed — the screen went white and will not re-boot.  I took it for repair and they told me the motherboard is fried and can't be fixed.
So I am typing this on my tablet which takes much longer and will not work for maintaining and updating this blog. There is too much graphic work that would be impossible on a tablet. Basically this site is on hold until I decide to get a new desktop computer (or that I even want or need a computer in my life..)