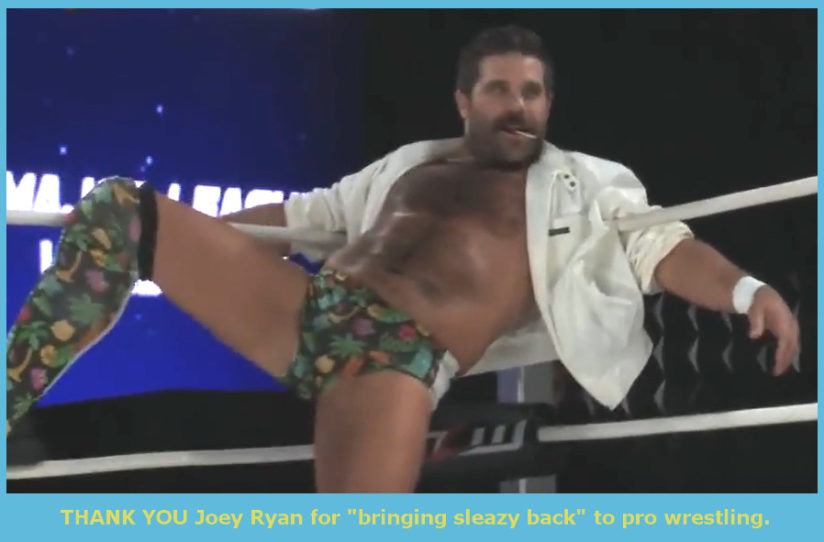 I bought myself a new computer as an early Christmas present and have been learning new software for capturing images, creating animated GIFs — all the tools you need to make a blog.  And what better wrestler to bust my new computer's cherry than Joey Ryan??
I understand that his cocky poses, heavy use of body oil (even down his trunks), and self-obsession with his dick are meant to be comical — a lampoon of the sleazy Heels of the 1980's, or of all the predatory Alpha Creeps now being dethroned by their victims.  But darn it, I find this hairy-chested show-off to be totally enthralling and jaw-droppingly sexy in spite of his campy behavior.  I am a sucker for his manly physique, colorful trunks, and suggestive performances.
The match I saw recently on YouTube features Joey fucking around with a tough, buff, no-nonsense killer known as MJF — Maxwell Jacob Friedman.  He portrays a spoiled rich kid who wears a douchey scarf draped over his gym-built bod — a privileged member of the 1% who chooses to wrassle other men because he apparently enjoys it even though he could afford to be idle.
Supposedly, he audience consists of mostly straight males, but they sure want to see some gay play between these two eye-catching hunks.  They chant at MJF to "Touch His Dick!" but MJF won't be gay-baited (at least early in the bout.)  He tortures Joey's arm to shut down his sleazy antics and prevent any potential grab-ass, utterly disappointing the horny audience.
---
Joey prepares to humiliate MJF by inserting his lolly pop in his trunks, soaking it with his sweat, perhaps nutting all over it.  He plans to jam that phallic sucker in MJF's mouth like a cock, turning the tough stud into his bitch.  Surely a Real Man like MJF won't degrade himself by allowing this!
By the way, I saw a Tumblr site with more animations from this same match, focusing on a scene where MJF falls face-first onto Joey's waiting bulge.  I decided not to copy all those images here because I already have PLENTY of hot images from this match, but definitely check those out — it's really gay.
---
MJF gains control of the Blow Pop for a moment, but Joey proves to be the true Alpha Male, jamming his sweet candy right onto MJF's tongue.  The audience gets off on this utter degradation and I decided right then and there to start blogging about wrestling again.
---
Eventually MJF decides to punish Joey for all his flirtatious, non-hetero antics.  He grips Joey's arm between his legs and grinds on the pressure!
It is a compelling image — those black boots locked securely together, Joey's arm protruding from between MJF's legs like a big hard dong, Joey in agony slapping the mat, and MJF continuing to apply the pressure long after the bell has rung!  WHEW!
---
---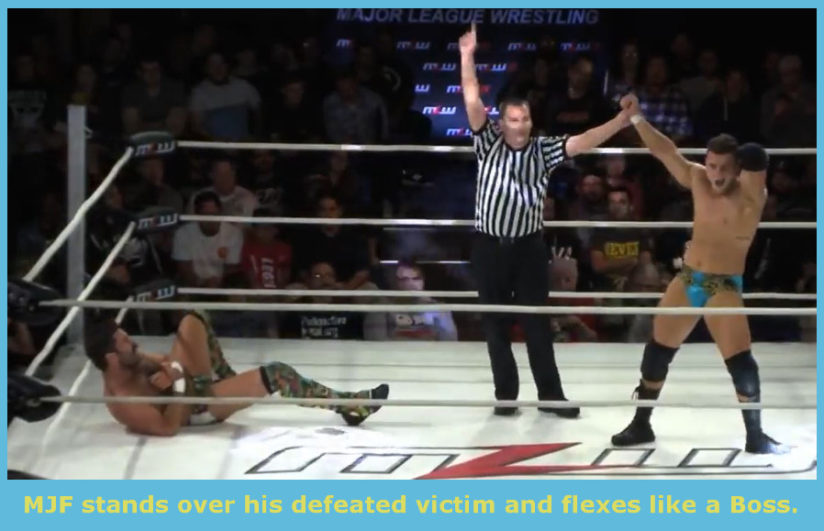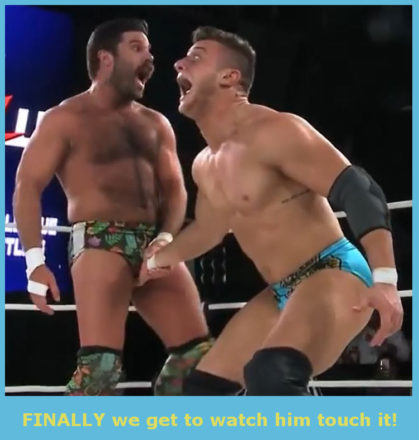 MJF may be the better wrestler, but Joey proves to be the more potent male.  After the match, instead of shaking his hand, MJF is forced to shake Joey's cock.
In a celebration of male power and masculinity, we see that Joey's pecker is imbued with special properties.  Once MJF grabs it, he can't let go!  His hand is trapped, and Joey proceeds to use Magic Member to twist MJF's' arm no-handed.
---
As Joey flexes his pecker, MJF drops to his knees, utterly dominated by that big dick.  Am I supposed to laugh at this or start beating off?  Look at that strong man, turned into a submissive toy by the power of the other man's masculinity.  This is homo-erotic, right??
---