Lately I've been enjoying many of Gabriel Gallo's matches on  his YouTube channel.  Gallo is the dominant, meaty fireplug seen here in white and red trunks.
In this match, Gallo utterly dominates Alexander Hammerstone, owning him and punishing him for the majority of their match.
---
We've seen Hammerstone in previous galleries on this Blog, playing an Unstoppable Force — a marauding viking who rapes and pillages all the Baby-Faces.
But here, Hammerstone is Gallo's bitch, his muscles utterly useless against this beast Heel.  One of the hottest types of pro wrestling matches is a confident tough guy like Hammerstone reduced to jobber status by a superior Alpha.
---
Gallo is my kind of Heel wrestler — thick, indestructible, and invincible looking, filling out his XXL trunks nicely.  I also dig the bald-n-goateed look on a Bad Ass wrestler, like Da Crusher from the old Bugs Bunny wrestling cartoon (which got me all worked up back when we got up early on Saturday mornings to watch cartoons…)
---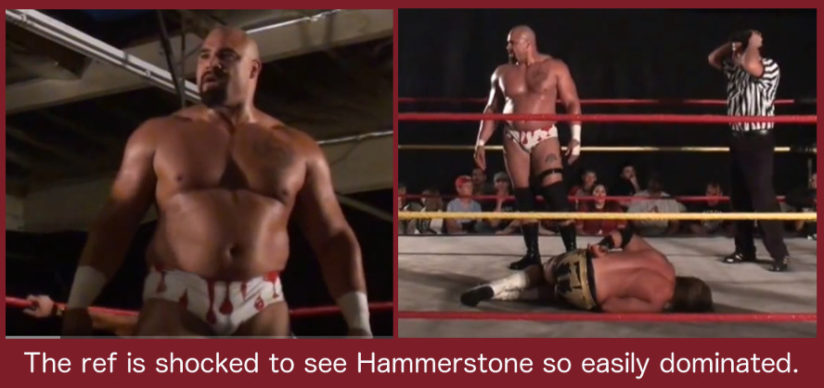 White is probably my favorite color for wrestling trunks, so nice choice by Gallo.  By adding red splotches (of oozing blood?), the "King of No Rules" emphasizes his hard-core style, his willingness to hurt other men.  The result is an intimidating, hyper-masculine vibe that has me hoping that he wore those same eye-catching trunks in other matches on his channel.
---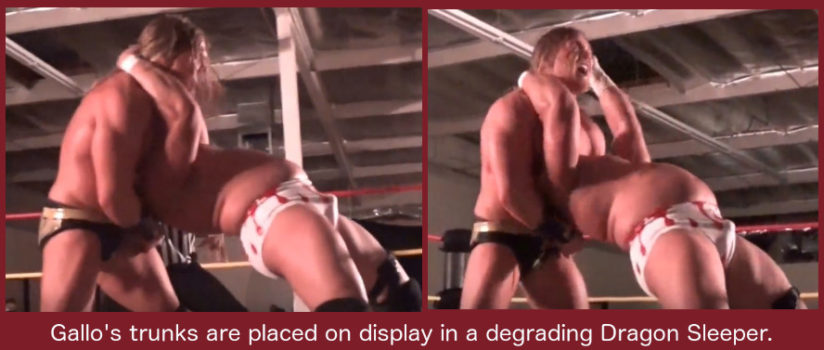 I can't believe Gallo is treating this Norse God, Hammerstone, like a pathetic jobber!  What a Man!  He covers the long-haired bitch and allows the ref to count to two.  Then he snatches the sissy up by the hair to prevent the three count — eager to inflict more pain and humiliation.  Usually they only perform this level of degradation on the wimpiest of jobbers!
---
---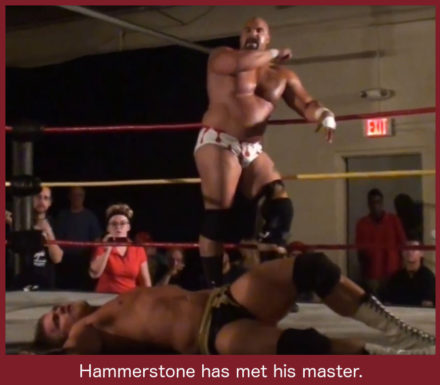 Yes, Hammerstone loses this match (after some interference by Gallo's buddy, but whatever.)
I am sold on Gallo as a powerful, dominant Bad Ass, just the sort of sadistic brute that got me excited about pro wrestling decades ago.  We just don't see enough powerful beasts like him in the ring nowadays.  What a treat!