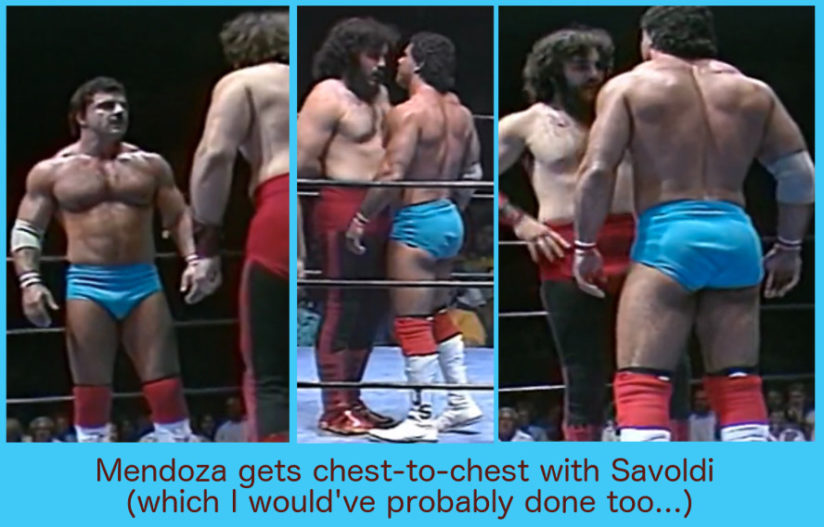 I have a subscription to the NWA Classics website which posts rare classic matches from the 1970's and 80's — my favorite era for wrestling.  It's about $10 per month, and when they posts matches like this recent Joe Savoldi whipping by Gustavo Medoza, I feel it's well worth the price.
---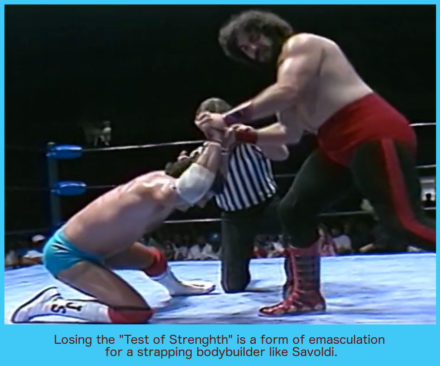 Wrestling fans of a certain age will remember Joe Savoldi fondly for his buff physique, hairy chest, and brightly colored trunks.  Several fellow wrestling lovers have told me Savoldi was their first crush — or at least the cause of their first hard-on while watching wrestling.
---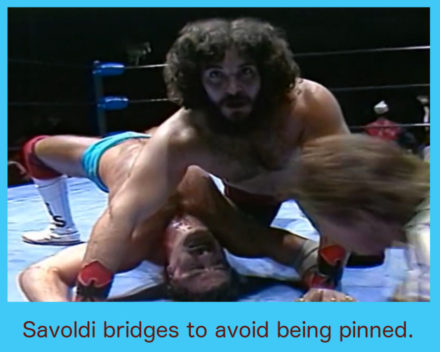 Savoldi was kind of a jobber, in spite of his swole muscles (his suffering made us love him even more.) Everyone pretty much could kick his ass, it was so unfair.
Joe is over-powered by a Greco-Roman Knuckle Lock, then forced to the mat where he is nearly defeated.
---
The point of the match is to show Savoldi suffering from the big hairy Heel's cruel tactics, and to put his body on display.  Surely the promoters were aware that a segment of the audience gets off on seeing a muscleman being degraded, which is probably why Savoldi was made to lose so often.
---
Much of the match is spent with Savoldi in a long Chinlock (perhaps because he needed to recover from an accidental knee to the nuts.)  Some fans may feel several minutes of relentless Headlocking is boring, but if you're into Savoldi's body, sprawled out and on display, the ref lifting and dropping his limp arm, then you are not bored by this match whatsoever.
---
Things get kinky when Mendoza grips Savoldi's hair and drops to his knees, resting his balls on the muscleman's chin and forcing him to inhale.
I don't recall seeing this Gustavo Mendoza in action back in the 1980's — if I saw him, I forgot about him.  But I am liking him as this raunchy, hairy Heel, utterly emasculating Savoldi.
---
But in the end, Jumpin' Joe gets his revenge (or perhaps pays Mendoza back) with his own version of the Tea Bagger.  Once Mendoza is rolled up, with those baby blue trunks in his face, he sure doesn't do much to kick out.  This was a nice match with lots of suffering by the eye candy, a wonderfully brutal Heel, and a heroic (and sexy) victory in the end.