In 1986, a hot young Canadian sensation named Tom Magee entered the wrestling Biz.  At 28 years old and 275 pounds of pure muscle, this Body-Builder and Power-Lifter sure caught the fancy of the promoters who called him "Mega Man."  This nickname emphasized his superhero persona — his larger-than-life musculature and God-like power.
But soon after his debut, this promising young super-man vanished from the wrestling scene.  It still remains a mystery why this tremendous athlete with a body that made jaws drop failed to achieve the success and popularity he so deserved.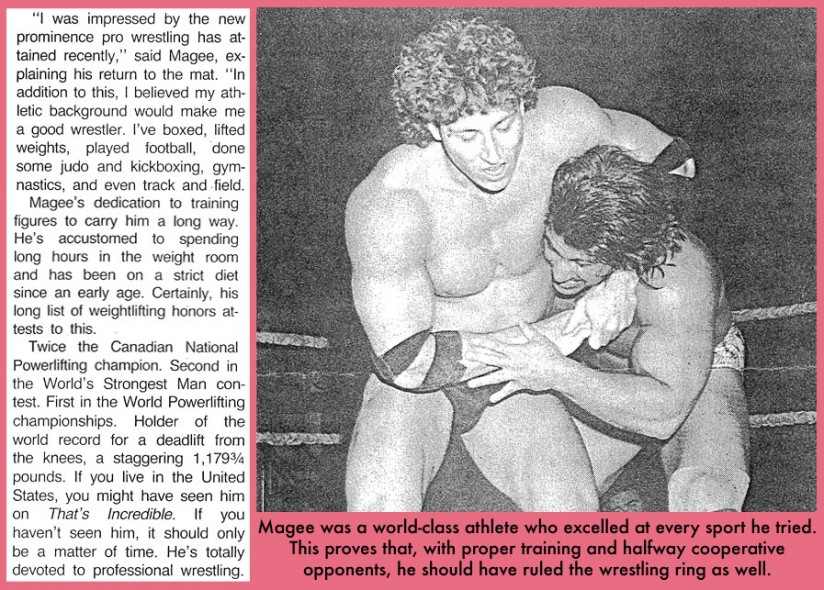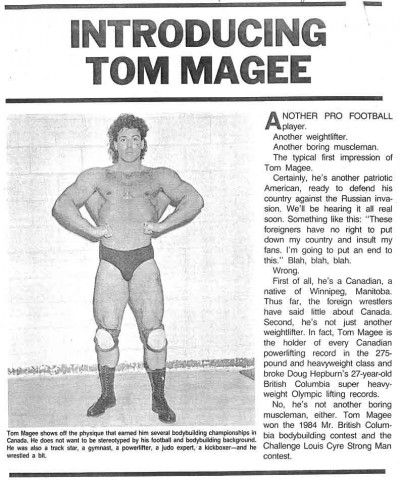 As these magazine articles indicate, Magee clearly had the athletic prowess to succeed as a pro wrestler.  He was superb at every sport he attempted:
Powerlifting (Canadian champ, twice)
World's Strongest Man (second place)
Body Building (1984 Mr. British Columbia)
Holder of every Canadian powerlifting record in his weight class
World record for deadlift (over 1,1oo pounds!)
Proficient at boxing, football, judo, kickboxing, gymnastics, and track & field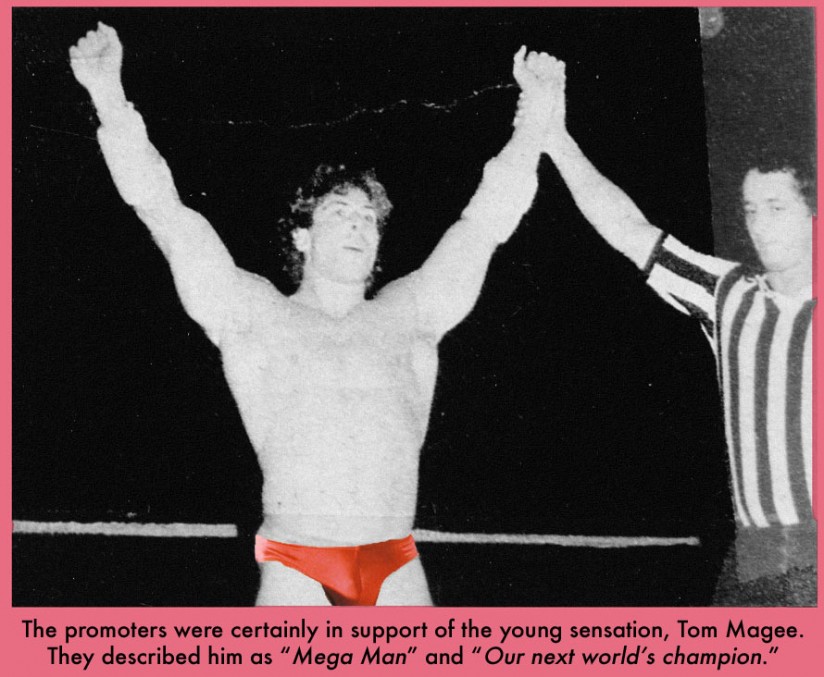 During the Big 80's, the promoters (including Vinny Mac) preferred Big Wrestlers.  Tom Magee was the very model of a modern major Mega Man — buff, gigantic, and confident.  At 6'5″ with next to zero body fat, he was simply breathtaking to behold. He had a big chest, big arms, and big hair.
One of Magee's favorite moves was the big Gorilla Press where he would hoist his opponent overhead and hold the poor jobber up there for a good while, showing off his strength, flexing his muscles until he looked like chiseled stone, forcing the fans to hold their breath and wait for him to throw his victim across the ring like a bag of trash.
After watching the Mega Man wrestle a highly entertaining match and defeat another promising rookie (Brett Hart) in October 1986, Mr. McMahon famously exclaimed: "That's my next champion!" He was prepared at that moment to replace Hulk Hogan with the stunning young Mega Man!
Clearly Magee had plenty of sex appeal — it wasn't his looks that detracted from his success in the ring.  His body was obviously perfect — he made even the statue of David appear soft and small.   His long, wild hair may be old-fashioned today, but in the mid-80's, a long, effeminate hairstyle was considered foxy and attractive on a man.
This page from a magazine features two images in opposing corners — Tom Magee flexing his biceps as he cranks up the pressure on an armlock, and Jake "The Snake" Roberts, with his (phallic) snake exposed, symbolic of his excited reaction as he peers across the page at the Mega Man's muscles.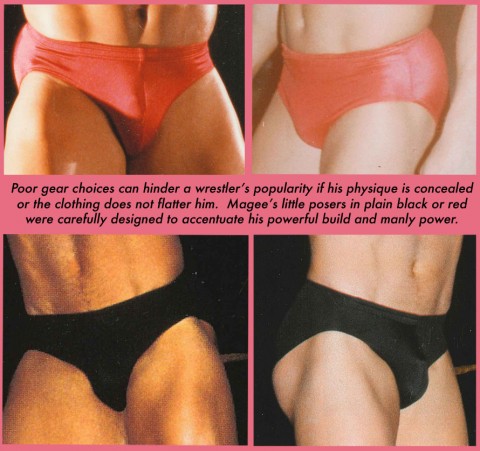 The only thing small about the Mega Man was his speedo.  Magee was certainly ahead of his time when he selected these little bikini briefs!  Maybe because he was a champion Body-Builder, he was more comfortable in a posing suit, or maybe he wanted to ensure the fans got a good look at his legs and ass.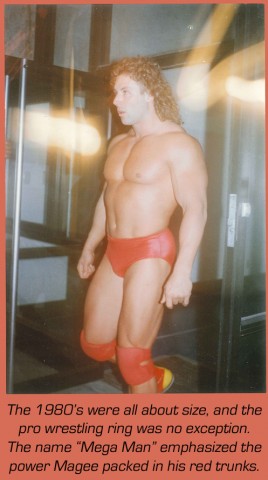 Mega Man had everything necessary to be a wrestling Super-Star  — an amazing, ripped body, a flamboyant hair style, sex appeal, natural athletic ability, red-hot gear, and the support of the promoters and magazine writers.
So what went wrong for this young Adonis?  How did he go from being a Rookie Sensation to being a Has-Been (or Never-Was) in a matter of months?
Why didn't we experience "Mega-Mania" instead of "Hulk-a-Mania" back in the day?  The answer remains a mystery.  Some say this stud just couldn't learn to wrestle properly.
So later we will take a closer look at Tom Magee (and his breath-taking physique) and analyze his wrestling skills to see if the rumor is true that his career was cut short due to a lack of talent…
To Be Continued…