How can I put into words my appreciation for Prince Devitt?  That body, that predator scowl, the skills, the willingness to give it all in the ring, etc.  He is one of my favorites of all time for sure!
Thanks to the magic of YouTube, I recently saw a great match (all his matches are great) between Devitt and his arch-rival Kenny Omega, which took place in Japan.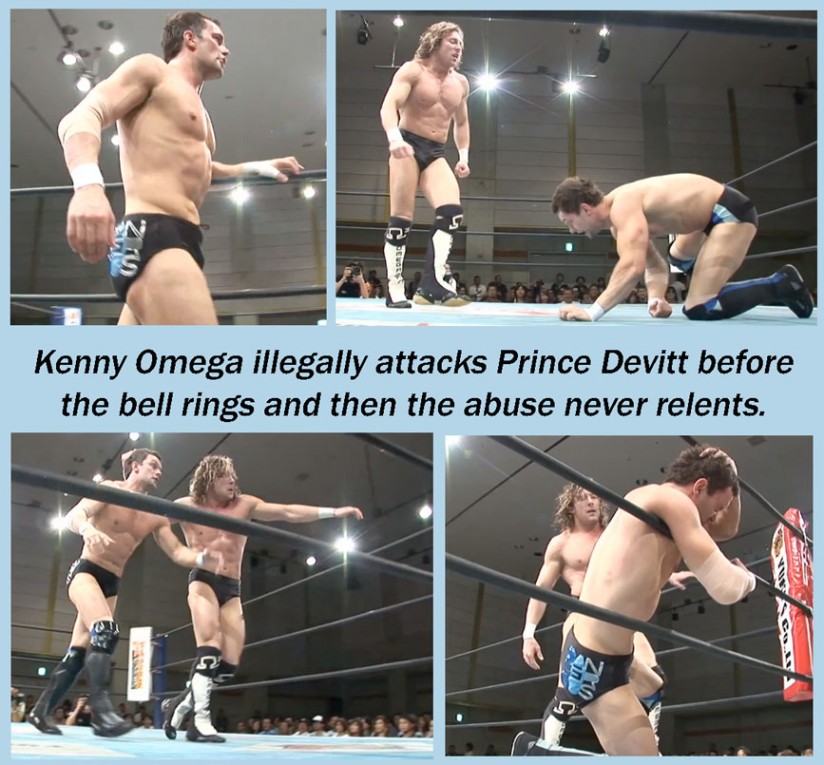 Damn, I just love YouTube and all the incredible pro wrestling that is available — has there ever been a better time in history to be a wrestling fan?!?  Here is this incredible match which took place on the other side of the world, and we get to enjoy it in Hi-Def for free while wearing nothing but underwear in the comfort of our own bedroom or living room!  (I know I've written all this before, but I am just stunned at my current good fortune as a wrestling fan.)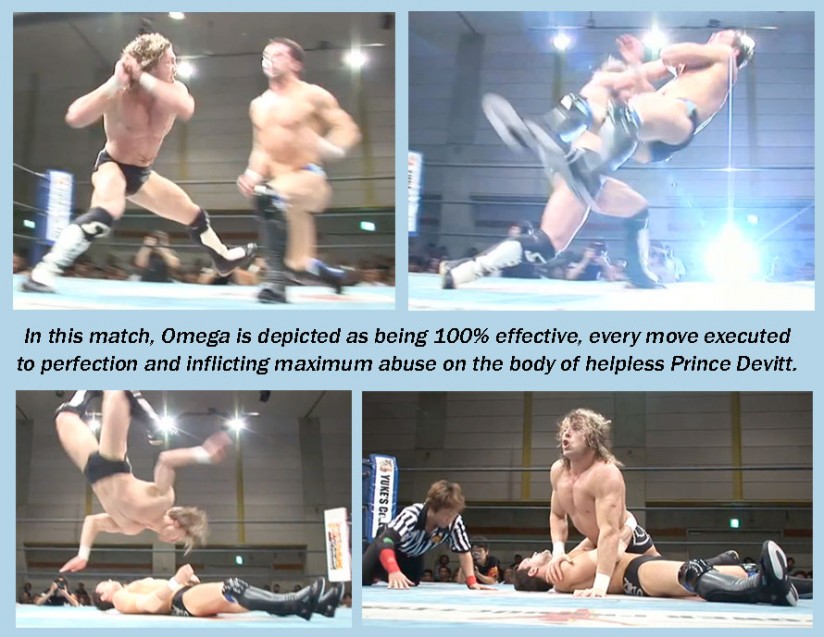 The most striking feature of this particular Omega-Devitt match (other than the very minimal speedos worn by the two men) is the one-sided beating suffered by Devitt.  He just lays there absorbing whatever Omega throws at him, like some 1980's jobber!  Prince Devitt combines the body of Kevin von Erich with the subservient attitude of Randy Mulkey, and I love him for it.
Devitt has checked his ego at the locker room door for this match to provide the fans a gratuitous scene of agony, submission, defeat, and humiliation that worked on so many levels.  Thank you Prince Devitt!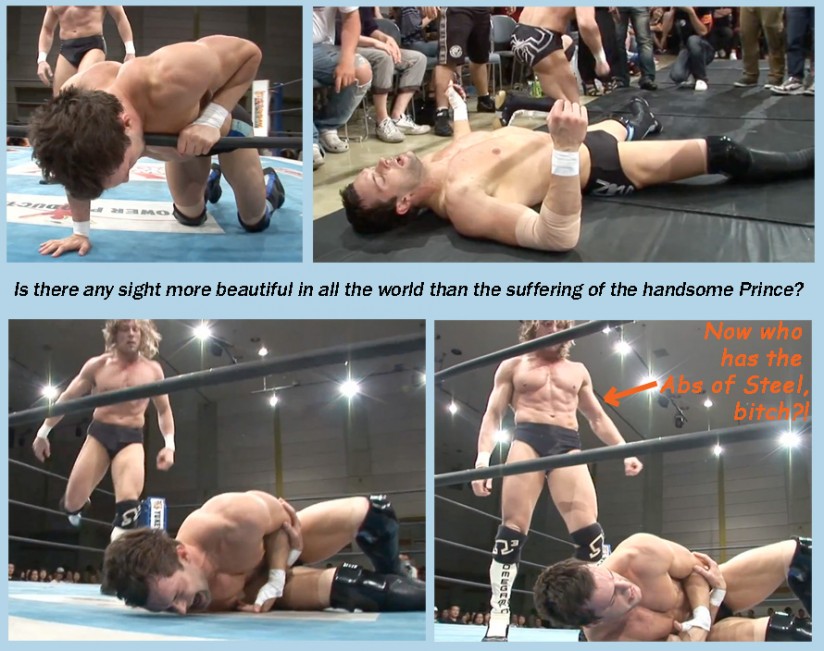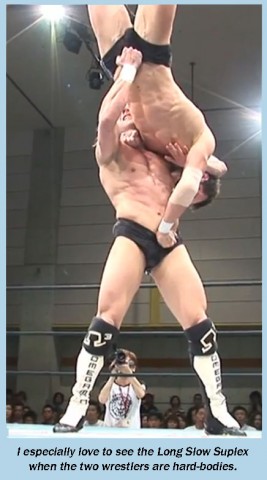 One viewer who commented on the YouTube video did not appreciate Devitt's submissive behavior.  He said:
"Omega was too dominant. It started out like a squash match, with him doing all his signature moves and Devitt taking them like a jobber. Things got better near the end, but could've been better nonetheless if the match had gone back and forth."
Yes, it started out a squash match, and that's why I loved it!  Well, to each his own.  Great wrestling is in the eye of the beholder.  For those of us who grew up on one-sided squashes and humiliating beatings, this demonstration of jobber excellence by Devitt is just the ticket.  To see him curled up in agony, clutching his ribs and abdomen, his face contorted in suffering, to hear his panting moans, brings back fond memories of beloved muscle jobbers from a bygone era.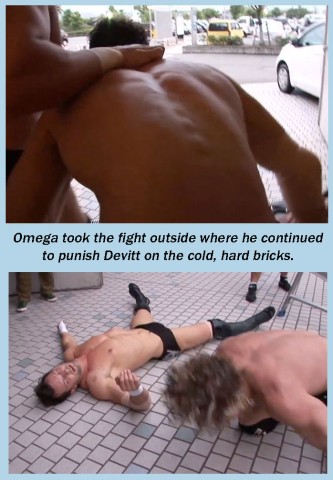 The men pull out all the stops, taking the fight outside where Omega leaps off a tall ladder to splash down on the waiting body of helpless Prince Devitt, his flesh sprawled out on the bricks like meat on a butcher block.  Damn, I guess this Kenny Omega is not just a trash-talking, wild-haired maniac;  he's got some mad skills, son.
Another shocking thing about this match is that it's happening in Japan and features two Gaijin, or westerners.  Usually in Japanese wrestling, a Japanese wrestler will assume the hero role and battle an evil white man.   Here we have two westerners putting on an amazing show, and the Japanese audience eating it up.  I guess there is no denying the entertaining nature of excellence, regardless of race.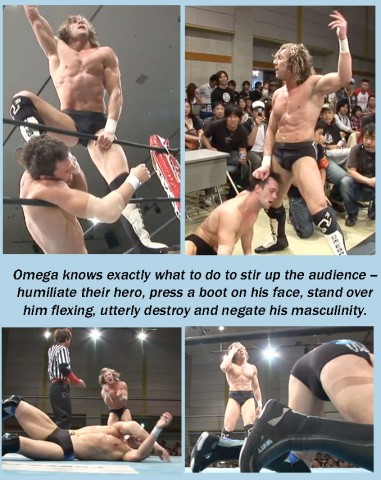 Omega is also sporting some shredded abs, much like Prince Devitt who is always ripped.  Maybe Devitt showed Omega his abs workout or his diet plan.  Whatever Omega is doing, it's really working!
The two wrestlers target each other's washboard stomachs for abuse, frequently kicking or stomping the belly to weaken it, to penetrate the victim's defenses.  This is like a test of strength, a "Gut Check" to determine which man really does have the stronger stomach.  Both men, when in the dominant position, strike poses meant to really show off those six-packs!