Ring of Honor is holding an on-line Pay-Per-View this Sunday, March 4th at 5:00 PM Eastern Time.  It will only cost you $10 to watch this show — a great bargain given the highly entertaining, intense, exciting quality of ROH wrestling action.  I  recommend you purchase it.  Here are some of the matches on the card:
Main Event: Davey Richards & Kyle O'Reilly vs. "Die Hard" Eddie Edwards & Adam Cole.
ROH World Tag Team Championship Jay & Mark Briscoe defend against the Young Bucks. More information on this rivalry is below.
ROH World Television Championship Jay Lethal defends against "The Dominant Male" Tommaso Ciampa. I love the name "Dominant Male," and just wait until you see what these two wear into the ring…
Grudge Match Jimmy Jacobs takes on "Wrestling's Worst Nightmare" Kevin Steen  — These two are always very entertaining.
In case you don't get to watch Ring of Honor wrestling where you live, let me fill you in on some of the wrestlers and feuds.  That way, if you catch the on-line event this Sunday, you'll know some of the back-stories.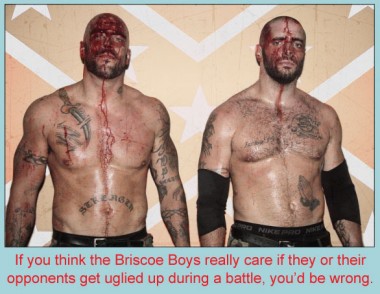 The Briscoe Brothers, who call themselves "Dem Boys" and talk in the most unusual, slurry, aggressive Southern drawl I've ever heard, are a pair of ruthless (but lovable) killers.
They aren't the prettiest, but there is definitely a place for them in the wrestling ring.  Their motto is "Man Up" which further highlights their masculinity.  You know if the Briscoes are on the card, their opponents will suffer epic punishment and supreme agony — and who doesn't want to enjoy seeing the handsome Young Bucks doing just that?!?  Every wrestling federation needs a Tag Team of goons who can deliver a convincing Beat-Down on the heroic young pretty-boys, and nobody does it better than Dem Boys.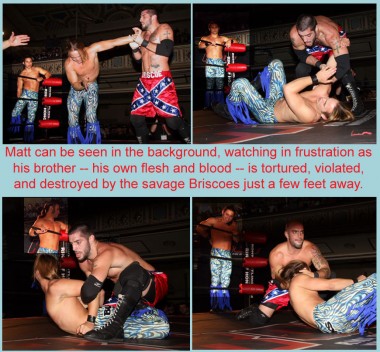 The Briscoes' victims this Sunday will be a pair of brothers known as the "Young Bucks" (when they're playing the vulnerable Babies) or also known as "Generation Me" (when they're acting like cocky assholes.)
I think for this event, they'll be playing the latter.  The images seen here are from the "Glory By Honor VIII" show held on 9/26/2009 when they were playing the former.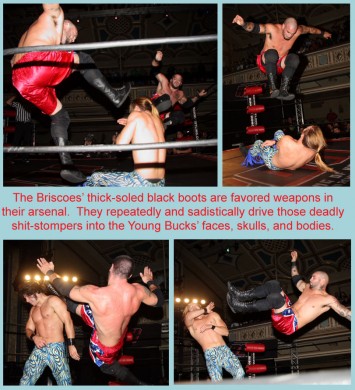 On the website where you can order the on-line Pay-Per-View is a short video of the Briscoes meant to generate heat and sell the match.
Their little promo starts with the slow, haunting "Dueling Banjos" melody.  For anyone who has seen the movie "Deliverance", the Dueling Banjos song always conjures up memories of that attempted rape scene deep in the woods, where some scary, sadistic rednecks forced a city boy to strip to his undies and squeal like a pig.
Is this song meant to sexualize the threats being levied by the hillbilly Briscoes Brothers against their city-slicker opponents?  Should fans expect that the Young Bucks will be de-pantsed, forced to their knees, and treated like the dude in Deliverance on this Sunday's Pay-per-View?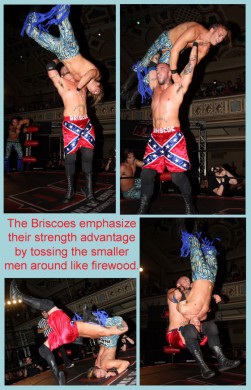 In his distinctive, tobacco-drooling, staccato drawl, Jay Briscoe increases the sexual energy of the match by saying:
"When I see the Young Bucks, man, I can't help but think:  Y'all look like two little girls, man.  Y'all look like two pretty, little, girls!"
Certainly, plenty of Baby-Face wrestlers are just as pretty as girls, but it's normally not mentioned by opponents.  Any man who describes another man as "pretty" is risking the possibility of being outed for his apparent attraction to someone of the same sex.  By calling the Young Bucks "pretty," Briscoe is treating them as objects of his sexual desire — as potential love interests.
The Briscoes look a little bit rough, a little bit dirty — like they've been out in the woods hunting all month.  They're like a pair of drifters, or lepers, living under a bridge somewhere, waiting to prey on some innocent victim. When they touch the pristine, manicured, wholesome flesh of the Young Bucks, it's as if they're dirtying or degrading the Young Bucks.  The Briscoes' very touch (and wrestling is all about touching) seems to soil the purity of their opponents' flesh — as if their tattoo ink will rub off on the Bucks' clean skin.  This adds to the impression of a violation, a humiliation, in this match.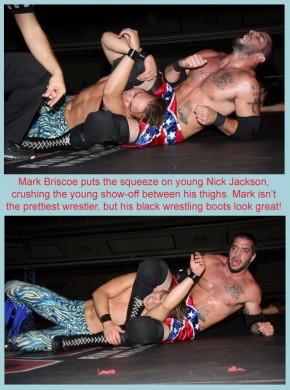 Briscoe goes on to say:
"When I see two pretty little girls, being the gentleman that I am, I write 'em a poem. So here's to y'all, Young Bucks:
Roses is red, violets is blue. The Young Bucks got long, pretty hair,  like a girl do.
So Sunday in New York, We're gonna have to make 'em our bitches, And y'all probably gonna go back  to California with stitches.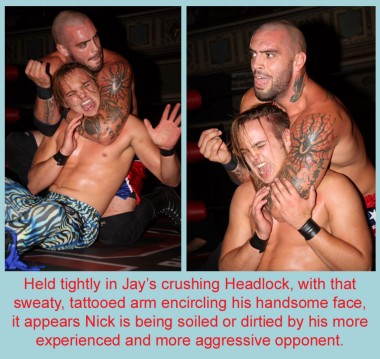 Now if y'all can't be in New York to watch us make them girls scream and holler… you can order that sumbitch on pay-per-view. It's only ten dollar!"
This may be the very best poem I have ever heard in my entire life, and hearing it delivered in that illiterate tough-guy Hill-jack voice is priceless!
And the sexual innuendos are obvious: "make 'em our bitches," "make them girls scream and holler," etc.  Like any great wrestling promo, Briscoe's threats could be interpreted as intimidating trash-talk, or as a sexual come-on.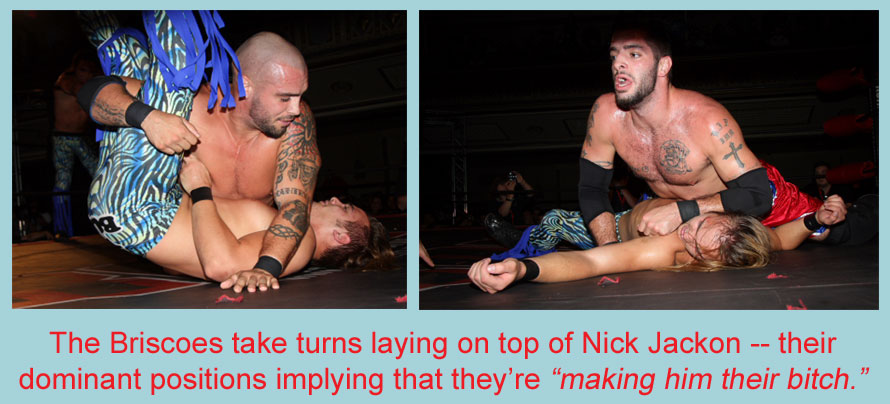 Tag team matches are always 10% better if the partners are brothers, and in this case, it's a pair of brothers against another pair of brothers, so the effect is multiplied.
I hope I've convinced you to invest the best $10 you've ever spent and enjoy the long torture and inevitable destruction of the cocky Frat Boys at the hands of the rough, tough, bad-ass Briscoes this Sunday…