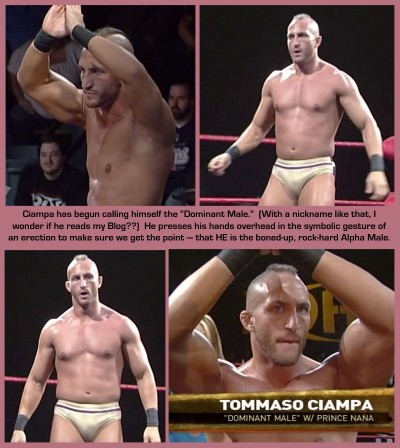 The Ring of Honor federation continues to offer fantastic pro wrestling performed by gorgeous studs.  Speaking of studs, check out Tommaso Ciampa — the smooth Italian beefcake with the cocky mohawk wearing too tight little speedos.
Tomasso has been on the Indy scene for years now, and I was never sure how I felt about him.  Seeing him on ROH violently beat down his opponents while strutting around in those bulging briefs, WHEW! I am sure I'm into this hunk, who now calls himself the "Dominant Male."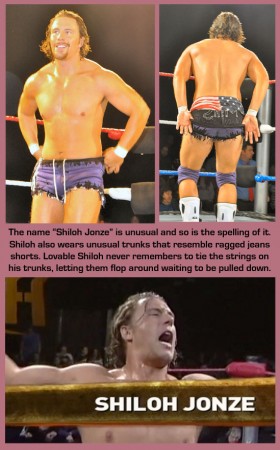 Those of us who grew up on pro wrestling in the 1980's were treated to weekly displays of male frailty and submission which were known as "Jobber Squashes."  Many of us really miss that style of match — the unbridled suffering, the willingness of the weaker man to demonstrate his utter inferiority.  Nowadays most wrestlers are unwilling to play the role of pussy — their egos and their precious self-esteem get in the way I guess.
Along comes this handsome, smiley pup known as Shiloh Jonze.  And my beloved ROH bookers force him to play the Jobber role.  YES!   Like all good jobbers, he is just cocky and mis-behaved enough (with his unkempt hair, his strings hanging out of his raggedy trunks, the asinine spelling of his name) to warrant and deserve a stiff beating.  I can't wait!  (Is Shiloh a damn ginger to boot?)
When ensues is a stunning and perfect Jobber Squash worthy of a weekly pro wrestling show from the 80's.  We soon love to hate cocky Ciampa as we watch him strut around with his bikini briefs riding up his muscular ass, systematically kicking our boy Shiloh's ass without mercy.
And if Shiloh's job is to appear defeated and humiliated, well he deserves a bonus for his good work.  He degrades himself repeatedly, kneeling before the Dominant Male, allowing Ciampa to pull his face into that bulging crotch and generally treat him like a ragdoll.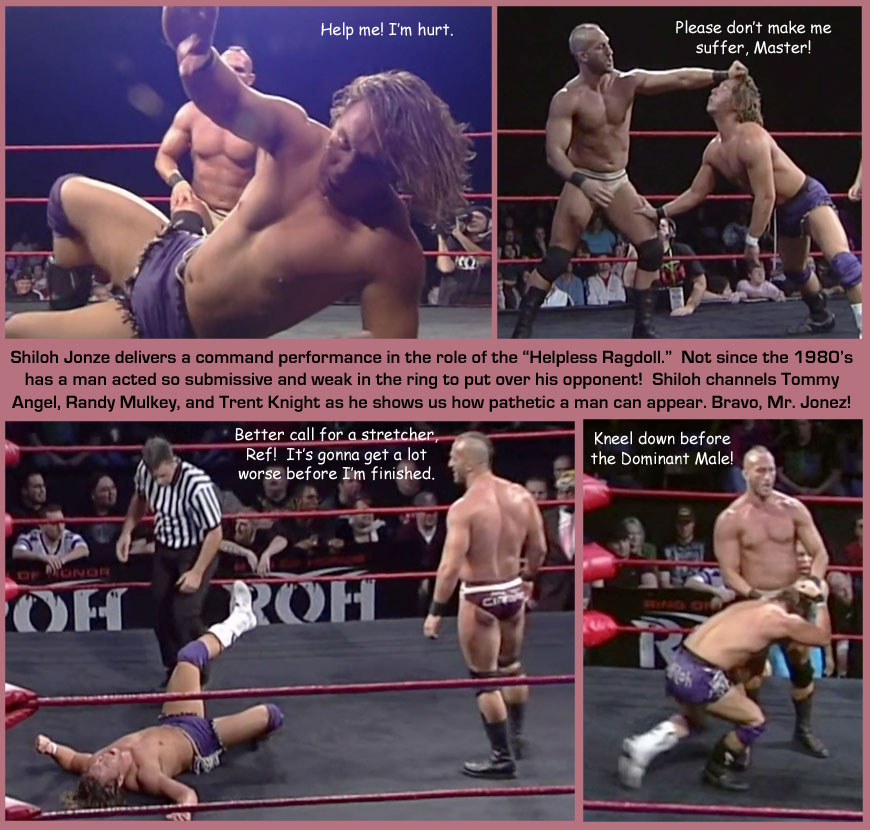 Leave it to Ring of Honor — which delivers the very best pro wrestling in the world — to give us an Old School Jobber Squash!  Will we now see more and more 80's style one-sided beat-downs?  If any ROH bookers are reading this, just know that every single match doesn't need to be this brutal and one-sided — but once-in-a-while, a good ole Jobber Squash sure gives this wrestling fan a charge!
One of Tommaso's most favorite attacks — and part of the reason I dig him — is a devastating running Knee to the waiting face of his jobber.  The poor victim's skull is conveniently propped against the turnbuckle, just waiting for Tommaso to slam a knee to the kisser. Then BANG! — we see a close-up of that big hard knee slamming in like a missile (or a big pecker.)
It's the repetition of this move that makes it resemble a rough, hard pounding.  I also dig the way Tommaso sadistically holds his knee against the man's cheek each time, pausing the scene so we can enjoy it and savor it.  He leans on the ropes and flirts with the crowd, taking his time like a classic Heel, his knee still pressed on the victim's face.  Slow, patient sadism always does it for me!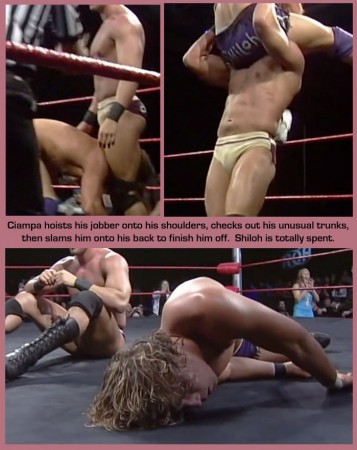 So if you enjoy great ring psychology — pro wrestling in the Old School style but with a sexy modern twist — be sure to watch Ring of Honor.  Also if you like to look at fit, handsome guys in skimpy gear that highlights their great bodies, be sure to watch Ring of Honor.
If you like it when a muscle-man clamps his legs around a jobber's neck, then hoists the pretty-boy crotch-to-face onto his shoulders, only to destroy him with a deadly Power-Bomb, be sure to watch Ring of Honor.  To finish him off, Tommaso delivers a degrading final pinning position, using poor Shiloh's face as a kneeler…