I received another interesting email from another one of my loyal readers who has purchased custom wrestling videos:
"It was fascinating to read other people's experiences but I realized I have another website to add to the list.  I wrote the scenarios for a trilogy of matches on WrestlingMale.com called Paris Deal 9."

"On my own blog (about erotic fiction, sometimes involving wrestling but not always), I made a little page with short summaries of each match and a link to the page that sells them.  Overall, I am very happy with the matches as they ended up being."
In the first video in the series, which you can download from WrestlingMale, Etienne wants to dress his opponent Stefan in just the right speedo, but Stefan's over-sized American posterior is not fitting correctly in the tiny European swimsuits.  Etienne tells Stefan how fat and disgusting his ass is (but it seems he protests too strongly…)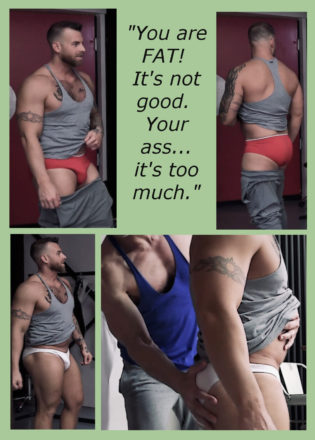 Here is how my reader described the opening scene on his blog:
"Wrestlingmale boss Etienne addresses wrestler Stefan. Showing him photos of his last match, Etienne tells Stefan that his butt is so obnoxiously big, it just doesn't look good.
Etienne asks Stefan to try on a few pairs of wrestling trunks, but his large cheeks spill out and Etienne claims it looks awful. However, we catch Etienne sneaking a peek at Stefan changing trunks every time."
---
"In the end, Etienne decides a thong would be the best for Stefan. To try it out, Etienne and Stefan engage in a match."
"Etienne is the much more experienced wrestler and puts Stefan in holds that show off Stefan's big ass."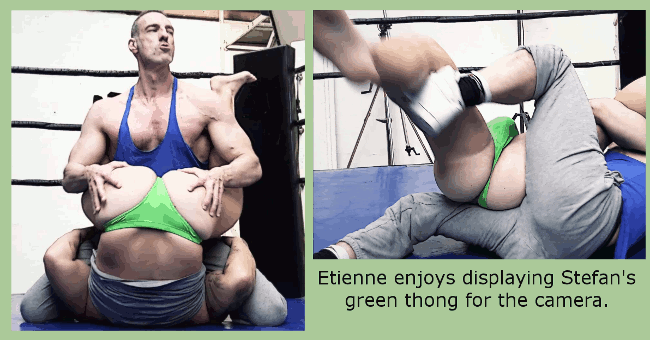 Eventually, Etienne strips down to a dark green speedo.  Then he enjoys some body contact with the beefy Stefan in this fabulous Face-to-Face Sleeper.
This one really got me, with the weakened Stefan looking utterly vulnerable and submissive in the older Frenchman's embrace.  Mmmm.
---
In his email to me, my reader described why he wrote this script as he did:
"My specific wrestling kinks are beautiful helpless jobbers with butts so big their trunks can't contain them, as well as knockouts. Sloppy, messy, eye rolling, drooling, maybe even snoring knockouts."
"Also switches in power dynamic — the younger or more muscular guy getting trounced by someone less physically fit or experienced for example. An authority figure like a boss or police officer being overpowered also always does it for me."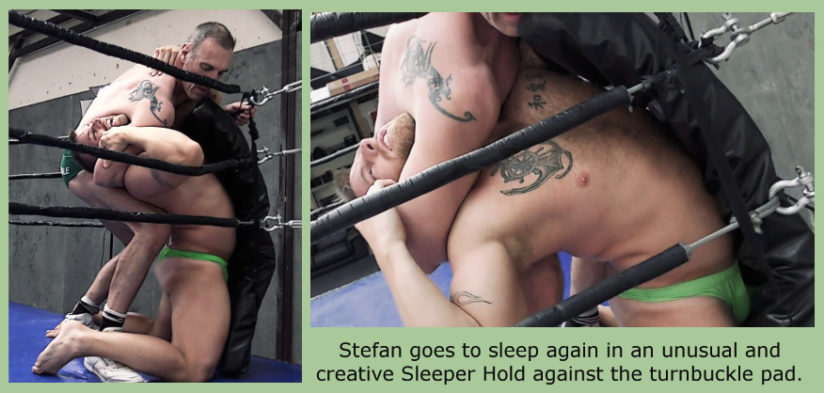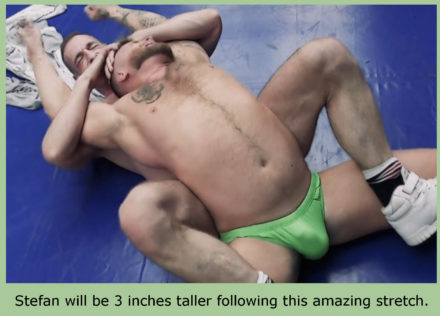 By the way, I also reached out to Etienne Erik — the boss of WrestlingMale — to let him know I would be blogging about his website.  He told me that my timing is perfect, because (as described on the WrestlingMale web page), he is preparing to film a bunch of Custom Matches in Spain, between September 20th and October 5th.  He is looking for more customers to provide match ideas.
So this is your opportunity to have your dream wrestling scenario filmed just for you.  Just post your request on his Custom Scene web page for a price quote.  Etienne told me that, depending on the travel logistics and other factors, he charges between 1,500 to 2,500 Euros (about $1,700 to $2,800) for his custom matches.  Given that the wrestlers are already travelling to Spain for these shoots, you may be able to get a lower price if you order now.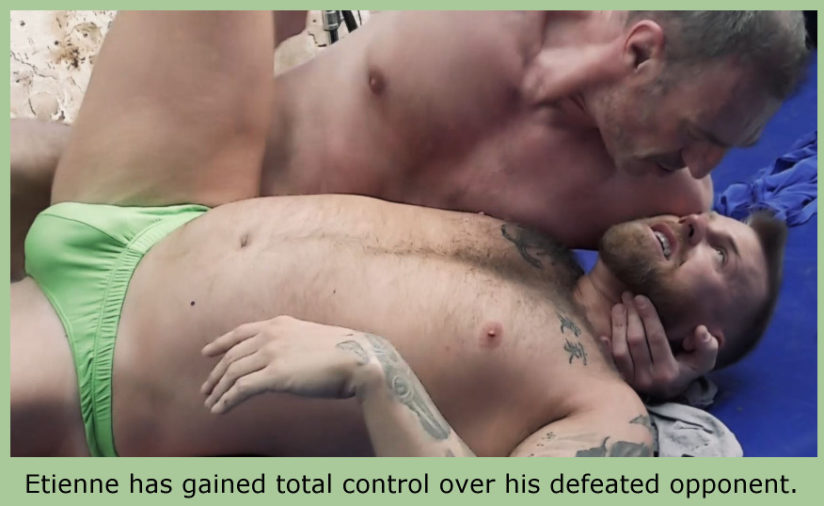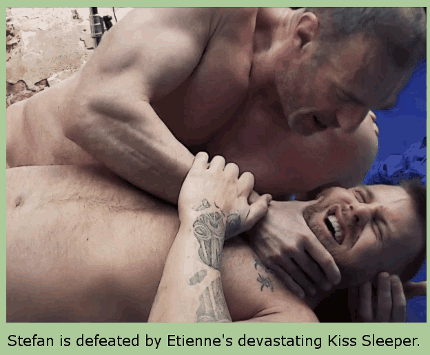 In my recent Triple Play article, I wrote about one of my old wrestling fantasies in which a Heel kisses his victim and sucks the air out of him to pass him out.  This actually happens in this match to my utter enjoyment.  I'm not sure if my reader wrote this into his script, or whether Etienne improvised this move, but either way, I loved it.  If I ever make a Custom match, I'm definitely including the Kiss Sleeper in it!
To be Continued…