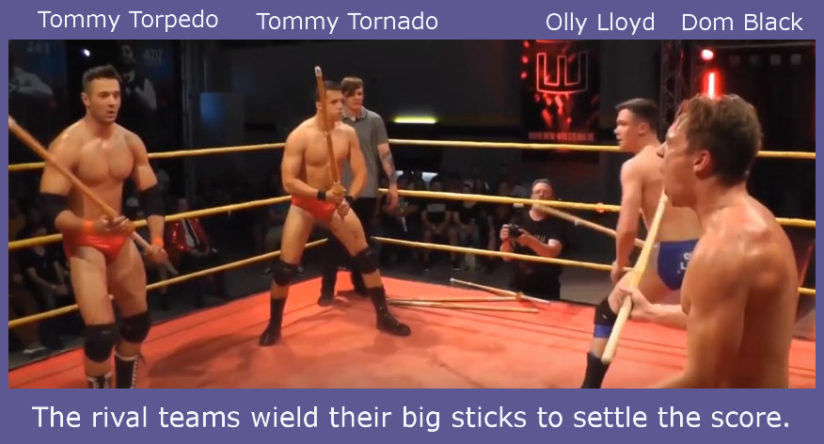 My article describing the match between Team Turbulence and the British Boys (Dom Black and Olly Lloyd) received a good reaction, so let's check out the next battle in their on-going war.  In this video recently uploaded to YouTube, kendo sticks are available as weapons to increase the brutality and sadism of their encounter.
---
The Brits use their Kendo Stick in a clever way.  Olly inserts it between Tommy Torpedo's thighs so Dom can kick the stick up.  They are trying to neuter this Austrian stud!
I dig how Dom mimics his victim's pain by clutching his own nuts, but he will pay for that later…
---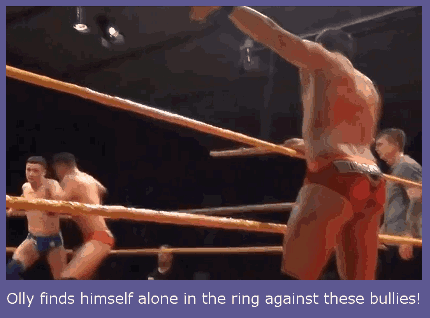 A running theme in this match is the isolation of Olly Lloyd, the lad who pinned one of the Tommys in their last match.  We will see Dom Black repeatedly beaten down, thrown out, or tied up, leaving his young partner isolated and vulnerable to this torpedo and tornado.
---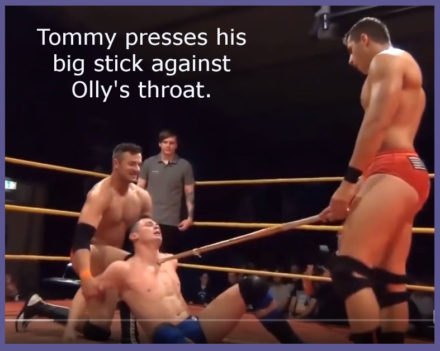 Obviously the kendo sticks being used in this match serve as phallic symbols.  We see Team Turbulence swing their big sticks around, poking and prodding and striking their opponent, positioning the weapon near their groins to further the symbolism.
---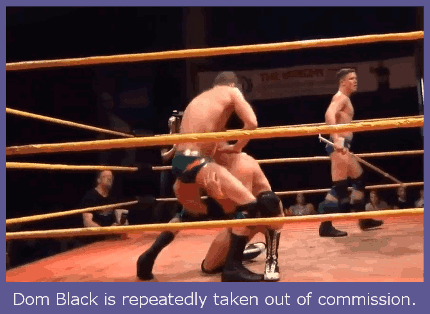 Dom Black suffers a Buckle Bomb, but instead of crashing into the padded turnbuckle, his back strikes the kendo sticks braced on the top rope.
In ring psychology, when a wrestling move is modified by adding a foreign object, the effect of the move is amplified, leaving the victim utterly ruined and ragdolled.  Dom, for example, becomes completely helpless after hitting the sticks, more than he would've if those deadly kendo sticks were not in place.
---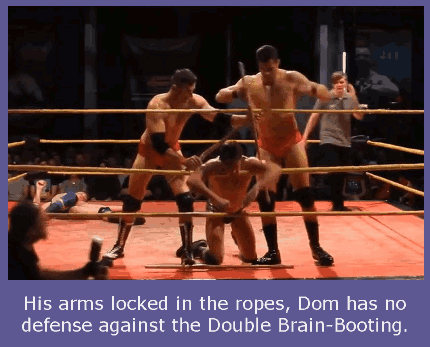 A bondage moment occurs when the bullies entangle Dom in the ring ropes, with a pair of criss-crossed kendo sticks locking down his arms.  Oh these hotties are so creative and cruel!
Dom plays along adorably, remaining in this helpless position and enduring a pair of kicks to the brain.
---
The two Tommys can now have their way with the isolated lad who defeated them in their prior match.  They plow him down with a Two-on-One clothesline.
Again, the usage of the kendo stick makes this move ten times more effective than if they'd used their arms to clothesline him.
---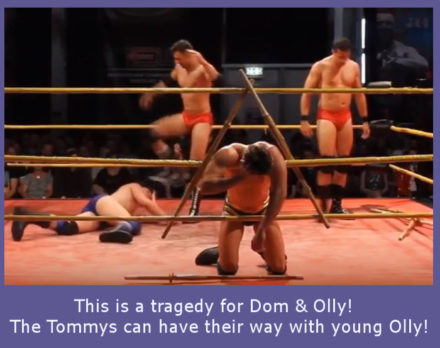 Why oh why did these cute British lads agree to a kendo stick match against these brutal Austrian bullies?
Obviously Team Turbulence will have the upper hand when weapons become legal and Double-Teaming is not a rule violation.
---
With the numbers advantage and kendo sticks available as weapons, how could Team Turbulence lose?
They waste poor Olly and pin him in a suggestive position, the ultimate pay-back for his prior victory over them.  The score is settled now!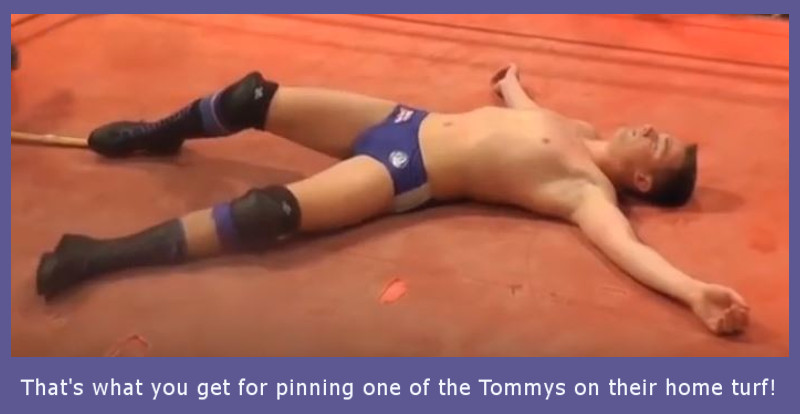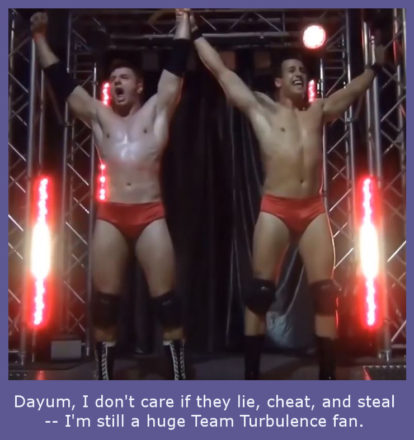 Another entertaining and exciting performance by these buff buddies, flexing their muscles and showing off their physiques to trigger the audience.
I guess I'm supposed to dislike them for the way they mistreated their cute young victims, but have you seen how they look in their skimpy orange trunks?