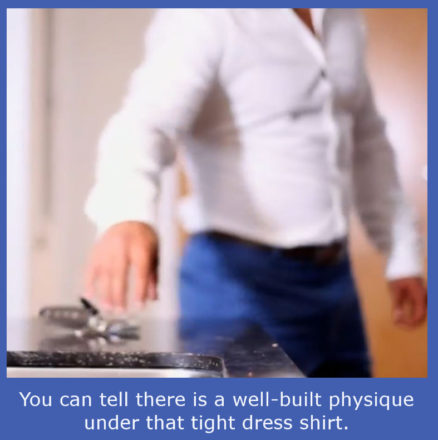 A couple days ago, I blogged about the very enticing episode of RAW that aired on 12/24.  I am pleased to report that the classic Tag Team bout was not the only thrill of the night.
During a commercial break, there was also this interesting preview of a "new" talent coming soon to RAW.  Let me break it down…
---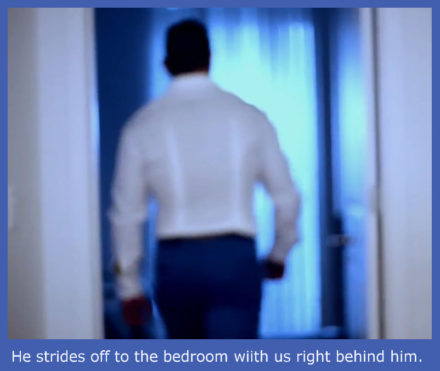 We see an Unknown Male enter his apartment, toss his keys on the counter and head into the bedroom.  It appears that he just got home from a busy day at the office and now he's going to relax.
---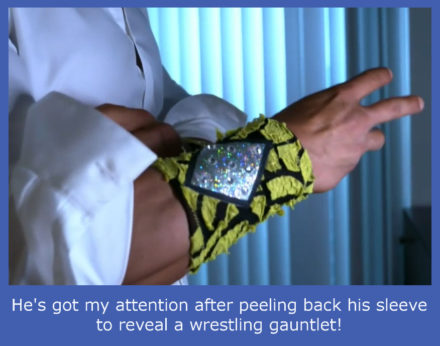 As he begins to undress (with us watching him like Peeping Toms), we learn this Unknown Male may have a wrestling fetish.  Under his shirt, he is wearing fancy wrist bands.   Wasn't he concerned that people at his office might see this gear and think he is an odd dude??
---
The Unknown Male continues to undress — promising us the Full Monty.  As he peels off his shirt to expose a spectacular tan chest, I am feeling that tingly excitement that I always feel when I'm in a guy's bedroom and he strips down to his rasslin gear.
---
Next he peels off his trousers to reveal, not boxer briefs, but an amazing pair of yellow and black spandex trunks, decked out in shiny rhinestones!
Now they've entered kinky fetish territory — the eroticism of lycra, the wearing of gear under one's work clothes.
They must know very well that I've fantasized about this scenario many times, and they're teasing me with my secret turn-on.  You don't think I've ever thought about wearing trunks instead of Fruit of the Looms to work?  (I'd be hard all day long.)  You don't think I was ever in a boring meeting and pictured that new young stud in Accounting pulling down his khaki pants to reveal that he's secretly into wrestling gear?!?
---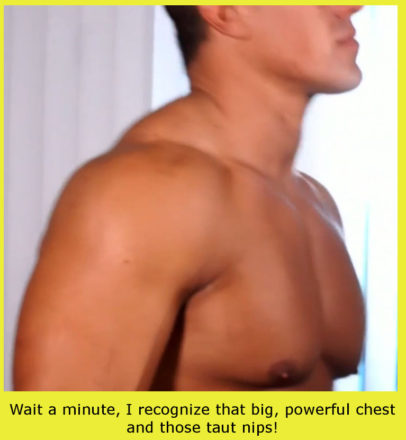 Whoa, nice nice body!
And let's consider the context of this scene.  This Unknown Male is not in a locker room at a show, he is in his bedroom.  In private.  Stripping down to wrestling trunks like he is getting ready to wrestle or jerk off on his bed.
So he is not going to work right now to perform at a wrestling show — he is home from work and ready for some play.  The implication here is that this stud is into wrestling in trunks in his apartment.  It is as if the WWE knows exactly what we wrestling lovers do, for pleasure, behind closed doors, and they're suggesting that their performers are perhaps into the same kinky stuff.  They know exactly how to market their product to fans like us!
---
They reveal his face and we learn that EC3 is the "new" talent coming soon to WWE.  This is cool, I'm happy for this kid, I'm glad he finally made the Big Time.
---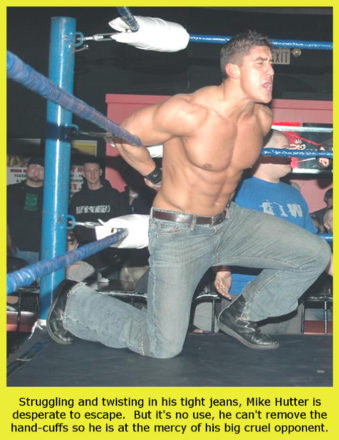 I first blogged about this wrestler (and recognized his potential — and his hunkiness) way back in 2007 on my old Wrestling Arsenal website.  He was known as the "Deviant" Mike Hutter back then.  He performed shirtless in jeans for that match against another young lion who was shirtless in jeans.  Then it got kinky when they played around with handcuffs and bondage — deviant indeed!  It was a very exciting match that some of my loyal readers still mention.
---
In 2013, I caught up with him again in TNA when his spoiled brat "EC3" gimmick was brand new.  He performed some more homo-erotic antics in that episode (while wearing gorgeous Tarzan trunks) by humiliating the referee, Earl Hebner, in front of his son.  Then he forced young Brian Hebner to worship him — it was very degrading for the father and son to endure, and very arousing for us to witness.  Again, GREAT work by EC3.
So after exciting the fuck out of us on the Indy scene and in lesser promotions for 12+ years, I'm pleased to see him reach the pinnacle of success in pro wrestling.  He understands that wrestling is meant to be queer, so more power to him.
---
So back to this preview during the 12/24 RAW episode…  Next we see EC3 kicking ass in the ring, wearing the same yellow trunks and gauntlets he just wore for us in his bedroom.
We learn from this montage that EC3 has great abs, and he brutally destroys other shirtless men in the ring.  I think I'm in love.
---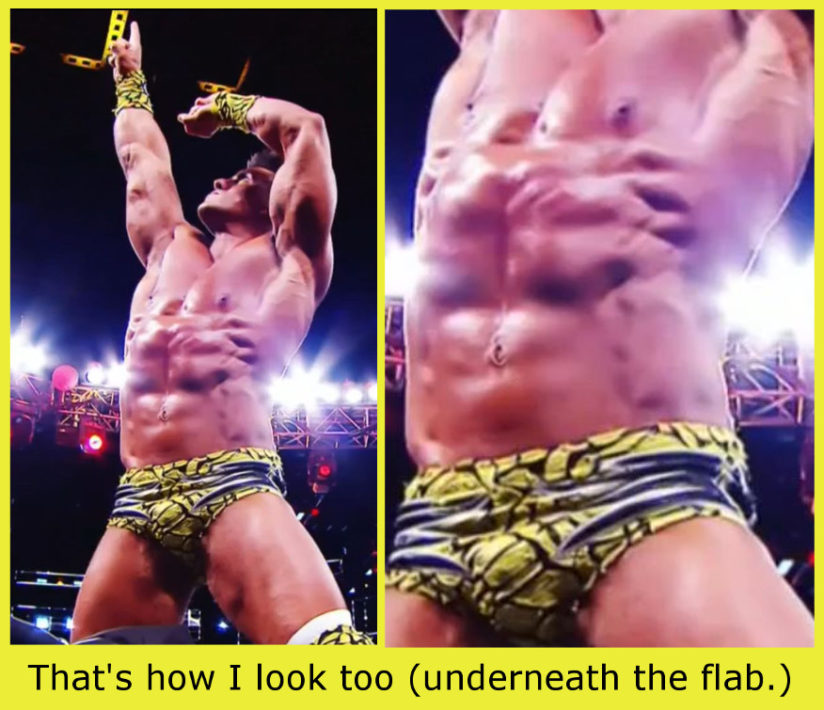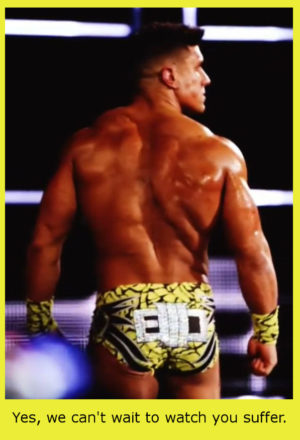 This is a classic sales gimmick in pro wrestling, especially WWE.  They announce that some hunky wrestler is Coming Soon.  Then they torture you for a few weeks by offering little glimpses of him — peeks at his amazing body, short clips of him in action.  It's all meant to get you turned on and excited for his arrival, an extended, multi-week session of foreplay.
They usually only provide such a long introduction for the really hunky guys that they plan to push.  I recall they teased us with Fandango for like a month!  So it looks like EC3 is getting the royal treatment and I'm happy for him.  Good luck kid — you deserve it.  Have fun and enjoy it while it lasts!