It was not long into the 12/24/18 episode of RAW before the WWE revealed what they're giving me for Christmas: a Tag Team bout between my currently favorite Baby-Face team (the Blue Boys) and Heel team (The Revival)!
The Blue Boys enter the ring first, having donned their gay apparel — a pair of matching robes glittering with rhinestones.
---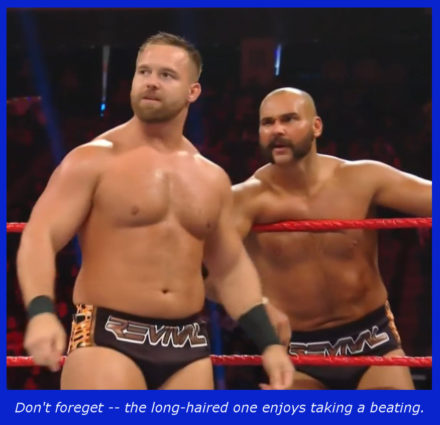 I must have been a Good Boy this year, because this match is a gift — sure to  deliver the cruel Double-Teaming, epic FIP suffering, and close-up views that really stuff my stocking.
As they prepare to tie up, I'm like a kid on Christmas morning, eager to unwrap my gift.  And all the guys in the ring are pure eye-candy, decked in tight spandex wrapping paper.
---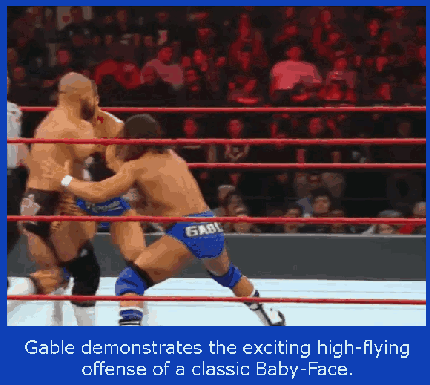 The match opens with some Baby-Face tinsel and glitter, with Chad Gable in the classic role of the High-Flying Young Show-Off as he unwraps this gorgeous Monkey Flip on the hapless Scott Dawson.  His flashy, flippy antics will be the gift that keeps on giving after the Heels turn the tables on this spectacular jolly elf.
---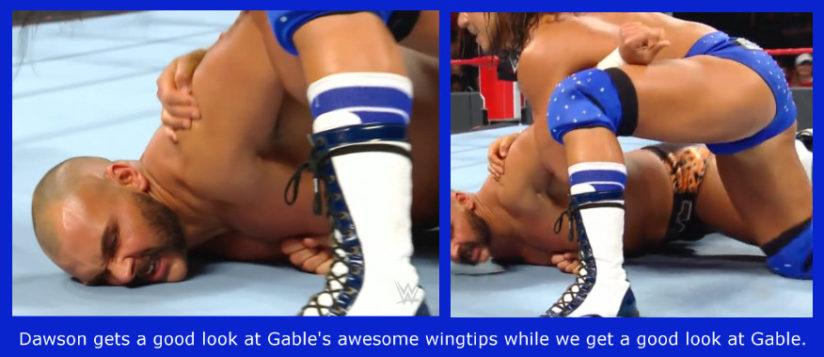 Scott Dawson, normally the Grinch in the ring, is being made to look like a misfit toy by this talented angel in white boots and sparkly blue spandex trunks.   And I'm not the only viewer who is as hard as a candy cane after noting how all the dudes in this match are displaying their packages as a gift to us, with numerous views of their chestnuts and yule logs ending up in screen grabs all over Social Media (some of which I used in this gallery).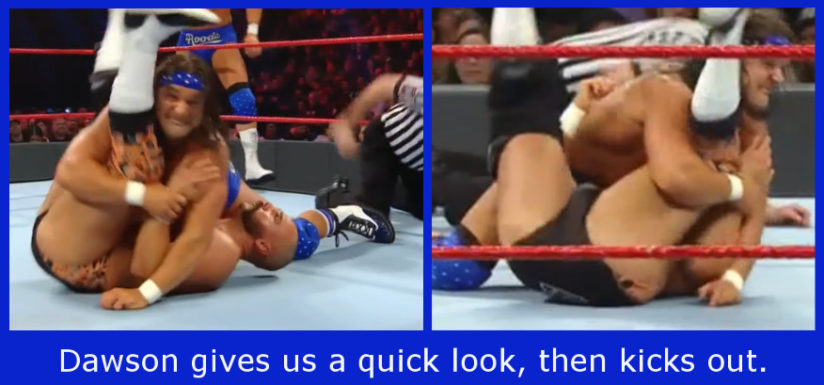 We are blessed with a view of Dasher outside the ropes, eager to get in the ring and join in the reindeer games.
I'll bet that thicc body would keep you warm on a cold winter's night!  Scott Dawson is a lucky man.
---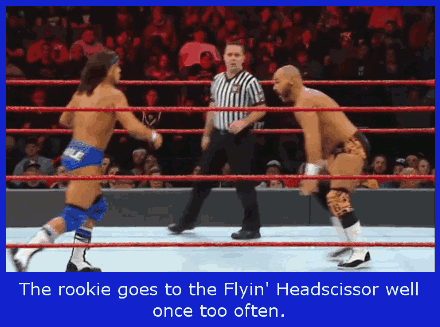 My Christmas wish comes true when the Heels snap Gable's neck across the ropes to end his series of Flyin' Headscissors.
These naughty boys will be getting nothing but coal in their stockings after that brutality, but I don't think they really give a fuck.
---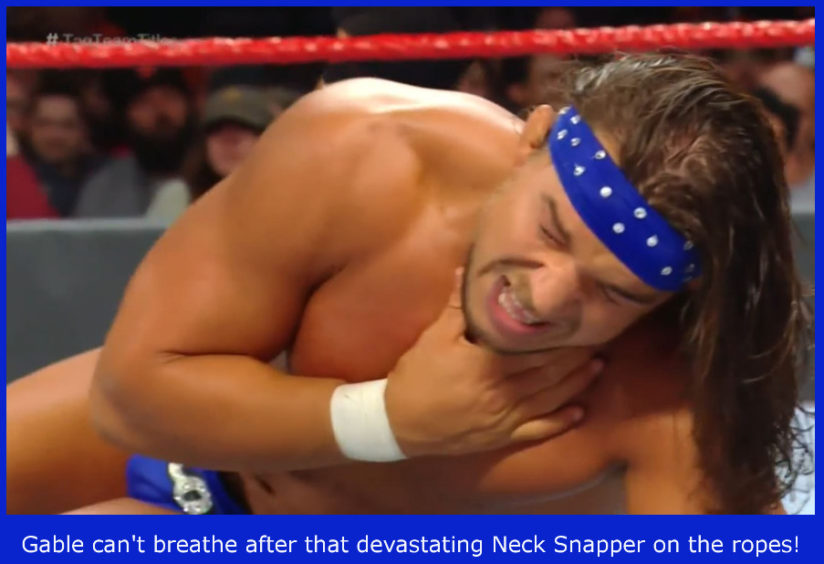 Now Gable plays the Face-in-Peril and I dig it, crying as if Santa skipped over his house.  He looks as pathetic and pitiable as Tiny Tim as the evil Heels keep dragging him up by the hair.  I am loving Gable as the helpless loser with his beaten ass on display these days!
Note that Chad Gable is the only competitor in this match without a thick, masculine beard — the only one with long flowing hair rather than a military buzz or baldness.  As the prettiest dude in the ring, of course he'll be the one to suffer and sell.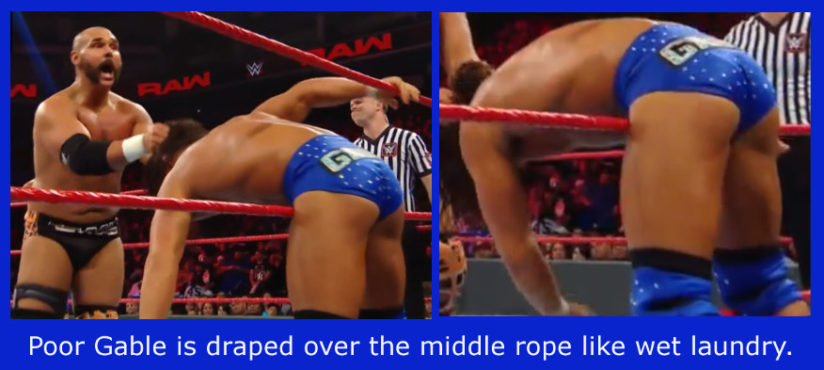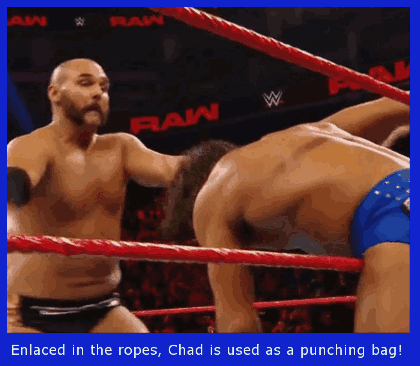 After wrapping Gable in the ropes, Dawson plays the Little Drummer Boy, repeatedly punching and kicking the jobber to the rhythm of Pah-Rumpa-Pum Pum.
Chad Gable is such a willing chump, truly a pleasure to watch as he emasculates himself and sells his pain, his long hair whipping around like garland gone awry.
---
WWE must have figured that the breeders were all busy on Christmas Eve, wrapping presents for the little angels and preparing for Santa's arrival rather than watching Rasslin, so the only viewers watching RAW on the night before Christmas were the sort of fans who get off on spandex, muscles, and beefy, powerful physiques.
So 12/24 was the perfect opportunity to put two of the most homo-attractive Tag Teams in pro wrestling history in the ring together.
---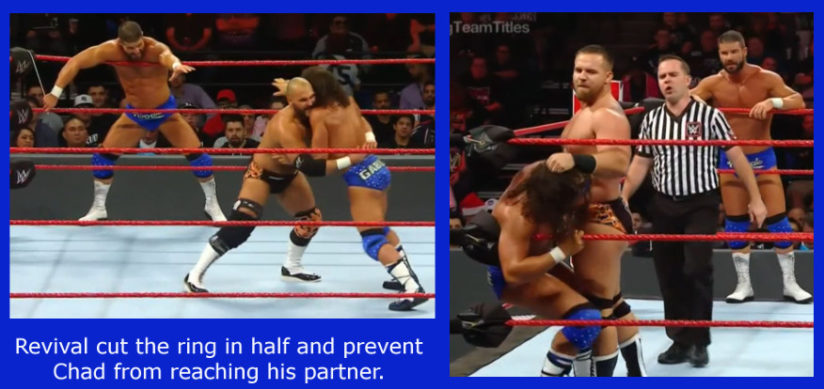 The Revival are delicious as the nasty Heels — yanking on Chad Gable's hair like they're ripping open packages, and throwing him around like he's a disappointing present.  Here Chad sits limp and melting, like Frosty on a warm day, so Dash can punch him in the fucking face.
The Revival are a throw-back Heel team, like Arn and Tully or the Minnesota Wrecking Crew (which the commentators constantly remind us.)  What they really need is a throw-back Baby-Face team, like Ricky and Robert or the Young Rockers.  Well I think they've found the perfect old-school, lovable, flashy, high-flyin', pretty Baby-Face opponents to beat up in these Blue Boys in their spectacular gear — Roode & Gable.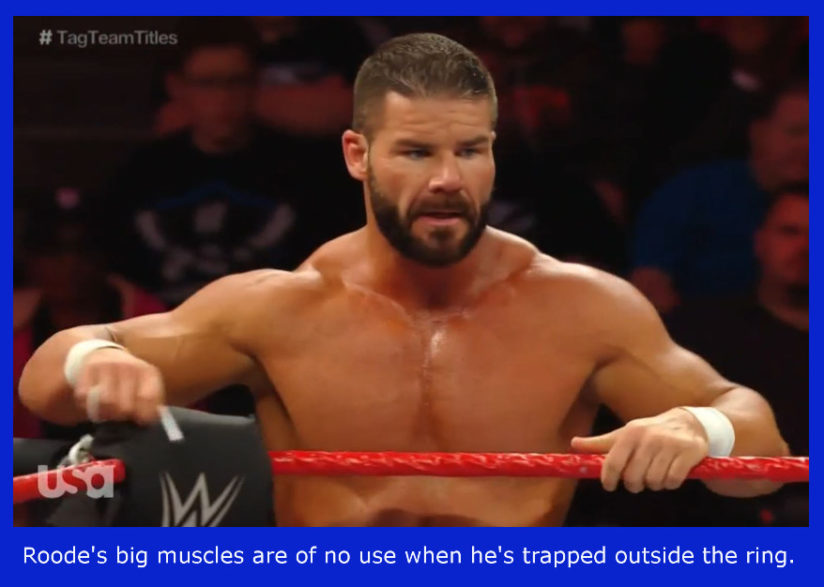 ---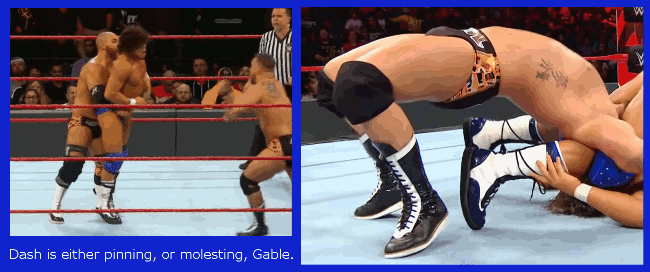 Then THIS happens — which makes me very certain that this match is meant to be a big Christmas gift to wrestling fans of a certain sexual orientation.  Dawson performs a German Suplex (just after Dash clobbered Gable's pretty mug).  Then Dash inserts his head between Gable's thighs and flips over to perform a bridge, pinning the Baby-Face (with his face pressed tight into that blue-spandexed package).  It's one of the queerest and most sexually suggestive wrestling positions I've seen in years — a real Christmas Miracle!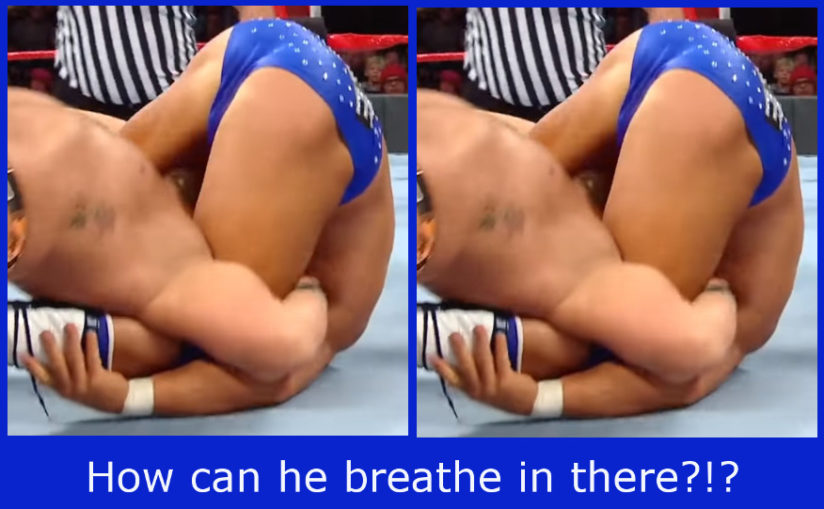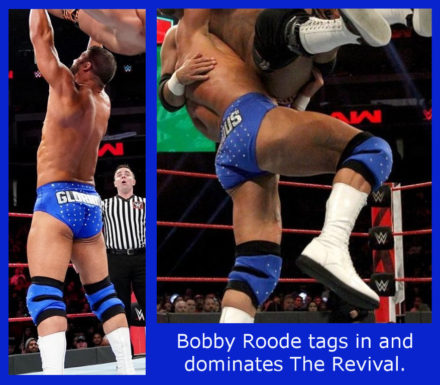 But Gable kicks out and escapes the pin (maybe because Dash was smothered by that big bulge in his mouth).
After pulling the spandex out of his ass crack, Gable tags in Bobby Roode, who enters the ring like a powerful snowblower, sweeping away Dash & Dawson like they're mere snowflakes.
---
So I see what you did there, WWE.  You gave us a classic Tag Team competition as a wonderful gift, wrapped up in a pretty bow, with plenty of homo-erotic themes and gorgeous scenery to really excite us on this Christmas Eve.  Thank you kindly for this gift — I enjoyed it very much — I believe three times so far.
We conclude with this footage of the Blue Boys in victory, with their arms wrapped around each other, happy to retain their golden belts and ready to celebrate the holiday.  (It used to be The Revival who were constantly shown hugging and loving on each other, but now that honor goes to our new Baby-Face heroes.)  Merry Christmas to all, and to all a good night!