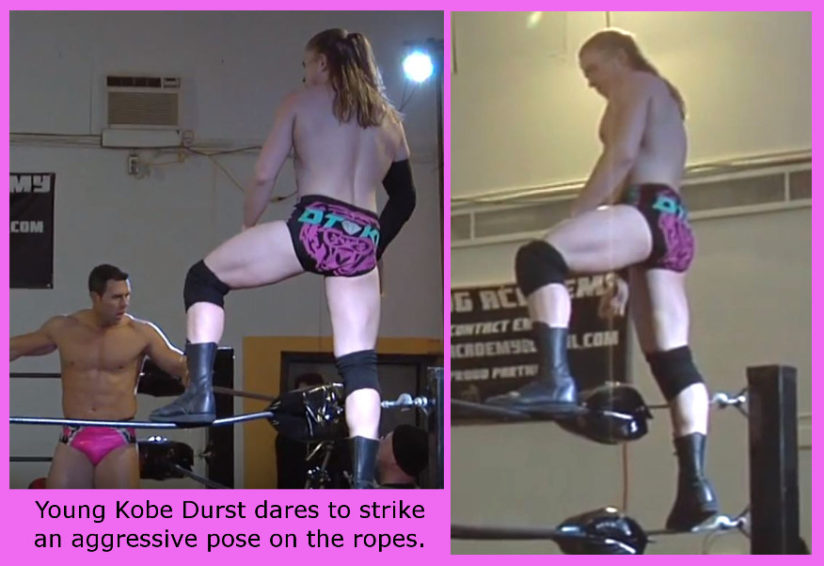 At age 22, the "Diamond Tiger" Kobe Durst usually portrays the Eager-Yet-Naive young Baby-Face — the vulnerable whipping boy who is used and abused by the more experienced Dickhead Heels.  This recent YouTube video from Cross Body Pro Wrestling in Canada provides a good example of the classic Out-Matched Dumb Rookie gimmick.
---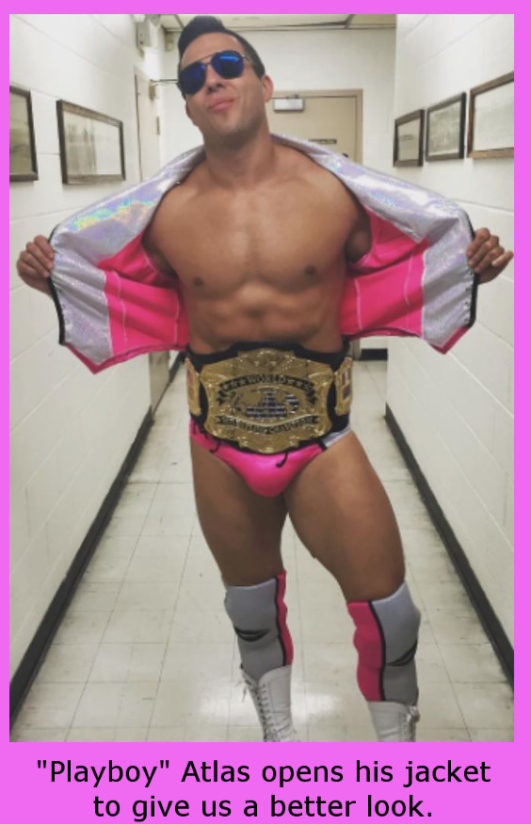 Kobe's more experienced Dickhead opponent is the "Playboy" John Atlas, age 31.  This stud is a looker, I must say.  Here he is showing off his belt — or maybe his bulge — with his impressive belt nestled snugly right on top of his impressive bulge, which is exactly where a Champ should always rest his belt.
You know a wrestler is good looking when he's been featured a couple times on the Beefcakes of Wrestling blog (which is where I swiped this Look-At-It photo from….)
---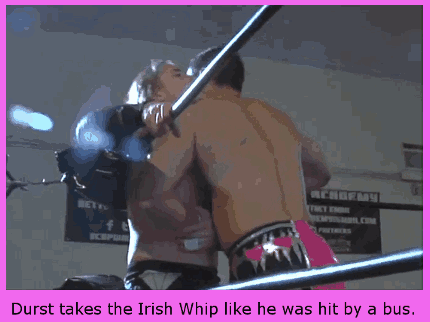 The two buff dudes rassle back and forth for a while, then the veteran Atlas begins to dominate, focusing his assault on young Kobe's back (I love it when they focus on the back.)  Check out Kobe selling the fuck out of this stiff Irish Whip into the corner — this kid is good.
---
Here is a random image of Kobe Durst I stumbled upon while preparing this gallery.  I decided to post it here, even though it's from some other match, because he looks really jacked up and appealing and you can get a good look at his physique.
---
---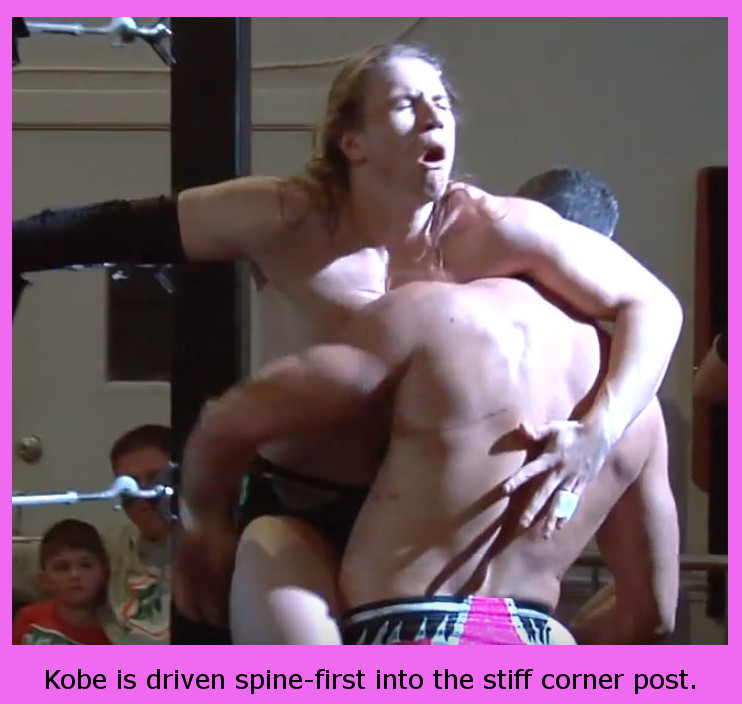 Atlas out-muscles poor Kobe, bouncing his vulnerable young body off all the hard surfaces around the ring.  We are treated to some nice suffering by the long-haired rookie as he absorbs relentless abuse from the swole Playboy in pink.  It's a turn-on if you're into that sort of kinky stuff.
---
Durst and Atlas are actually wrestling in a tournament for the Cross Body Blue Ribbon Championship or something.  We are told the winner of this match will go on to face the current champion, Randy Reign, next week on the broadcast.
We are made to feel sorry for young Durst as he suffers outrageous torture and agony, and we find ourselves hoping for him to prevail over this gorgeous bully (even though it sure would be nice to see the gorgeous bully in action on the program again next week, and every week thereafter..)
---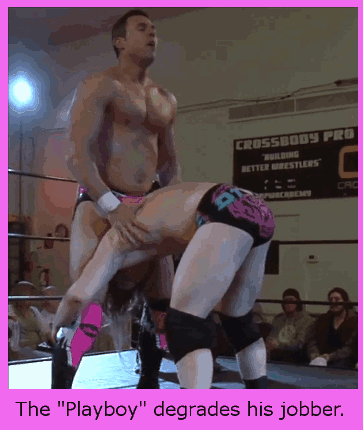 When I was a youngster, I was able to watch a Canadian wrestling show broadcast from a low budget indy station (if our aerial antenna was pointed just right. )   As I recall, the Canadian wrestlers were mostly brawny older men with big bellies.
Don't get me wrong — it still drove me wild with excitement because it was totally raunchy, violent, and inappropriate — but I sure don't remember studs like THIS on the show!  I must say, the quality of Canadian Indy wrestlers has sure improved over the past 40 years!
---
Kobe somehow surprises Atlas and secures the pinfall victory.  I forget what he did to win — I was more focused on his suffering.  Anyway, the champion Randy Reign —  who is supposed to wrestle Kobe the following week — suddenly enters the ring, orders the ref to ring the bell!
Oh fuck, this Randy Reign is yet another swole specimen of manly beef!  He's got a banging body with that bald-with-a-beard look that I love in a Heel.  I really need to start watching more Canadian wrestling, eh?!   Where did they discover all these hotties under all that snow?
---
The appeal of the match is the unfair situation Kobe is thrown into.  He was only supposed to wrestle once tonight, and he already suffered one beating at the hands of John Atlas.  It is an injustice for this Heel to force Kobe to wrestle immediately — what a dirty, sneaky bastard!
The commentators point out the blatant injustice of the situation to further stir up our feelings of pity for young Kobe:   "Need I remind you, this match was not supposed to happen for a week.  Kobe Durst was supposed to have some time between these two match ups, and Randy Reign is not allowing that to happen."
"Kobe hasn't even had a chance to rest!" 
---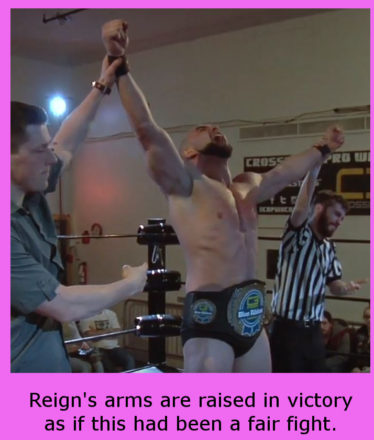 Of course the selfish, shifty Champ is able to retain his belt after taking advantage of young and dumb Durst like this.
Why did the officials allow this bout to happen when it was supposed to be scheduled for a week later?  If an Alpha Male like Reigns orders you to ring the bell, I guess you have to obey him and do what he says.
Hopefully this situation is setting up a larger feud between Reign and Durst, which could be a big turn-on.  And they're able to depict Durst's loss without costing him any respect in our eyes because Reign's victory is tainted — because Reign was only able to subdue and defeat Durst after Durst had already been worked over by Playboy Atlas.  This is the mechanics behind the scenario, but the image of a young Baby-face beaten by not one, but two, muscular Heels, and the sheer injustice of his plight stirs up feelings of compassion for the victim in the eyes of the viewer.