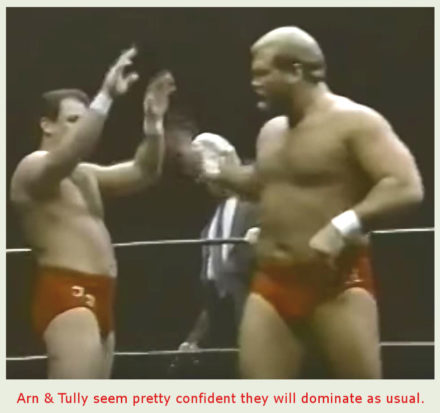 Arn Anderson and Tully Blanchard were one of the best Tag Teams ever to put on a pair of matching red trunks.  What a pleasure to watch these beefy Real Men own their jobber opponents!
This classic squash recently posted to YouTube features Arn & Tully destroying two pretty-boys in whitie tighties — Tommy Angel and Cougar Jay.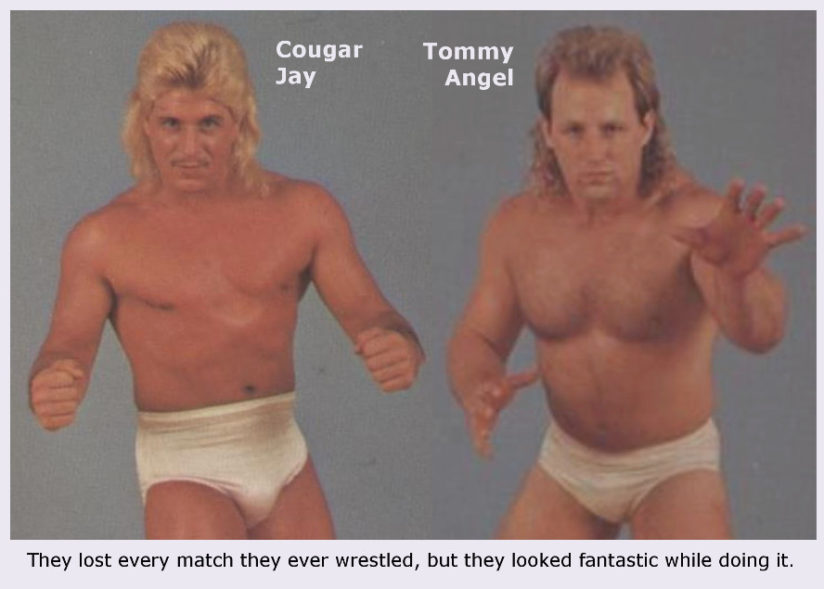 I was a sucker for white trunks and boots — and these two jobbers are so wonderfully submissive.  Even the name "Tommy Angel" sounds weak and submissive.
The name "Cougar" on the other hand sounds fierce and savage.  But we soon learn that Cougar Jay is actually a declawed pussy cat in the ring.
---
When Cougar Jay tags in, the stiff two-on-one beating really begins.  Cougar is even wimpier than Tommy Angel — forced to play the Jobber-in-Peril, a jobber among jobbers.
We get some nice close-up glimpses of those white spandexed asses as the whipping boys trade places in the ring.
---
---
Cougar's white gear matches nicely with his platinum blond jobber hair.  I suppose I dig white trunks because they're so bright, bulge- revealing and visually arresting.
White gear also gives the smooth-chested jobbers an aura of purity, innocence, and youth.  This makes them seem even more vulnerable, and their suffering even more erotic.
---
Check out this beautiful ass-grabbing Body-Slam by Arn Anderson.  I zoomed in here for a closer look at Cougar's white trunks (with Arn gripping and stretching them) but if you watch the video, it really is a well-done Body-Slam.
---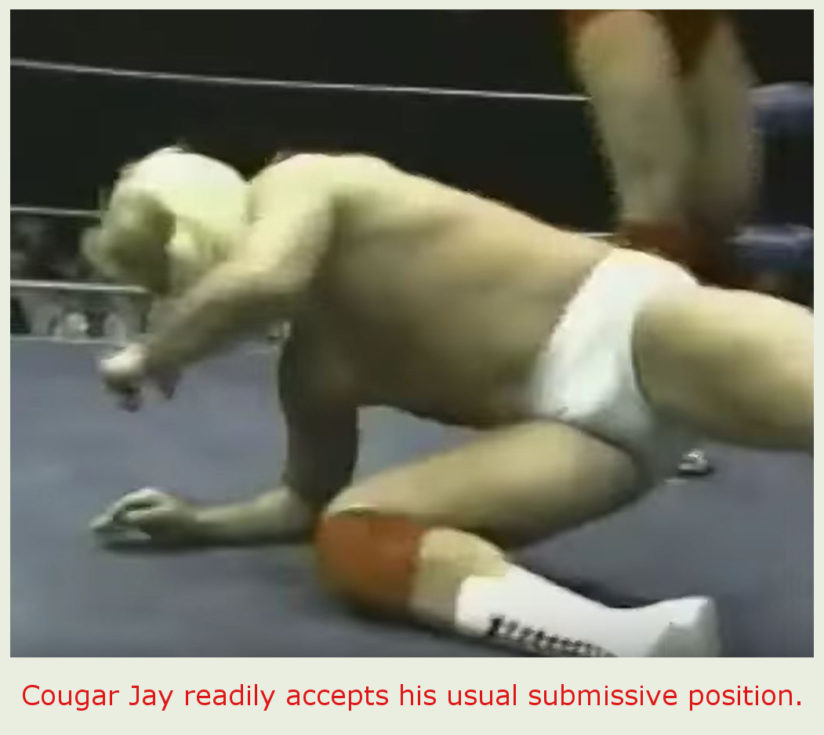 Tully finishes off his jobber with this Slingshot Suplex off the ropes.  Usually this is not a Killer Finishing Hold.
The fact that Cougar Jay is beaten by this move further demonstrates his weakness and vulnerability.  Which makes me want to wrestle him.  Which I suppose is the whole point of jobber squash matches.