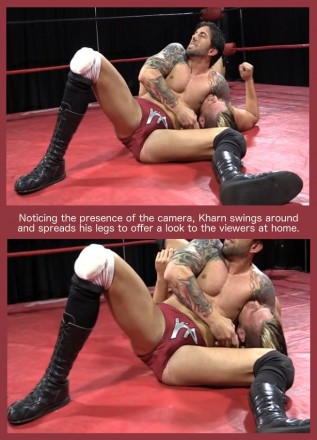 I was bored and horny the other day so I streamed a private wrestling video called "I'll Make You Suffer 8" from the CanAm On Demand video website.  The match featured Kharn in burgundy trunks with silver accents on his dick region and stunningly high black boots.  His opponent was a cocky blond in little orange bikini calling himself "Jimmy Stranton."  It was a really entertaining video, I'm glad I purchased it.  Maybe I will Blog about it in more detail someday — tons of nice Leglocks.
Anyway, one of Kharn's holds was this spectacular seated Headlock with his long legs splayed open, occupying about enough space to land a helicopter.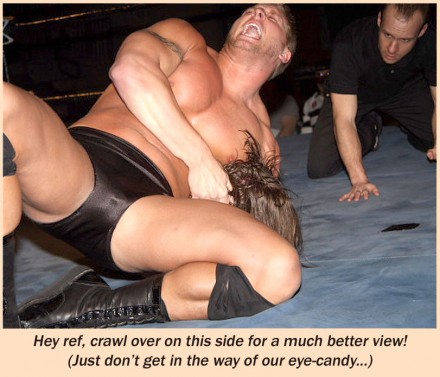 This reminded me that I have a bunch of these "Money Shot" Headlocks on the old hard-drive to share with you.
You may have noticed, if you watch a lot of wrestling, that the wrestler applying the Headlock will often take the opportunity to get a little frisky and exhibitionistic, spreading his thighs and presenting himself.
And sometimes instead of putting his own junk on display, the Head- Locker will position his victim to show him off for our viewing pleasure.