I continue to be pleasantly surprised and a little over-whelmed by the volume of WCCW rasslin videos being posted lately to Ray D's YouTube channel.  The action is old school, the video quality is good given the age of the material, and I get to re-live matches I first enjoyed back in my horny high school days
This video, just one of many Von Erich matches Ray D posted this week, features Kerry against Chris Adams.
Ray D is really going beyond the call of duty with his video postings!  Here is a list of how many wrestling-related videos (mostly WCCW matches) he posted in the few days before I am writing this article:
Today:  21 videos posted
Yesterday: 27 videos posted
2 days ago: 28 videos posted
3 days ago: 38 videos posted …and so on and so forth.
It gives you that dizzy buzzed feeling to scroll through his treasure trove of classic wrestling! Wrestling is my drug of choice.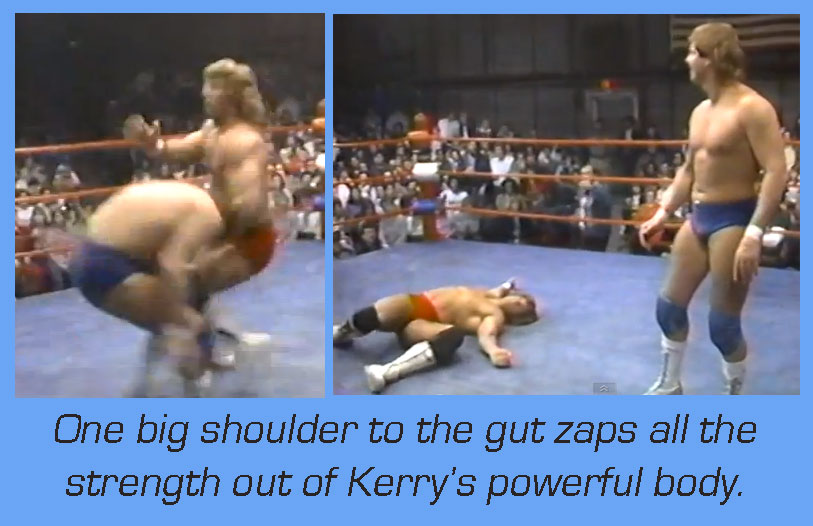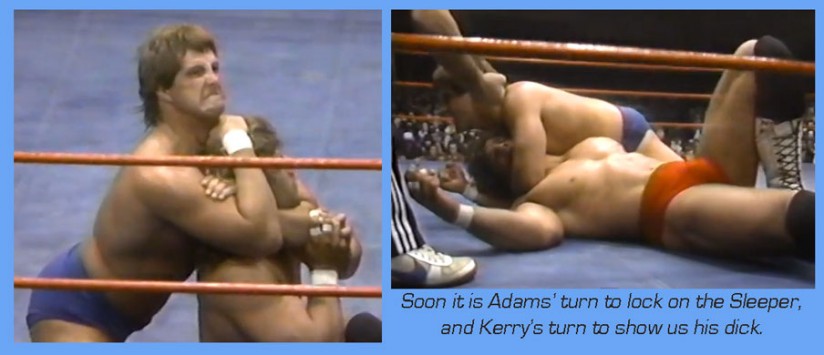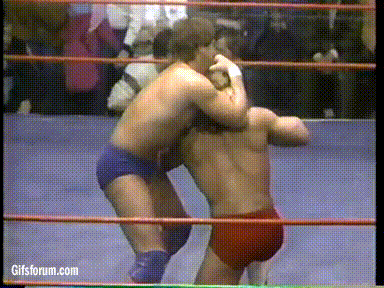 Earlier in the match, Kerry had applied a devastating "Sleep Hold" (as the commentator calls it) on Adams.  Soon after escaping, Adams locks on a Sleep Hold of his own, turning the most muscular Von Erich into a floppy ragdoll. Check out Adams yanking the backside of Kerry's bright red trunks to keep his bitch grounded and teach him to lay down obediently.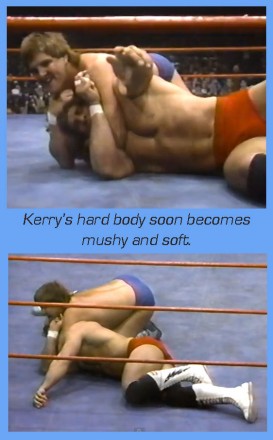 "Gentleman" Chris Adams had once been a friend of the Von Erich boys — a dimpled brother-in-arms who helped them battle every evil villain and ugly monster in Texas.  Adams became far more interesting after ending his friendship with the Von Erichs.  He seemed to really have their number, out-smarting, injuring, and humiliating all of the Von Erich boys at will. It was as if he learned their weaknesses when they trusted him like a brother, and later used those vulnerabilities to defeat and degrade them.
Adams had a nice build, but was not particularly swole like Kerry, so one would expect big, athletic Kerry to toss Adams around the ring like a toy.  But somehow the smaller man is more aggressive and devious, controlling Kerry like a puppet on a string for much of the match.
Kerry was my favorite Von Erich, partly because he had the best body, but mostly because he was willing to portray the helpless, humiliated bitch.  Some of his brothers had too much pride to suffer (we're looking at you, Kevin.)  Here, for example, a submissive Kerry allows Adams to display his ass, then flip him into the ring like a bag of garbage being whipped over the neighbor's fence.
Here is Kerry trying to finish Adams with the patented Von Erich Claw, but Adams easily thwarts his attach, blocking the Claw by grabbing Kerry's wrist.   This makes Kerry seem weak, ineffective, and impotent, so hats off to the big stud for setting aside his ego to put Adams over.
Kerry must have understood that people are turned on by Superman after he gets the Kryptonite treatment, or Popeye before he gets the spinach treatment.  Kerry worked hard to develop a powerful physique, then held that awesome body in check, allowing himself to be treated like a Welcome mat.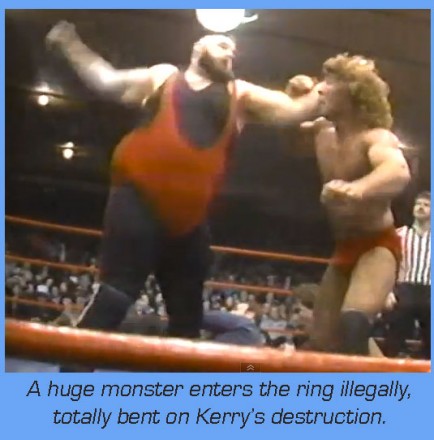 I didn't catch any good images of the ending of the match (you can check it out in the video).  Basically Kerry was able to back-slide Chris Adams to pin his shoulders and defeat him.  Then Kerry applied his Claw on both Adams and his manager.
Kerry's triumph was short-lived however, after the big fat One Man Gang stormed the ring to beat Kerry like a rented mule.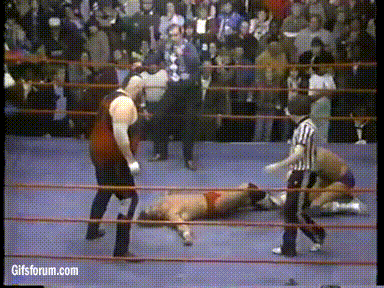 Adams pins down Kerry's legs so the fat man can crush him like a grape, splashing 450 pounds down across Kerry's ribs.  As mentioned earlier, Chris Adams was always besting the Von Erichs like this — he owned them!
The fight takes on the Fat > Muscle vibe as the big beast uses his weight to dominate the more fit, more muscular specimen.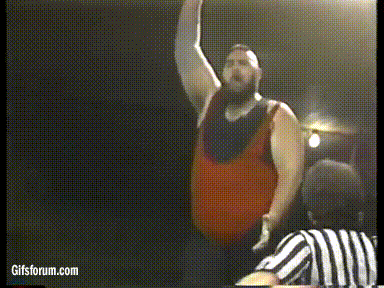 Still unsatisfied with the level of pain he has inflicted, the massive One Man Gang climbs the ropes to really crush poor Kerry.  Wow, that's like having a piano fall on your chest!
What I dig about these animated GIFs is that they repeat over and over again.  It almost seems like Mr. Gang splashed Kerry 40 times in a row.