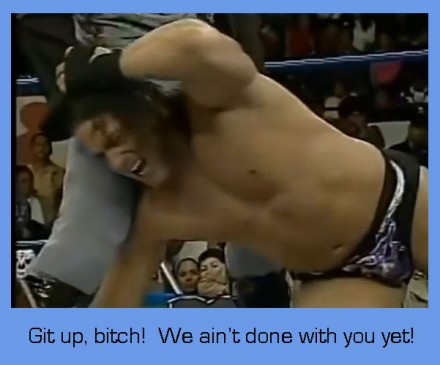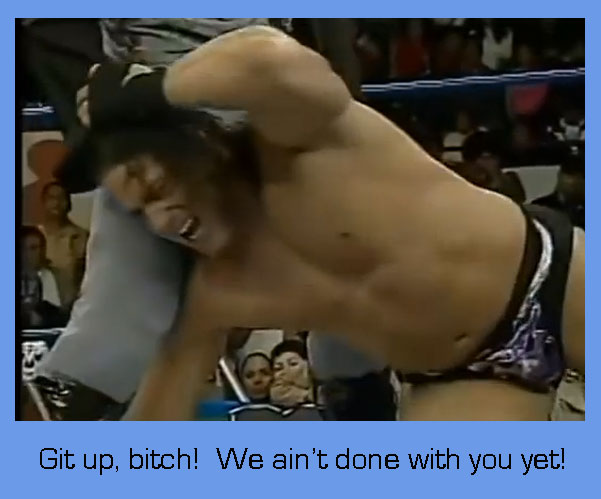 Yesterday I blogged about a video clip posted on YouTube featuring one lone stud suffering a poolstick to the balls from multiple attackers.  I enjoyed how the creator of the video, Daisuke Ogata, used slow motion, audio dubbing, zoom, and other techniques to emphasize the hero's suffering and prolong his torture.
Daisuke Ogata has uploaded many of his edited wrestling and fighting videos to his YouTube channel.  I may blog about more of his great work in the future.
For example, on 10/13/14, Ogata uploaded a dramatic video featuring more punishment and humiliation for poor El Mesias — this time involving many chair-shots to the leg and the taping of his arms to the ring ropes.  HOT!
I am using the term "Match Mashups" to refer to heavily edited wrestling videos such as the ones created by Ogata.  His video channel has inspired me to create some Match Mashups of my own –to edit pro wrestling videos using zoom, repetition, slow motion and other tricks to highlight and prolong the most interesting parts of the match…  Below is my first attempt at a Mashup:  DJ Peterson, who we are told is "physically a good looking young man" vs. the chubby jobber in dark purple trunks, Mike Tolos:

Peterson secures a Leg Grapevine at about 55 seconds into the video,  offering us a nice close-up view of his strong leg and tall boot wrapped around his victim's leg as we hear Tolos "screaming and groaning".  Peterson continues to expertly work over the leg, and Tolos sells it like a pro — his agonized facial expressions captured in slow motion at about 1:45.
At 2:58, the leg punishment continues as Peterson clamps his victim's leg between his own thighs and begins to grind, which is looped and repeated for emphasis.  Tolos roughs up Peterson for a short period, and I won't spoil the ending by telling you who wins, but I bet you can guess, or just watch the video.