I saw this interesting (and well edited) video clip on YouTube featuring some good old brutal Mexican lucha libre action.
The shirtless guy in the black trunks is "El Mesias" which means "The Messiah."  When the video begins, we see El Mesias being crucified in the ring by two long-haired bullies in all-black gear and a bad-ass punisher in a red shirt.  They knock the spectacular pretty-boy on his ass and he sells the fuck out of his helpless ragdoll status.

Oh no — things get kinky when the two long-haired freaks each grab and ankle and spread open Our Hero's legs wish-bone style.  Then their leader, the sadistic bastard in the red shirt, pulls out a kendo stick!
Oh no — what are they going to do to their undressed and spread-eagled victim?!?   Mr. Red Shirt gives that long phallic stick a kiss.
Meanwhile Mesias is laying there moaning: "Not the nuts!  Please, anywhere but the nuts…"  (However you would say that in Spanish — I suppose it would be:  No cajones…)
Sure enough, that sadistic sunovabitch hauls off and whups his weapon right downtown like he's trying to split wood with a maul!
The person who created this video dubbed in a different audio clip — the background crack of a sharp whip with a man groaning in ecstasy.  It sounds like bondage porn — perfect for a suggestive, homo-erotic scene like this!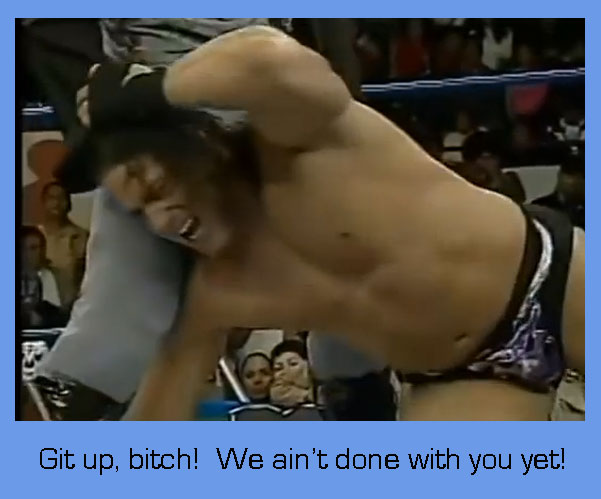 Later is a clip from a different episode of Mesias the jobber — this time with a different opponent ripping into his mouth with both hands.  Is he trying to give this poor young wrestler a perma-smile?