Let's do that thing where we look at the kinky, sexy, funny search terms that websurfers have entered which led them to this Blog, and see if we can post images that fulfill those searches. Here are some of the more interesting terms you've entered in the past few weeks…
wrestler with trunks too small
Who is to say a wrestler's trunks are too small?  I say there is no such thing as wearing trunks that are too small — after all, spandex stretches.  That being said, here are some big wrestlers in some small trunks that are stretched to their limits (and if you like this look, you can review a prior gallery featuring trunks could double as underwear…)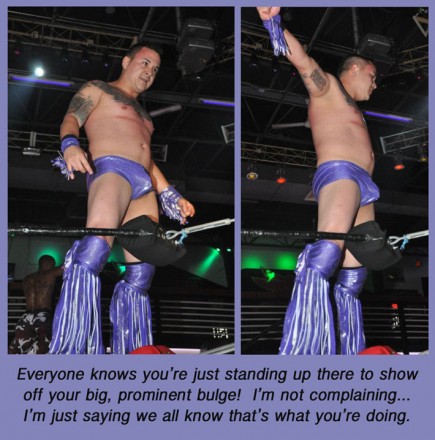 davey richards shirtless
OK good — I thought I was the only wrestling fan out there searching for images of Davey.  I am glad to see at least one other person into Mr. Richards.   And if you're into the wet look, Davey Richards is your man!  You can check out recent galleries of Davey getting sweaty in Sterling James Keenan's coat, and getting shirtless as well as pantsless with his trainee Kyle O'Reilly.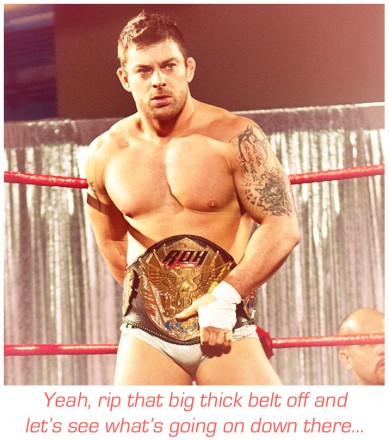 heel biting jobber
So someone out there likes their rasslin with a kink.  That's cool — I like it rough too.  For more images of savage in-ring cannibalism, check out my old gallery describing a classic Snuka vs. Steamboat bloodbath.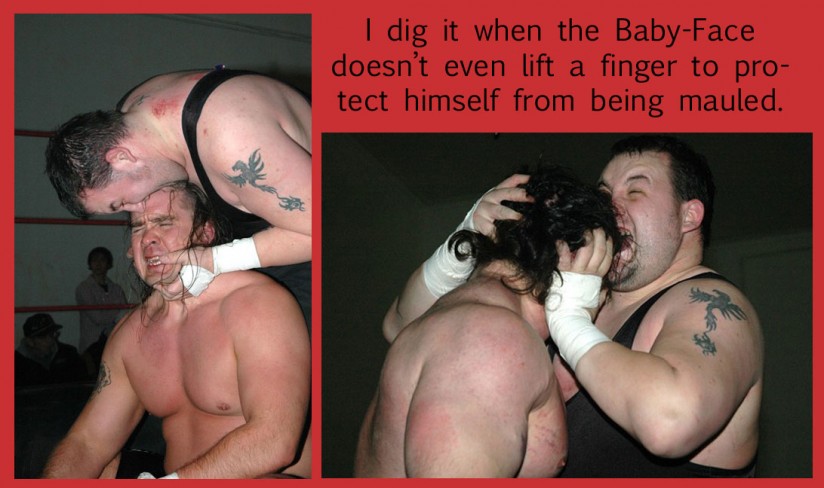 how to position cock in wrestling trunks
Good question — how does one position one's cock in wrestling trunks?  Ted DiBiase Jr. seemed to know what he was doing in that department, so let's take a closer look at how he does it:
wrestler pounds and stomps his opponent's gut
The mid-section is one of the most vulnerable areas on a wrestler's body, so most fans really enjoy seeing that body part taking the abuse.
classic daddies pro wrestling
Yeah, don't you just love that old timey pro wrestling when the dudes were so damn masculine, beefy, and tough looking rather than all of them looking like male models?  If you want to see some modern wrestlers with an old school vibe, check out my tribute to the James Boys.
wrestlin jobbers with large manhoods
You would expect the dominant wrestler to emasculate his defeated competition, to show the loser of the match as an impotent eunuch, less than a Real Man.  But ironically, the victim's impressive manhood is often placed on proud display, presented as the center of focus and marveled at.
blood sacrifices in pro wrestling
Yes a little blood-letting in the wrestling ring can be a very entertaining thing.  And a lot of blood-letting can be a damn turn-on.