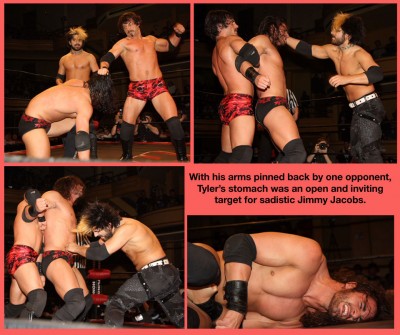 A fan if this Blog sent me an e-mail describing his love of Gut-Punching in pro wrestling, especially 2 on 1 gut-punching, where one wrestler holds back the victim's arms so the other can slug him in the Breadbasket.
Customer satisfaction is our passion here at Wrestling Arsenal, so this gallery features images that make you go "OOOOOOFFF!"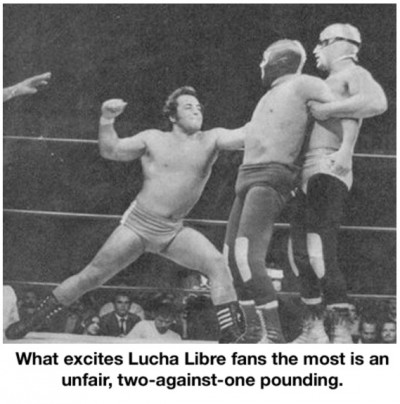 His exact words describing his love of belly-busting were:
"My FAV scenes are (2 on 1) gut punching… Dunno why?….just gets me off to see a hot guy restrained & pummeled in the belly.
That was my first turn-on trigger……I just loved to see a Von Erich or sexy jobber gut punished…..
I find the stomach the hottest part of a guy….to this day…"
Some of these images are of Gut Kicking instead of Gut Punching, I hope that is OK. (Or is kicking not the same turn-on as punching??)
Anyway, I've heard from a lot of guys into Gut Punishment over the years I've been Blogging.  I'm not sure I understand how someone can derive excitement from suffering (or delivering) a fist to the belly, so I decided to conduct some research to try to find an explanation.
Many on-line sources talked about the connection between sex and violence (which are closely wired together in the brain) and the rush of testosterone that comes from feeling or inflicting pain.  I also believe Gut Punching references penetration, and therefore sex:  the stiff fist driven into the flesh, striving to bust through and penetrate.
Of course there are similarities between getting slugged in the gut and Sado-masochism which so many people enjoy. The victim willingly places himself at the dominator's mercy to test his limits…
So help me out here…  What is it about Gut Punching that you find so hot?  Maybe we can figure out the psychology of this scenario.  Why do you get weak in the knees when you see a guy doubled over after a stiff uppercut to the bowels?  Do you just like that unique growling/grunting noise that a man emits when a hard object slams into his vulnerable mid-section?  Is it better if his arms are restrained, leaving his gut unprotected?  If so, why?