Kendall Windham Edition
So I was watching this Tag Team match recently on YouTube — Kendall Windham tortured by the "Jive Tones" — a pair of beefy, arrogant studs in skimpy trunks.  I realized the match hits on many of the Hot Buttons that I love about wrestling:
Blond hero demolished
Entrapment — ring cut in half
Two-on-one torture
Fat heels, skinny jobber
Big guys in small trunks
Then I happened to check my recent search terms — the phrases that people entered in the Search Engines in order to find my website — and I saw that many of you are seeking the same scenes and turn-ons presented in this match.  So here are images from the Kendall Windham tag-team battle that will fulfill many of your kinks and cravings…
"clothing to enhance the male form"
and

"wrestlers tight trunks"
Clearly, some of you are like me and you love those spandex trunks…  Kendall's partner — Italian Stallion — and his opponents the Jive Tones are all far too beefy and thick for the revealing, stretchy spandex they're sporting.  And Kendall's older brother Barry must have taught him that little black briefs are the best clothing for Windhams to wrestle in.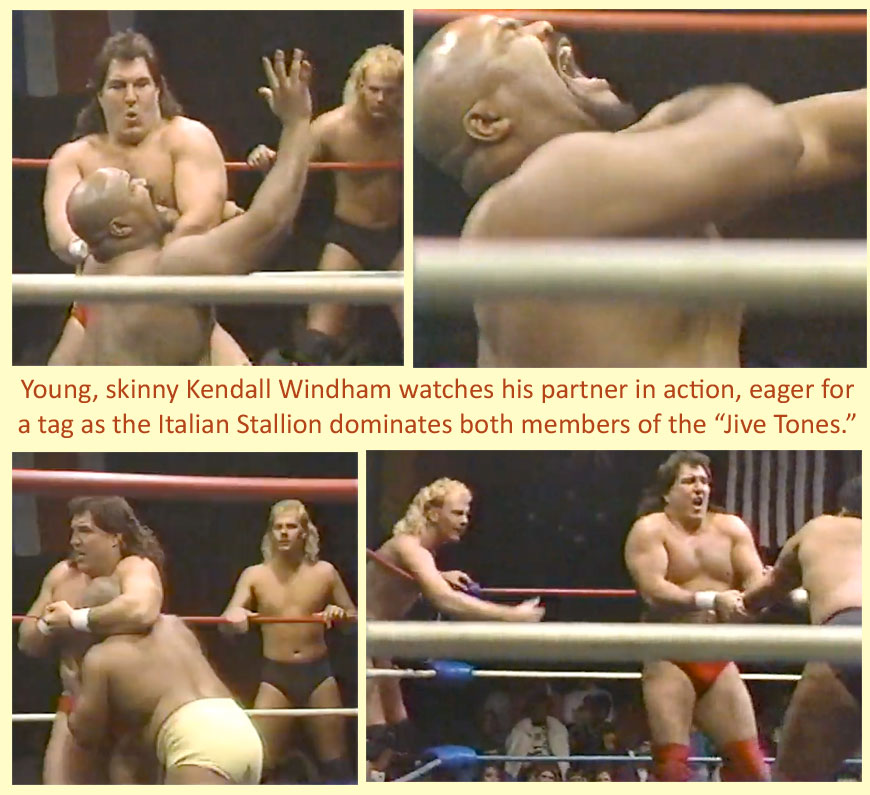 "long haired blonde young man"
and

"how to wrestle a black guy"
Blond boy Kendall proves that he knows how to wrestle a black guy, spending a few minutes rolling around with Tiger Conway.  Don't worry, he will soon fall victim to the veteran's cunning tricks…



"wrestling helpless defeated boys"
and

"humiliation wrestling holds"
If you like your wrestlers young, helpless, and humiliated — and what wrestling fan doesn't — then you'll really enjoy Ken-Doll's destruction at the hands of the Jive Tones.  Every time their fat, swarthy bodies press down and smother young Kendall, it seems like a form of humiliation — like a beautiful angel getting pulled down in the mud and raped by a group of fat, gluttonous demons. 

"black males"
and

"A Bald bad guy"
It sounds as though Pez Whatley — the chrome-domed brother in the bright yellow trunks — fulfills many of your cravings.  He's one of those over-weight but over-confident brothers, unashamed about strutting his fireplug physique in his yellow bikini.  Is there any look that screams "Masculine" louder than bald-with-a-goatee?!

"doubleteam"
and

"jobber punished"
I'm sure the wrestling fans down south were quite outraged by the punishment — the jobberization — of young Kendall (son of their hero Blackjack Mulligan and brother of their other hero, Barry Windham.)  I'm sure the fact that his torturers are both non-white added to the frustration and outrage of many Good-Ole-Boys in the audience. 



"images of males wrestling"
and

"wrestler in agony"
The Jive Tones are able to convey the fun, the sadistic pleasure, they're feeling from working over little white-bread Kendall — and Kendall is able to convey his agony and humiliation quite beautifully.



"wrestling chest to chest pin"
and

"Pretty guys wrestling old ugly men pretty getting beaten up"
Some of you certainly have some very specific turn-ons!   This Kendall Crush match definitely delivers more of what you're searching for, as the pretty one is beaten up and pinned chest to chest by the old, ugly men…