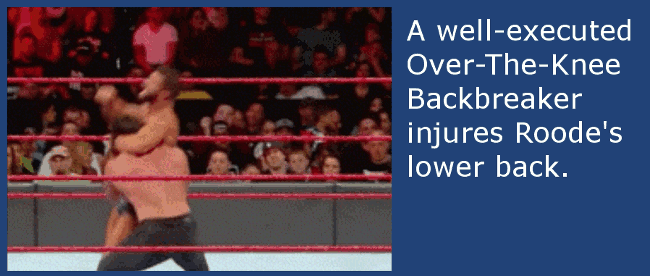 I enjoy following the Muscle and Meat Tumblr because, when he posts GIFs of his favorite wrestling matches, he doesn't just post one or two. No, he delivers a heaping helping of 9 or 10 fantastic action shots that give you a solid overview of the tenor of the match. He also has similar tastes in wrestlers as I do — specializing in the punishment of buff, handsome Muscle-Jobbers.
Recently Muscle and Meat presented 9 images from this one-sided squash where a black-pantsed Heel, Elias Sampson, dominates a swole Bobby Roode in his snug-assed blue trunks with "Glorious" written across the back. I've taken M&M's original animations and enhanced (or perhaps ruined) them by adding my usual commentary along the side.
Thanks to this generous sampling of outtakes, we can get a good sense of what happened in the match, what storyline or scenario the wrestlers were enacting (or at least what aspects of the match appealed to the Muscle and Meat blogger…) We can tell who punished whom and we get a full summary of the most compelling and delicious moments.
We can clearly see that Roode was in Ragdoll Jobber mode for much of the performance, helplessly and humbly spooning up every scrap of Sampson's offense. We can also see Sampson targeted his victim's lower back (love it when they do that) with plenty of Back-Breaker and Body-Slam maneuvers, which Roode sold gloriously by arching and twisting his muscular body to convey his agony. Thanks, M&M, for capturing not only the brutal punishment, but also the aftermath: the spectacular imagery of Roode in anguish..

And the M&M Tumblr has been very prolific in the past few days, presenting a ton of well-made animations that feature some boner-popping "muscle worship and domination wrestling." Here is a run down of other GIF galleries from this month you can enjoy on his site:
I edited the following GIF to make it look like Elias scored a pinfall. Nice job Muscle and Meat. In case you are wondering, yes there are a lot of horny fanboys out here enjoying your work!