Back on July 29th, the Beefcakes of Wrestling blog wrote about this beefcake — Brady Pierce — having joined All Elite Wrestling (AEW). This is very good news. As someone commented on the article: "He is so gorgeous. That smile. Those nips. The long legs. Hoping he finds success in AEW. " Amen! And by the way, AEW really has not been, so far, as homo-erotic as it could be, so adding this hottie will help.
Then Beefcakes of Wrestling happens to mention that Brady's Tag Team partner is none other than the Walking Work of Art known as TINO SABATELLI!! (now calling himself Sabatino "Sabby" Piscatelli.) Wait, what??? Way to bury the lead! This is like saying, Happy birthday, here is a new car. Oh and you also won the lottery.
Beefcakes of Wrestling then provided a YouTube link to Team Swole's debut match against the Best Friends tag team, which I promptly watched so I could blog about it here…
Here is a super gay quote uttered by the commentator as Brady Pierce entered the ring: "Brady Pierce of course with those trademark beautiful, beautiful Golden Boots — and just as nice of a smile..."
Their opponents are Chuck Taylor and Trent Baretta — known as the "Best Friends." Their gimmick is to teeter on the edge of queer, constantly hugging each other, saying "I love you", and holding hands to cause the fans to wonder: Are they fuck-buddies or aren't they? I guess every good Tag Team in pro wrestling history teeters on the homo-possible edge, but Chucky and Trent take it to a new level.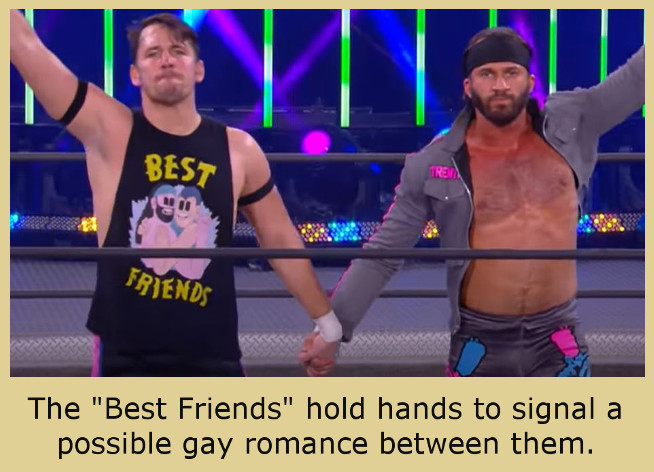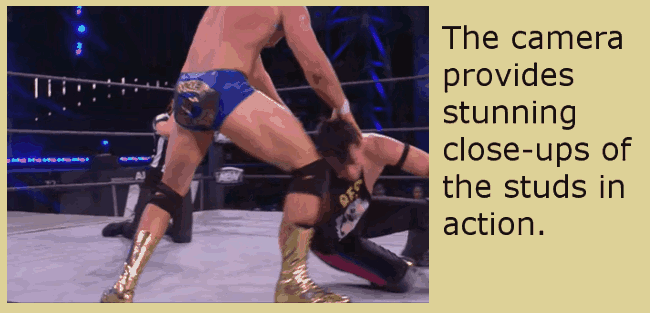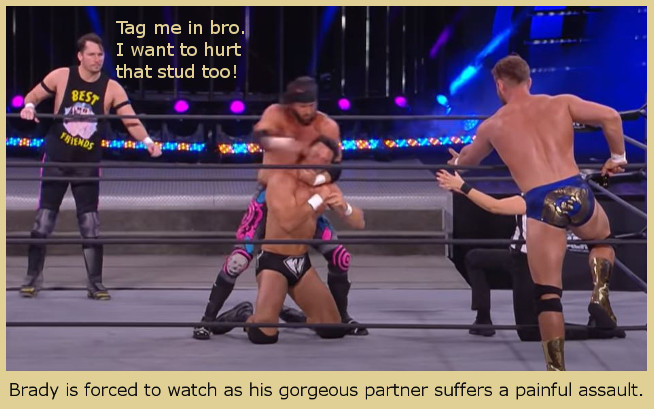 We are treated to a fairly even Back-and-Forth match. At first, Sabby plays the overwhelmed Face-in-Peril for his team, We get some stunning views of Brady Pierce's beautiful, beautiful Golden Boots as he watches from his corner (they sure knew which team to position on the close side of the ring!)
There isn't a ton of story-telling in this match, and not the most breath-taking technical display. It's really an introduction to the New Meat, an Eye Candy match for AEW to show off these prize stallions they've acquired.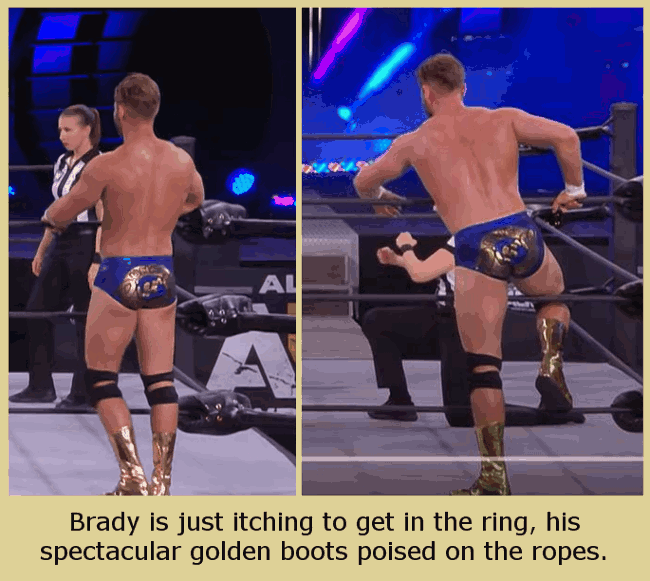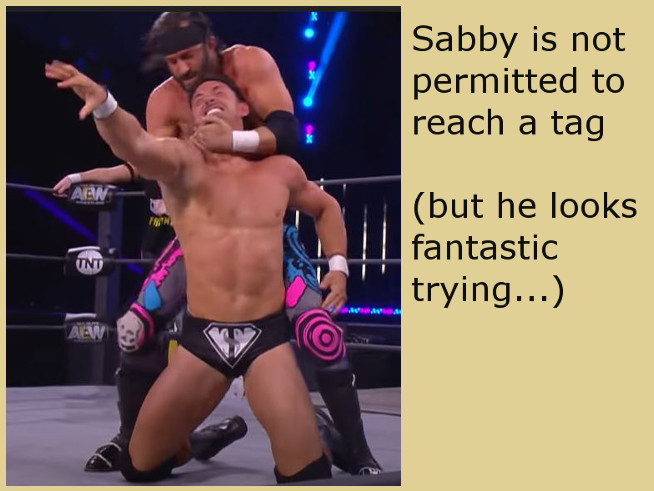 Chucky T — the weak link on his team — keeps his sleeveless t-shirt on for the entire match. The commentators assert that he's trying to generate merch sales by showing off their newest gear, but I suspect that they didn't want his average physique to detract from the God-like physiques of the other three competitors.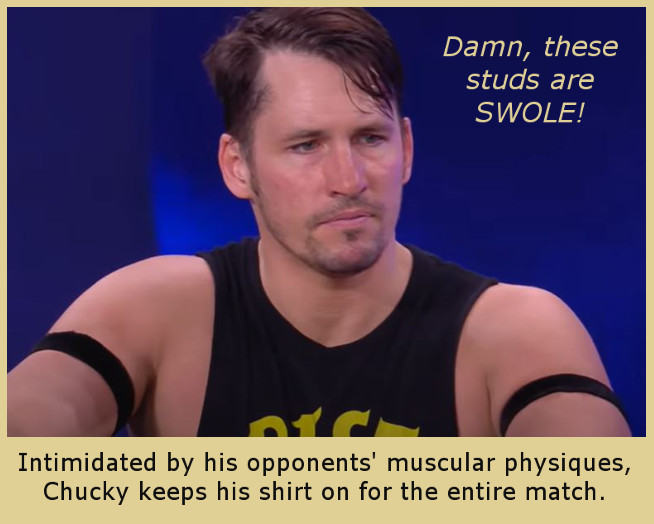 Then we're shown an extremely revealing Money Shot Pin on Sabby and I realize without a doubt that AEW is dishing out Gay Fan Service: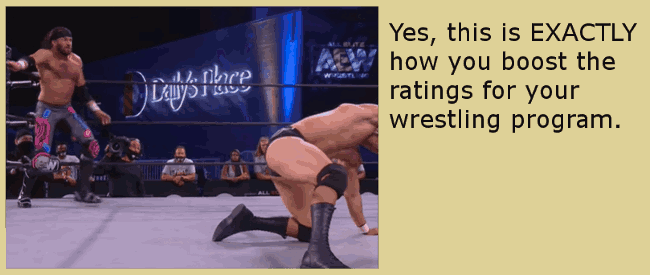 Good! I'm glaad to see AEW keeping wrestling queer. I hope they become the gayest promotion we've ever seen — even gayer than Global Championship Wrestling from the late-80's.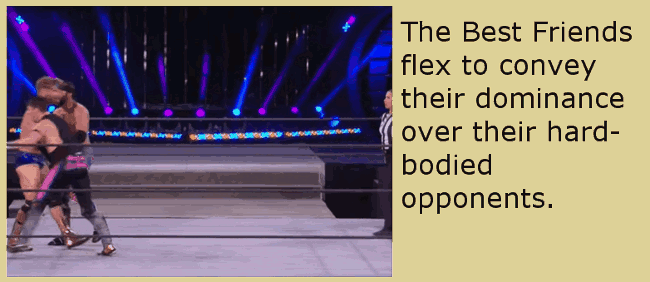 The Best Friends bring the homo-erotic energy too, with lots of flexing and hugging. Pretty soon, even the straight guys in the audience are popping boners.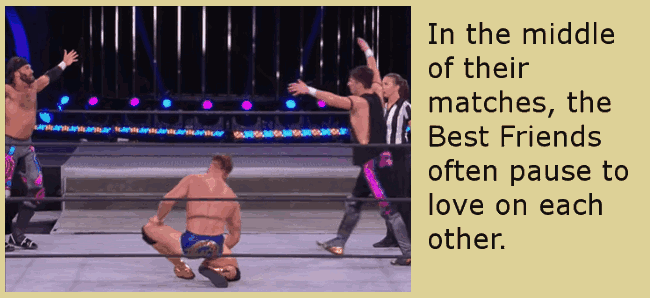 An unusual Double-Team move leaves Pretty-Boy Pierce in a compromised position with his ass in the air and Trent's twig and berries resting on his chin. As if this match wasn't homo-erotic enough already — Way to go AEW!!
I hope that Sabby and Brady stick together and enter into a Long Term Relationship similar to the Best Friends. They need to get some matching gear — maybe put Sabby in some flashy silver boots.
And I've got my eye on you now, AEW. You're officially on my Gaydar. You're obviously aware that wrestle-porn is a ratings booster, so now I want to see how far you're willing to push the envelope…