Known as "The Revival" in WWE, these two studs are now wrestling in AEW and they're calling their team "FTR" — as in, "F*CK The Revival." They've also changed their character names to "Dax Harwood" and "Cash Wheeler" or something like that, which is fine by me. Roses by any other name would still give me a hard-on.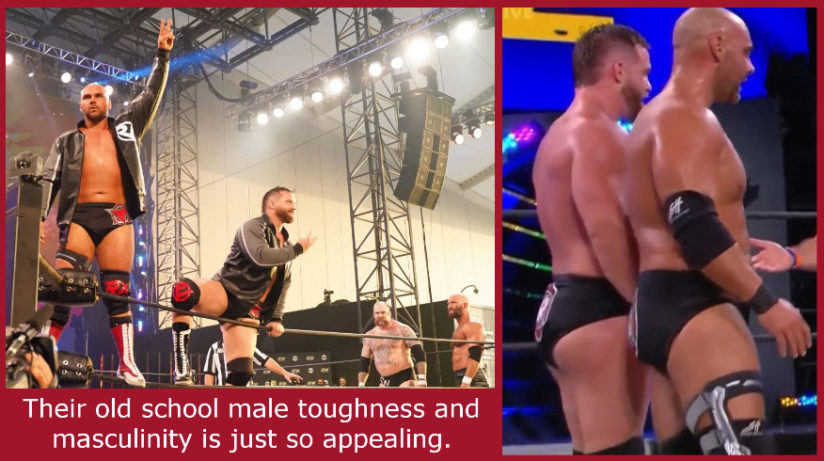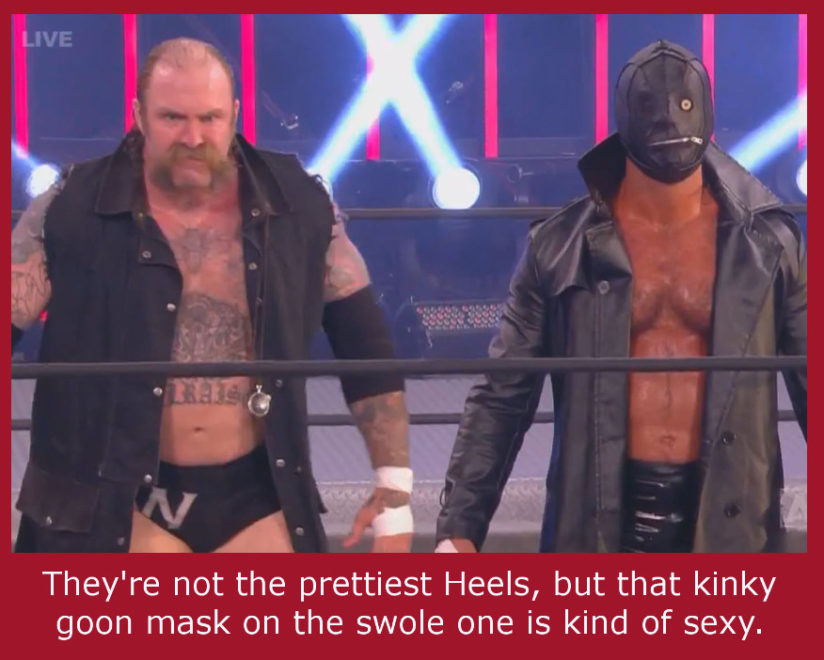 FTR's debut match was against these goony thugs — The Butcher and The Blade. I'm not sure if they're just Enhancement Talent or a legit competitive Tag Team, but the masked man has a pretty darn nice physique. He soon removes the mask and his coat so we can have a better look.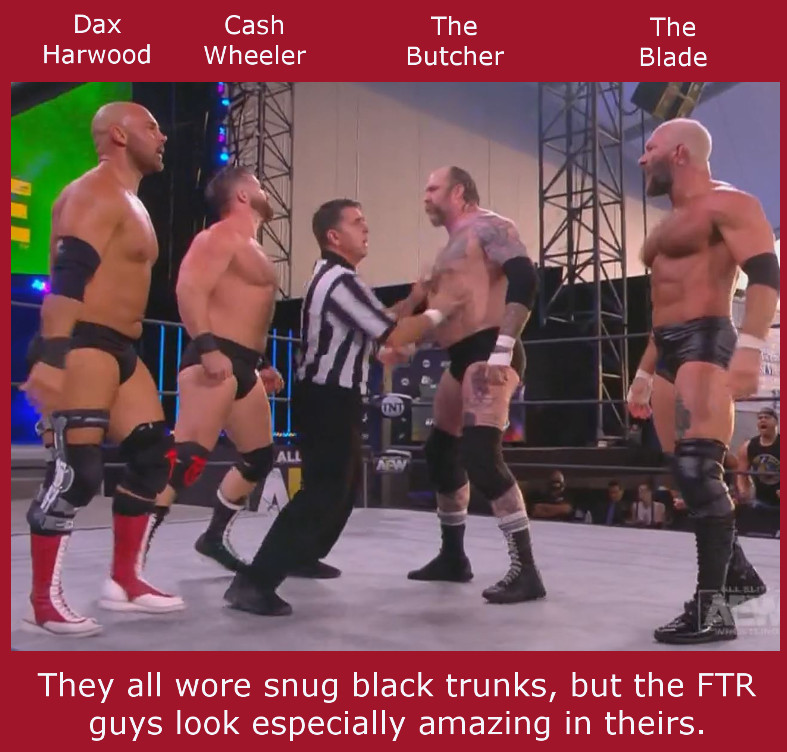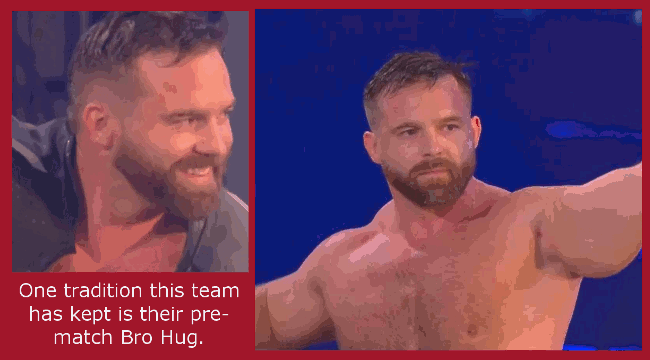 I've missed these studs. They're so wonderfully thick and manly, and this Cash guy sure is cute. I'd hug him all the time too if I were lucky enough to have him as my partner.
It doesn't take long before Cash (fka Dash) goes into his usual Woe Is Me gimmick, suffering gorgeously and eating the Heel team's offense.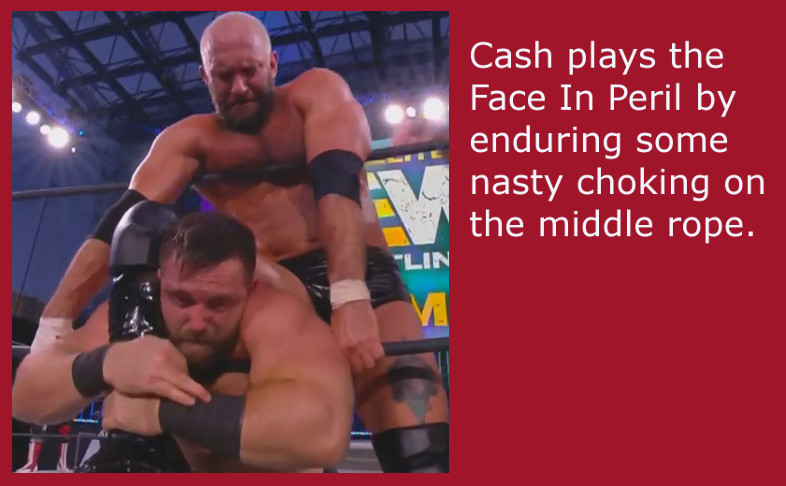 We get some wonderful dirty cheating by the Heels when The Butcher chokes my boy over in the Heels' corner while the ref is distracted. This is the best thing about FTR — their adherence to the classic Old School Tag Team wrestling formula: i.e., take to the ring in matching trunks, FIP suffers some dirty abuse, a Hot Tag, then a dramatic Lets-Work-Together-Buddy victory. I love it. I miss it. I want a lot more of it.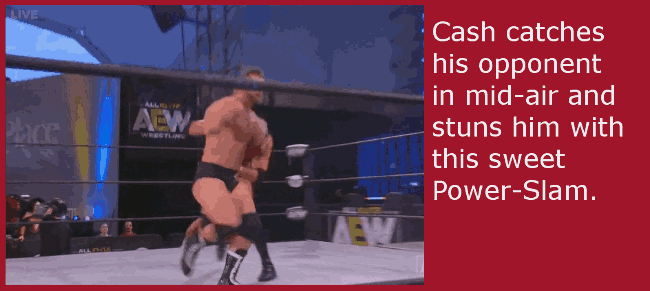 Toward the end of their WWE contracts, the Revival were buried and made to look like impotent clowns — forced to play a pair of Stumble-Bums and never permitted to win. It was kind of hot to see them humiliated in this manner, but I'm ready to see them regain their masculine dominance.
So now, hopefully, the AEW bookers will allow them to live up to their Stud potential. Now we can start seeing them win again through aggressive Smash Mouth rasslin and convincing Two-on-One finishers like their deadly Spike Pile-Driver.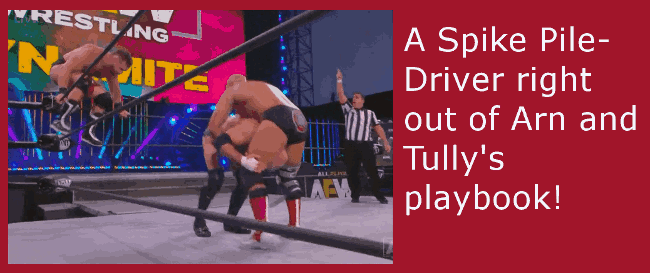 They're probably going to feud with the Young Bucks which will put two of the best Tag Teams of this era in the ring together. I hope my FTR totally dominate those high-flyin pretty-boys!