These animations showing big Jessie Godderz being dominated by the even bigger Rob Terry were a thrill to behold recently on Tumblr.  I've seen these GIFs several times before — they were originally posted to the MuscleAndMeat Tumblr page back in November 2018 but they're so hot that they keep being Liked and Re-Posted.  Today I finally decided to blog about this scene, adding my captions under each image like I do.
---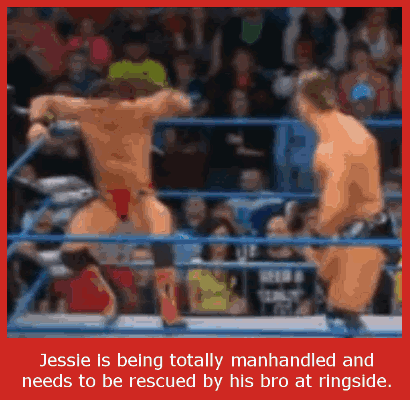 This match is a Muscle vs. Muscle match, a classic pro wrestling trope where both opponents have amazingly swole bodies and they're out to prove who is the superior Superman.
The action usually focuses on power moves, lots of lifting and carrying, and plenty of flexing.  If you get off on god-like male bodies (and who doesn't??), then a classic Muscle Wrestling match feels like Christmas morning.
---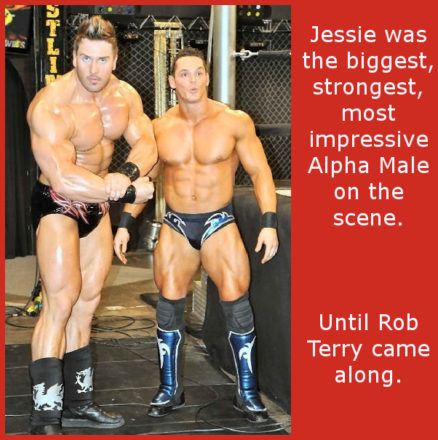 A Muscle Match tells the story of two egotistical and dominating rivals in the ultimate Dick Measuring Contest (or I suppose Bicep Measuring Contest is more accurate).  One of them will be bested and forced to admit that he is a Beta Male.
In this case, Jessie Godderz (as the erstwhile Big Swinging Muscle Dick) is facing a bigger, stronger version of the Wrestling Superman who is out to teach the arrogant Mr. Pec-Tacular some humility and respect for his superiors.
These power dynamics are intoxicating and utterly arousing to me, a source of excitement that does not involve or require any sexual content, any explicit acts of penetration whatsoever.  It's just plain hot for other reasons — for the muscle and competition and strength on display.
Just gazing at these incredible physiques, these jaw-dropping massive muscles and huge arms, gets me hard.  I don't know why, I just figured everybody is turned on by male muscular because it's so arousing to see.
---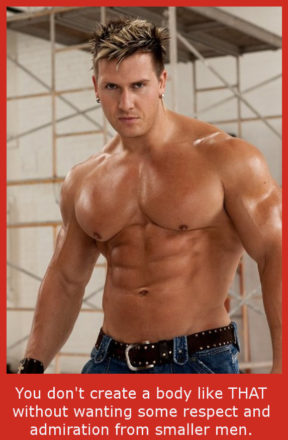 For me, it was truly never about desiring sexual contact with these He-Men, it was never a gay sex thing.  It was gay-adjacent, I suppose, but I just longed to behold their big muscles and see them straining and flexing — but I never really longed to kiss them, or wanted to be penetrated by them, or craved marrying them.
As a wide-eyed young wrestling fan, it was the sight of their amazing bodies that caused an automatic arousal, not their personalities.  The thought of kissing them or marrying them honestly weirded me out — my fantasies were limited to fighting, entrapment, bearhugs, handcuffs — not gay sex.  So I think a wrestling obsession or a case of muscle worship are a little different from a typical homo-sexual dynamic.
---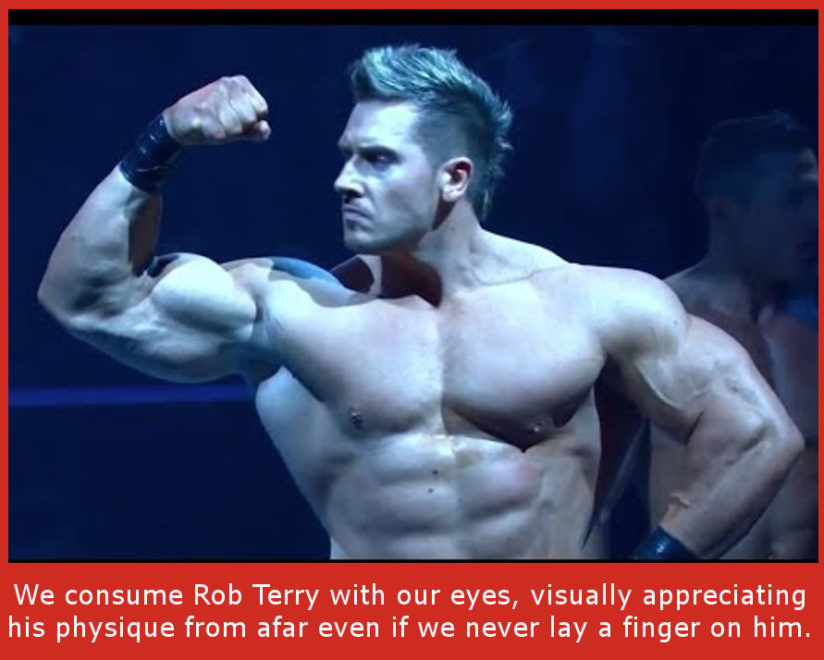 ---
This big Beal Toss is an example of the sort of power move commonly used in a Muscle Match.
Rob Terry is seen to possess the strength of ten men, able to lift and toss the 220-pound Jessie Godderz with one hand.  With power like that, Jessie doesn't stand a chance — and if a big hunk of man like Jessie Godderz can't defeat Rob Terry, then nobody can!
---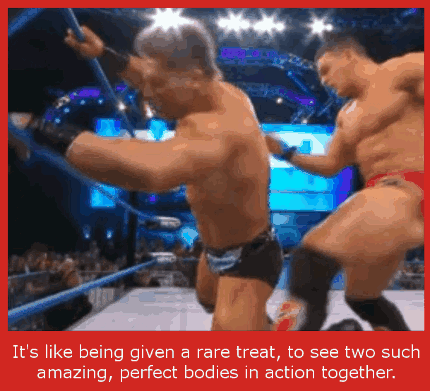 ---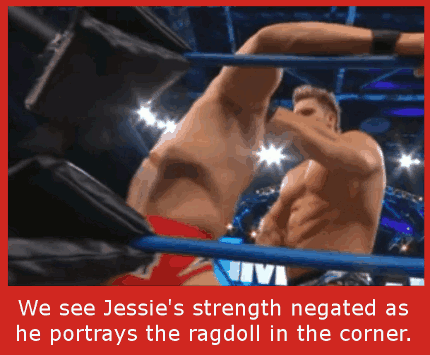 Kudos to Jessie Godderz for sweeping his male ego under the rug and playing the weak limp dishrag.
Here he drapes those massive arms over the top ropes, like the wimpiest of submissive jobbers, so Terry can beat him up some more.  Jessie understands his role as the Muscle Jobber — to look invincible but to act deflated.
---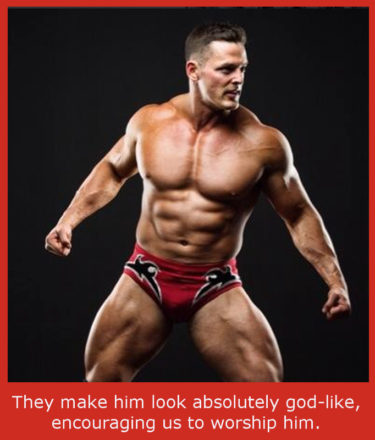 And this is at the heart of the erotic appeal of the Muscle Match — the weakening, emasculation, and utter failure of one of the Muscle Studs.  I suppose a sexual undercurrent could be inferred — that the limp He-Man is vulnerable to assault and rape, or willing to accept any humiliation to end the abuse — but this is a secondary consideration.
The primary narrative is the stud's defeat at the hands of a more powerful Alpha Male — and this is boner-inspiring for whatever reason, even if gay fucking is left totally out of the equation.
---
What a Power-House this Rob Terry is — able to manhandle his smaller opponent like a Boss.  Their hard bodies are arousing by definition.
It feels like the area of my brain that perceives big muscles is directly wired to my arousal response center without needing to detour through the sexual zone.
---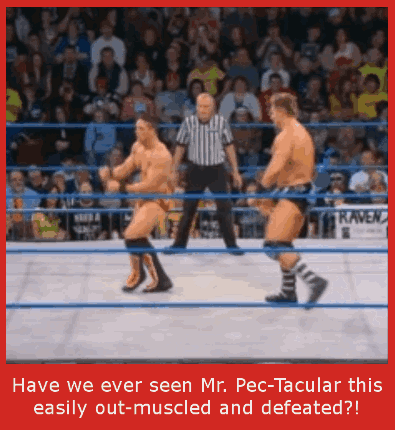 The popularity of these animations on Tumblr — and the universal attraction to massive powerful male bodies — shows that I'm not the only freak who gets into body-builders.  Many people must have brains wired similar to mine, that get hard at the sight of a muscular guy but that don't necessarily want to get into a relationship with one.
---