I recently pulled out a stack of old wrestling beat-off videos I had stashed under the stairs and discovered my 2012 copy of Tag Team Torture #9 from BG East featuring these amazing Heels: Beau Nasty and Shane Styles.
I was surprised to realize that I had never converted this great match to electronic format — I love this match!  And I was surprised that I had never blogged about it either!   So here goes — let's discuss one of the best Underground Wrestling Tag Team matches ever made!
---
Shane Styles and Beau Nasty are spectacular in their bulging and snug turquoise trunks.  In his 2012 recap of this match, the Ringside blogger describes Beau as "a crooked lawyer's shady assistant" and Shane as "a minister's wayward and malcontent son, easily swayed to sinful deeds."   Damn, that dude can sure WRITE!
---
The Baby-Faces are Justin Pierce and Brad Rochelle, two of the hottest and most talented hunks that ever made Wrestle-Porn for us.  I really dig their matching striped speedos, a nice wardrobe touch.
The match description on BGEast.com describes these two studs as the "handsome princes," which is a perfect name for them.
---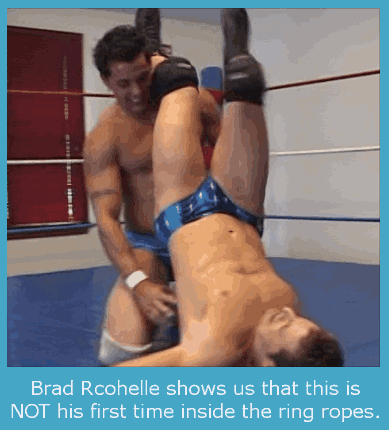 The Handsome Princes are actually both very talented and experienced wrestlers, and they know their Pro Style moves (I love it!)  They use their skills to own the Bad Boys for most of the bout.
For example, check out Brad using a Whirling Dervish Headscissor to escape Beau Nasty's clutches.  That's El Santo level Lucha Libre shit right there!
---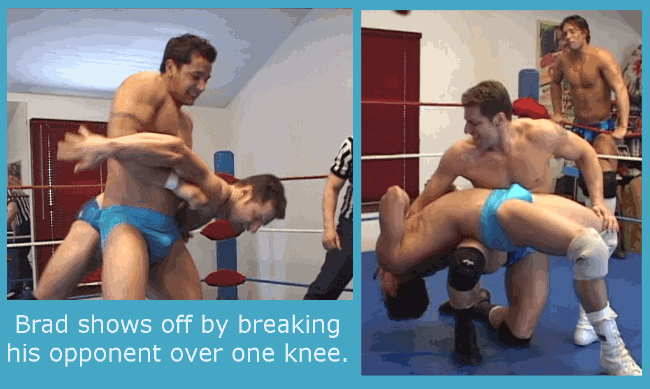 Justin really impressed me with this Flyin' Drop-Kick off the rope rebound.  What great execution — we don't often see excellence like that in our Wrestle-Porn!
Maybe I need to go back under the stairs and dig out all my Justin Pierce videos  — I forgot that he was this electrifying!
---
The best thing about this match is that all four guys have incredible physiques, so no matter which hunk is being stretched out and tortured, you get to view a Hot Bod in agony — in this case, Beau Nasty in a prolonged Full Nelson.
The BG East description states very presciently:
"This match has everything: gorgeous wrestlers, fast action, brutal and long held holds, and is destined to be a classic that will be talked about for years!"
Yup.  Here it is 11 years later and I'm still talking about it…
---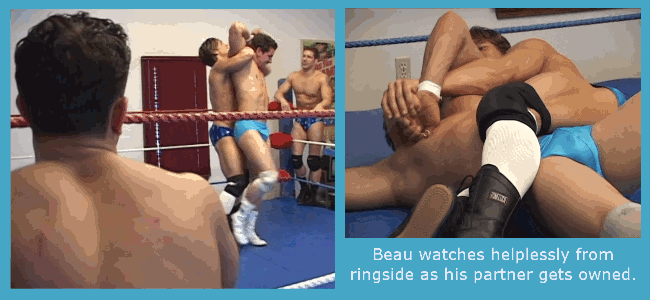 The Handsome Princes win the First Fall with this devastating Rocking Camel Clutch move.
Never fear, these studs are competing in a Best Three Out of Five Falls match to determine the winners, so there is still plenty of time for some hot Heel revenge and prolonged Baby-Face suffering.
---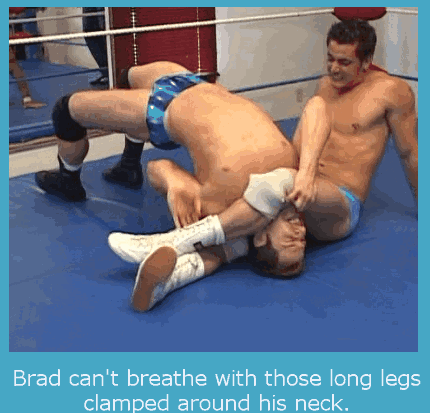 By the way, I'm pretty much finished with the DVD of this match and I'm trying to clear out the mess under the stairs.  So if somebody wants my copy of this great Tag Team action, they can have it.
So let's have a contest.  If you want my copy of this DVD mailed to you, leave me a comment or send me an email explaining why you enjoy watching Tag Team wrestling matches.  The best answer that I receive by Friday 11/15 will win my DVD copy of Tag Team Torture #9.
---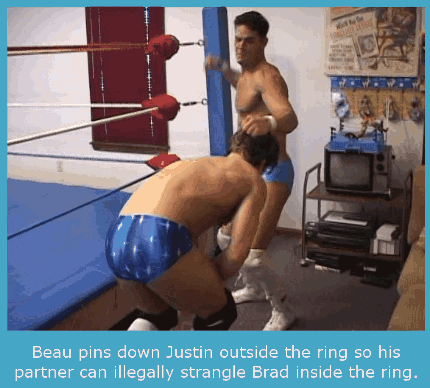 Here is the scene where I always lose it.  Beau takes Justin outside the ring, hammers him into submission, then stands on the back of his neck, FLEXING HIS MUSCLES FOR US!
Meanwhile, Shane dominates Brad inside the ring, but Justin is unable to come to the rescue.  It's so humiliating for the uber-talented Justin Pierce to have his face pressed into the carpet under Beau's boot — his helpless, submissive behavior gets me every time.
---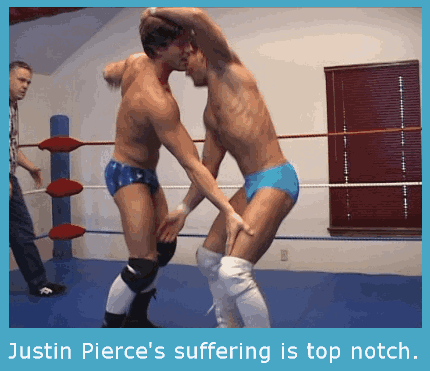 The two Tag Teams go on to torture each other some more, but I'm usually done watching after the flexing domination scene.
If you don't have this video in a box under your stairs and you want to see how it ends, you can buy it from BG East or send me a good write-up about your love for Tag Team wrestling and win my copy.  I look forward to hearing from you!