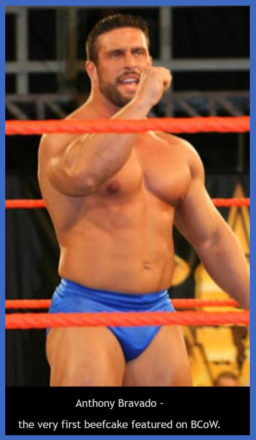 Apparently, one of my loyal readers really misses my old Trunks Appreciation Society series.  He recently sent me the following email:
"Hello Arsenal…just wondering if you're going to do another Trunks Appreciation Society post?
It's been over 2 years since the last one, and recently, I've developed a thing for seeing big, burly guys giving their ring attire a real workout as it concerns the stretchability of their material!"
---
"The three standouts for me are Rampage Brown, Keith Walker, and Anthony Bravado.  Bravado gave up wrestling about 8 or 9 years ago to focus on becoming a professional body builder.  He used to wrestle mostly in red or blue speedos…"
I don't believe I've ever blogged about Anthony Bravado, but I wish I would've back when he was active in wrestling.  What a nice thicc physique — and those big nipples!
The Beefcakes of Wrestling blog, who never misses a trick, was of course all over Bravado and blogged about him at least 20 times.
---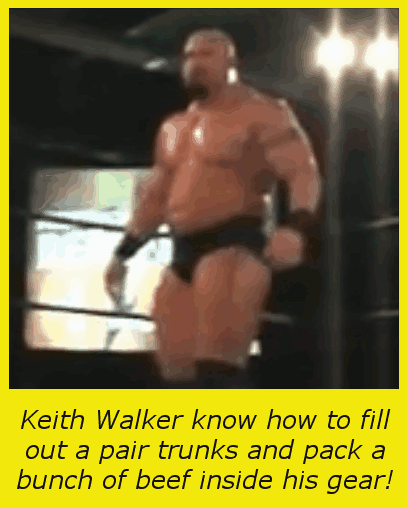 "Keith Walker is not active as far as I know (last match listed was in 2014).   He looked especially good wearing his black trunks in a match against Darin Corbin.
---
"Rampage Brown is still active on the UK wrestling scene.  He usually wears an orange and black pair of trunks.  Each of these guys really know how to fill out a pair of trunks and pack a bunch of beef inside their gear!"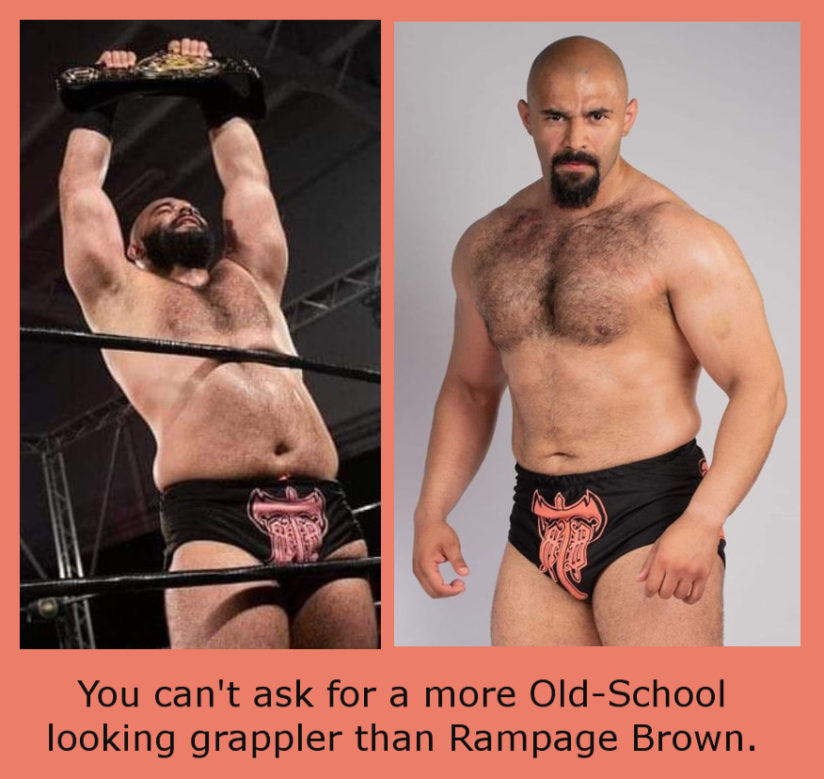 While we're on the subject of appreciating trunks, let me post some more great Trunks Appreciation Society images that I recently stumbled upon while browsing Social Media.
Many of today's images align with my reader's appreciation for "big, burly guys giving their ring attire a real workout" — including this amazing photo of a hairy-chested Dash Wilder.
Some other images posted today may not feature the biggest, burliest of guys, but I enjoyed them anyway and felt compared to download and share them.  Enjoy, gear fans!
---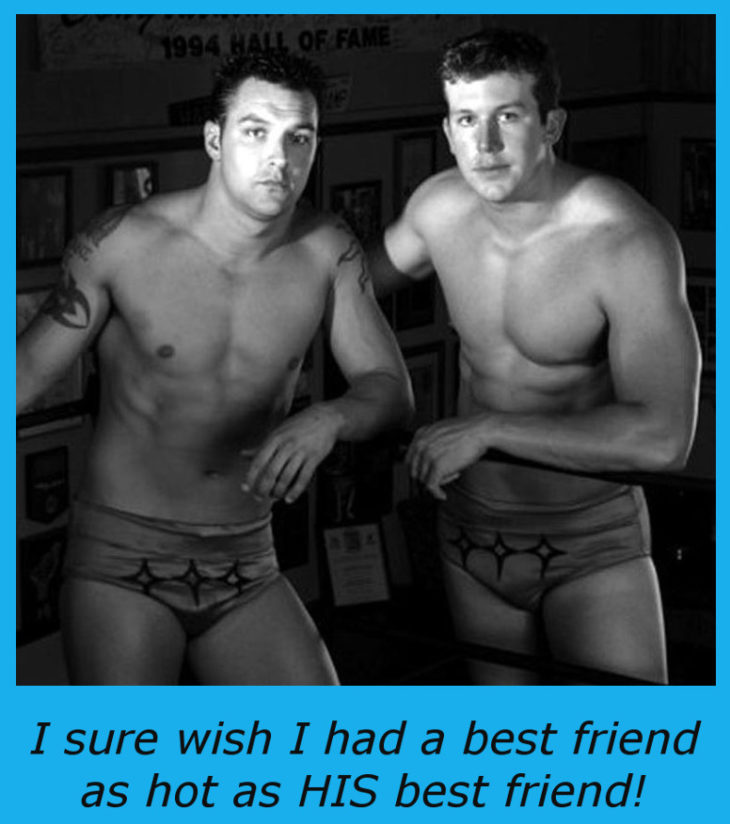 Angel Garza — formerly known as Garza Junior — always rocks the very best and most revealing little trunks.  His gimmick is to wear long pants into the ring, and during his Baby-Face Shine phase, rip off those pants to reveal colorful little trunks to the delight of the audience.  That's when his Face-in-Peril phase usually begins.
In a couple pf days, I'll be posting a recap of one of Garza's recent beat-downs (a brief one-sided squash delivered by Tomasso Ciampa on last week's episode of NXT).  Garza will be wearing a white speedo for that torture scene.  Stay tuned, wrestling fans!
---
What episode of Trunks Appreciation Society would be complete without some Joey Ryan?  This hairy show-off really "gets" the appeal of spandex on a manly rassler body, flirting with us shamelessly to drive us wild with excitement.  Unfff.
Of course, Joey is just being silly, right?  He's lampooning the douchey, flirtatious male show-offs who try to flaunt their sexuality.  We're supposed to be laughing at Joey, not boning up, right??
---
I'm not sure who these bald hunks are, but I believe they meet my reader's criteria for big, burly guys who really know how to fill out a pair of trunks.
---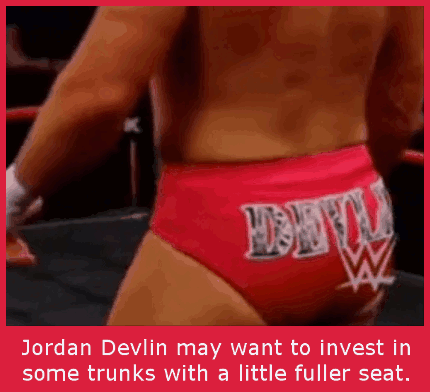 So many great wrestlers to enjoy these days, so little time!
In my caption, I imply that I want Jordan to procure better-fitting trunks.  Actually, full disclosure, I don't want him to do that at all.
---
Dragon Lee is another well-dressed Luchador whom I recently fell in lust with.