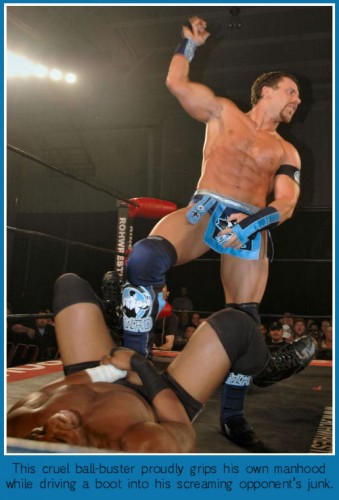 In response to my series on "What You're Searching For…", I received the following comment:
"I found your site thought google.com. My search was "wrestling ballbusting," which basically is a form of wrestling and getting hit in the balls.
I've been trying to find sites with more "Low-blows, ball-squeezing submissions, male humiliated by their balls, etc…"

I see that you cater to your viewers. So this was just a simple request as a new fan of your site. If possible, thanks many!"
I said it before and I'll say it again…  We aim to please here at the old Wrestling Arsenal Blog!  So here are some images I picked out special for the newest fan of my website — featuring the dreaded Nutcracker Sweet.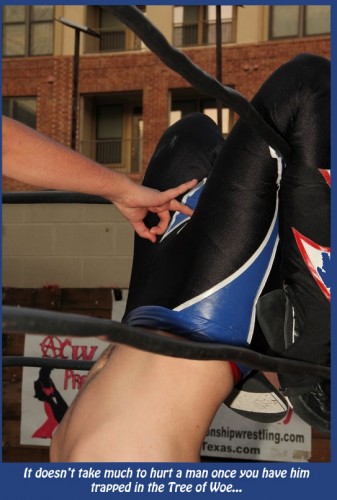 If pro wrestling is about dominating another man — rendering him helpless and under your control — then I suppose ball busting is the ultimate attack, the fastest way to drop a guy to his knees, utterly unable to fight back or resist you.
I think ball-busting also appeals to some wrestling fans because of the psycho-sexual implications — the apparent cancellation or destruction of the victim's manhood.  He is emasculated, his identity and potency as a male totally taken away.  Losing a wrestling match is humiliating enough, but being publicly castrated by a dominant man is far more degrading.
Is that why some guys like to see ball-busting in a wrestling match, or am I off the mark?
One popular pro wrestling move is the "Atomic Drop", where the wrestler is lifted by his opponent and dropped crotch-first down across the knee.  The announcers would point out that this maneuver perhaps injures the spine or lower back, but I believe the intention of the Atomic Drop was clear — to bust his balls and leave him in the fetal position grabbing his crotch in pain.
In this match, Terry Taylor wears eye-catching red trunks which become the focus of the camera and the focus of his opponent's attacks.
Taylor (a jobber at heart) spreads his legs wide apart as he is set up for the dreaded Atomic Drop, willing exposing his manhood to the upcoming assault, the painful slam down on the other man's thigh.