---
The first Super-Fan to contact me about his custom wrestling video purchase told me about a match he ordered from NR Wrestling called "Blinded."  The video is available for sale for $9.99 from NRW.   Below is his story, along with images he captured from the video (thanks man!).

"So on NR Wrestling's site, they advertised last winter that multiple wrestlers were available for custom shoots for a limited time.  Jeff Clark was one available, so I simply had to take them up on the offer.
He is a complete dream to me. Simply everything about him head to toe.  This was my first custom video – it had always been a dream of mine but never thought it priced enough within my range.  So I went for it."
(Blogger's note:  I believe NR Wrestling charges about $50 per minute, so you'll find that many of the custom matches in their Super Fans section are 6 to 10 minutes in length — affordable for many Super Fans.)
---
"I knew exactly what I wanted when I requested the match.  I said I didn't care who the other opponent was at all, as long as it was a one sided complete squash with Jeff on the receiving end.
I made it clear I wanted him to have absolutely no offense at all."
"I realized that's the main draw for me though with wrestling — the pretty guys!  They put themselves basically on display and feign vulnerability.  That is so hot to me.
Also the fact that it's not REALLY real. I know pro wrestling is real to a certain extent, I think you know what I mean."
---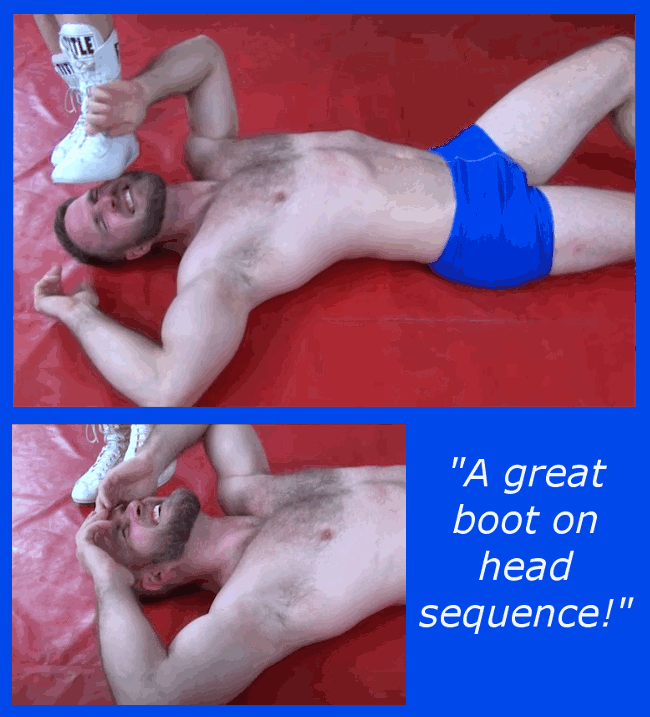 "I requested several moves or sequences that were done very well, exactly to my liking and dictation.   Sneak attack from behind while Jeff was getting into the ring, face claws alternating with face rakes, eye pokes and gouges, knees to the head, punches to the head, multiple head smashes on turnbuckles, boots pressed on the head, and wonderful face drags on the ropes."
---
"All of this was marvelously done by the wrestlers."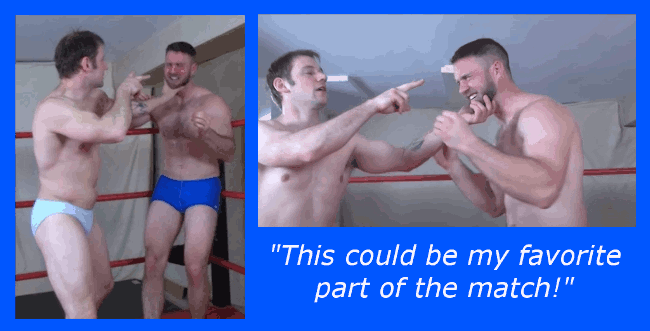 "I'm not totally sure why I love those moves so much, but they are definitely for me, the peak of arousal in any match, when those moves are employed.
I mean I know it's not technically WRESTLING, and I'm sure a lot of people aren't into the specific move sets they employed at a slow pace, without any actual wrestling.
I guess it's seeing the beautiful man being temporarily maimed and helpless, and having their beautiful faces taking punishment.  I can't really explain it anymore.  Do you have any insight?"
---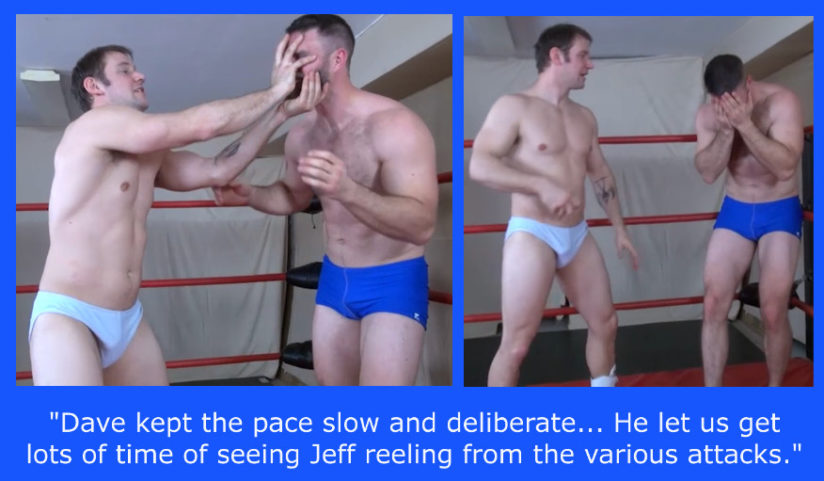 "Also, I requested that Jeff be barefoot, and for the opponent to be in boots.  I know I've read before you're not a fan of barefoot wrestlers, but Jeff being barefoot and the other guy being in boots was a real turn on for me.  Plus Kevin von Erich? Hello? Ha.
But mostly I wanted an opportunity to see as much of Jeff on display as possible, so I opted for no boots.  I liked knowing him knowing I wanted him showing off every inch of his beautiful person as possible, and also to carry with him a sense of vulnerability having to go barefoot in a ring fight."
---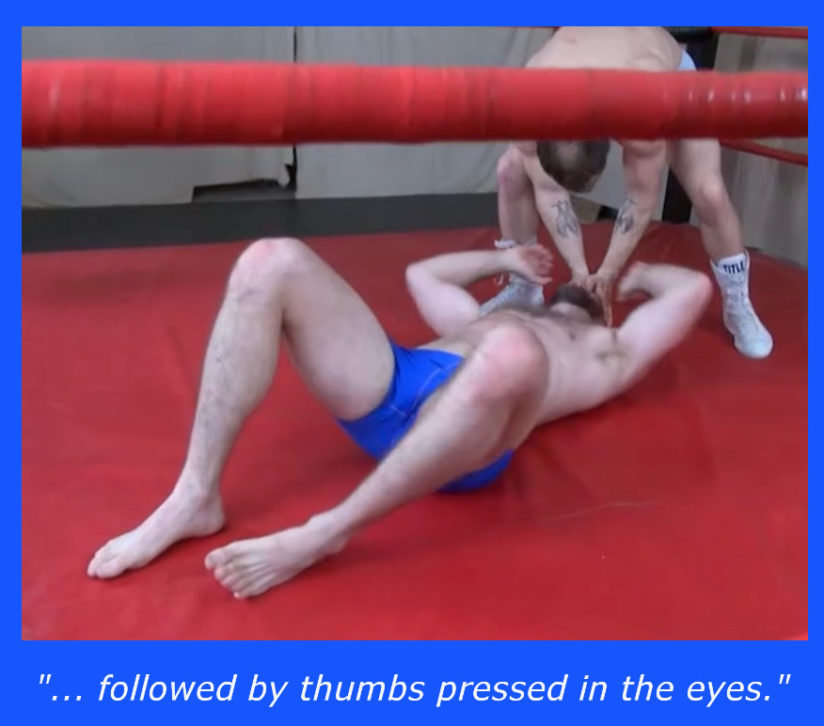 "Friends have asked me before, what do you like about wrestling?  I tell them for me it's on most days of the week, better than actual porn.  Not every day, but most.
I tell them find me more beautiful men as a whole that you can find in wrestling.  It's not gonna happen.  Plus the bodies on display, and exploring light sadism, that is where it's at.  Plus the gear.  Ugh."
 "When can you see handsome hot men, in basically their underwear, rolling around and showing it all of for a viewer. No where but wrestling!"
"One thing I will say- Dave kept the pace slow and deliberate.  Not rushed and no chatter between assaults.  He also let us get lots of time of seeing Jeff reeling from the various attacks."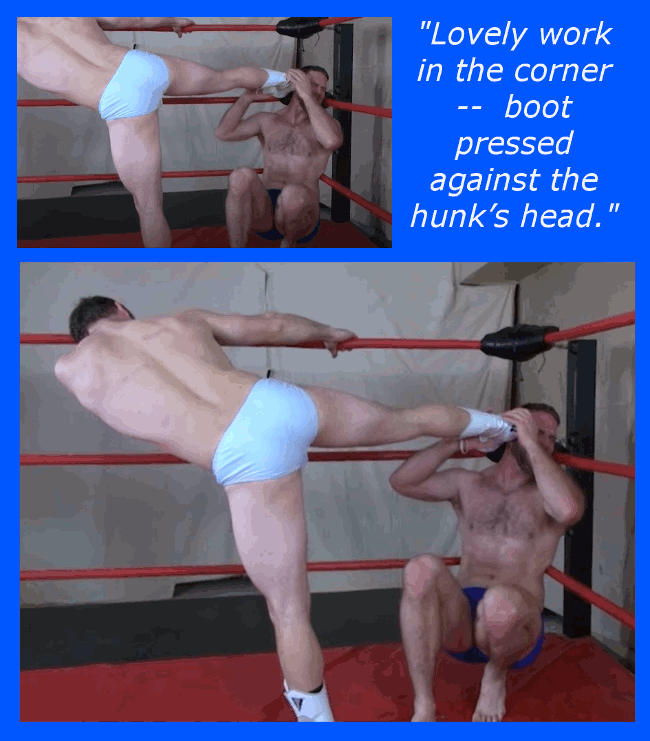 "The video was everything I wanted and expected, I was really impressed with the quality of the role playing for both wrestlers.  Jeff seemed totally into it and really sold the pain well.  Calabrese as well seemed into being a gleeful heel.
I would probably do another custom shoot in the future, yeah."