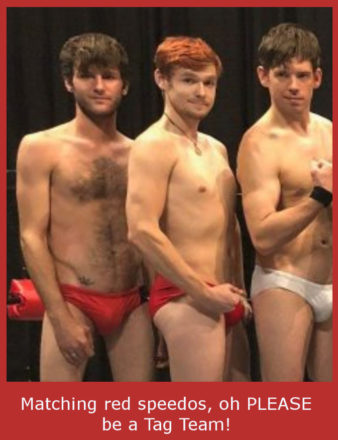 On the Wrestler4Hire website, Cameron recently posted an article to wish us happy holidays.  He included a group portrait of his amazing stable of wrestlers in their colorful bikini briefs.
I happened to notice the two young guys on the far left were wearing matching red speedos.  This got me thinking (and praying) that Cameron had filmed a Tag Team match with these little cuties as partners — oh what a great holiday gift that would be!
---
Sure enough, a Tag Team video featuring the red-clad lads was recently uploaded to Wrestler4Hire (which I then downloaded in about 2 minutes flat).  The Red Team — Zacky and Matty — wrestle against these talented Heels, Ethan and Gabe.
It's a totally unfair mis-match in skill and strength, which is why I'm getting excited just thinking about it!
---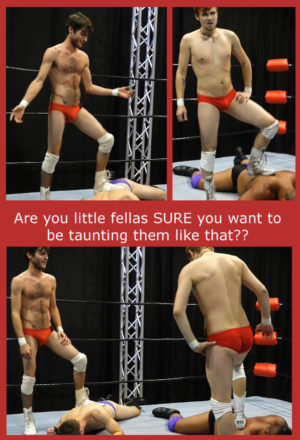 In a nice display of Baby-Face shine, the Red Clad Lads dominate at the beginning and even win the first fall.
This is good ring psychology (which you don't always find in the Underground videos)  — letting the Babies shine early in the match and even begin to act a bit cocky, so the Heels are somewhat justified in later just owning, harming, and brutalizing them.  (Stay tuned…)
This just proves that Wrestler4Hire understands pro wrestling and that their performers know what to do (especially Ethan — he is a smart ring general.)
---
Those little red briefs offer no protection against the Heels' mirror image Low Blows.  This side-by-side tandem offense — another call-back to high quality Tag Team wrestling of yore — is used frequently in this match.  As an old-timey wrestling lover, I enjoyed seeing it very much.
---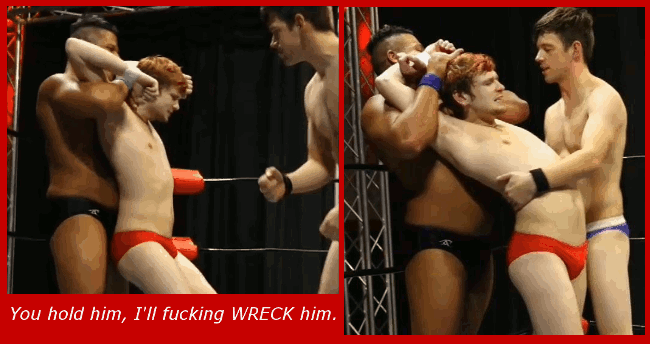 Matty then plays the Face-in-Peril for a good long while and it is beautiful.  Ethan & Gabe "cut the ring in half" and cheat their assess off with lots of classic, and new, Tag Team Brutality.   They inflict the old Hold-and-Punch, the Leveraged Figure-Four, and even an improvised Bottom Rope Ball-Buster on poor ragdoll Matty…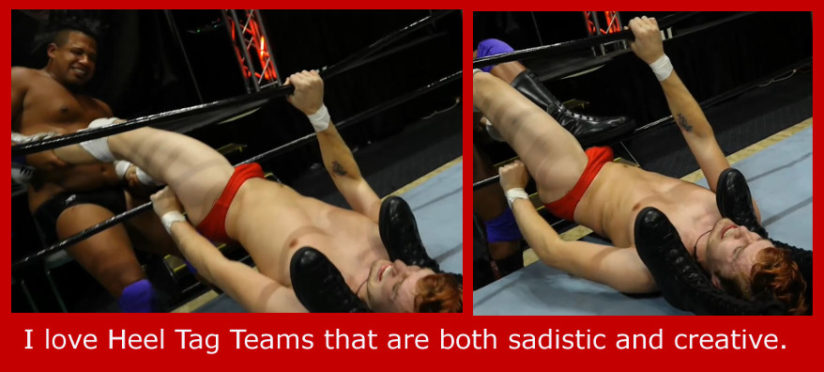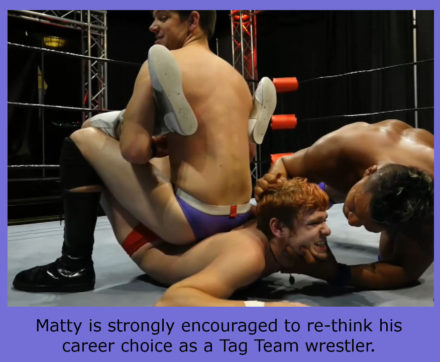 I've actually been bugging Cameron to give us a classic Tag Team bout for a while — it's my favorite style of match and I knew he'd do a great job with it.
So I'm not sure if my persistence paid off, or if some other customer  with a similar Tag Team fetish as mine (and more money than me) perhaps paid W4H to film a custom match with all the classic Tag Team tropes and tomfoolery.  Either way, I'm very pleased with the finished product and always happy to find Tag Team wrestling being done, and done well, in the Wrestle-Porn space.
---
Below is that Leveraged Figure Four Leglock I mentioned earlier — Gabe illegally lifting his partner by the wrists to torture poor Matty, who sells his agony wonderfully (or perhaps is simply in agony.)  These guys are having a blast playing out these classic pro wrestling scenarios, and I'm having a blast watching them.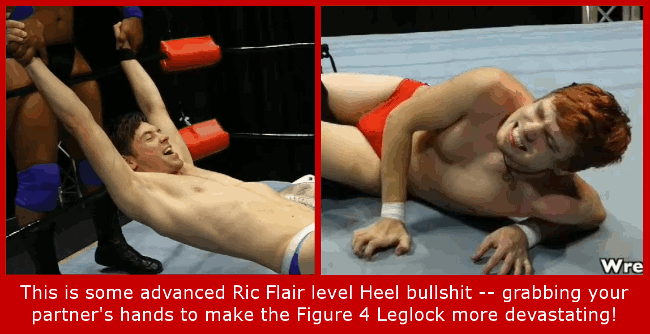 Here is another great Mirror Image move — the old Forced To Kiss Camel Clutches!  They can get away with queer moves like this in Underground wrestling, giving W4H an advantage over mainstream pro wrestling which has to remain more prim and proper in case little kids are watching.
Ethan & Gabe really know their stuff.  This humiliating sequence is a call-back to the earliest days of BG East, to a time before these wrestlers were even born perhaps.  As far as I know, the Camel Kiss was first performed in Private Bout #42 from BG East's 16th catalog (now they're on Catalog #132, btw.)   That match is still available on the  BG East website  — it may be the first Underground Tag Team match ever filmed — at least it was the first one I ever saw and I loved it.
I wrote about that Forced to Kiss Camel in Gallery #150 on my old Wrestling Arsenal website, posted in September 2002!  Fuck I'm getting old.
---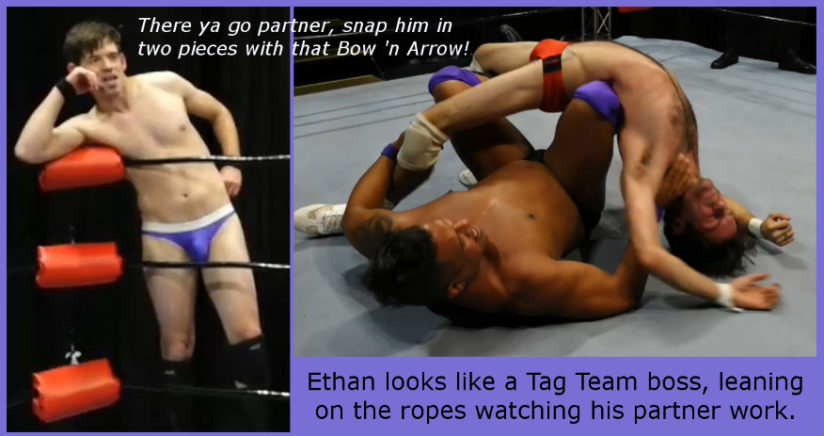 Eventually the Heels allow Matty to tag out, and they proceed to brutalize and punish Zacky just as much.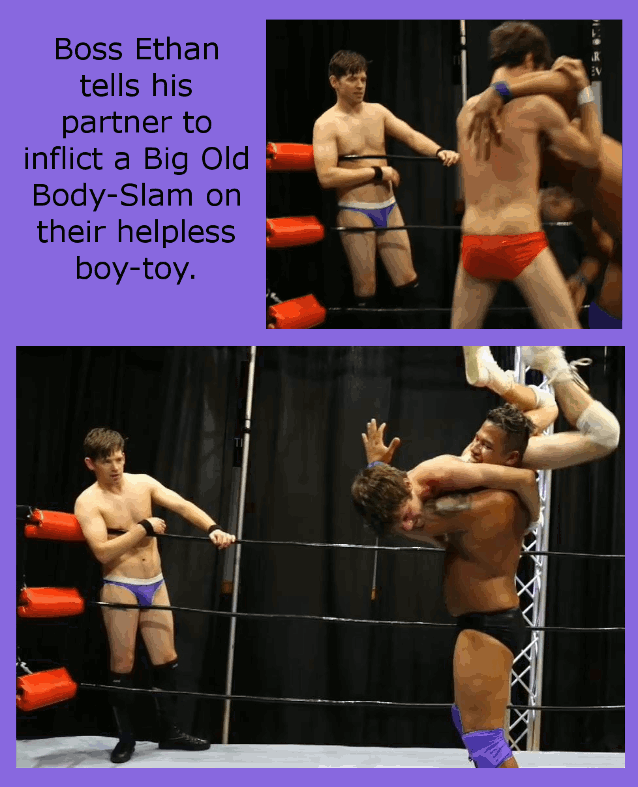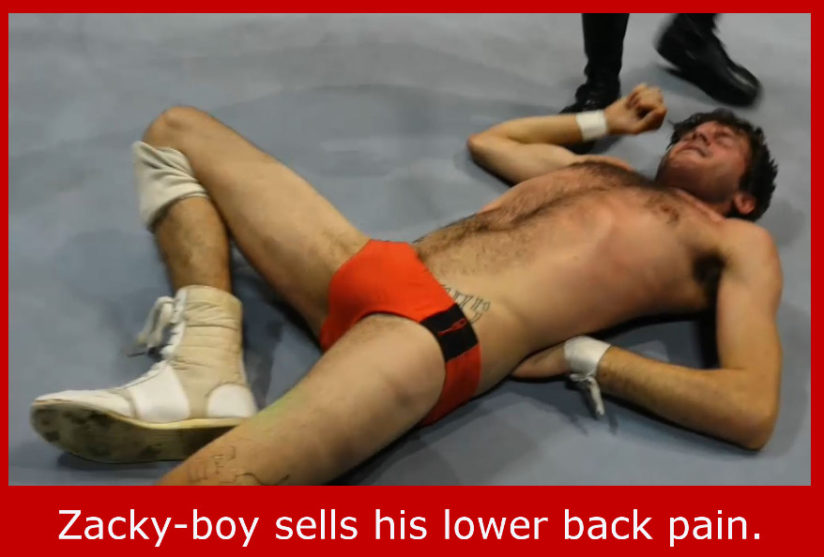 By the way, kudos to Ethan for wearing the most revealing little bikini underwear for this match — the most naked he's ever appeared in the ring.  He seems to get off on all kinds of wrestling gear and I like that about him.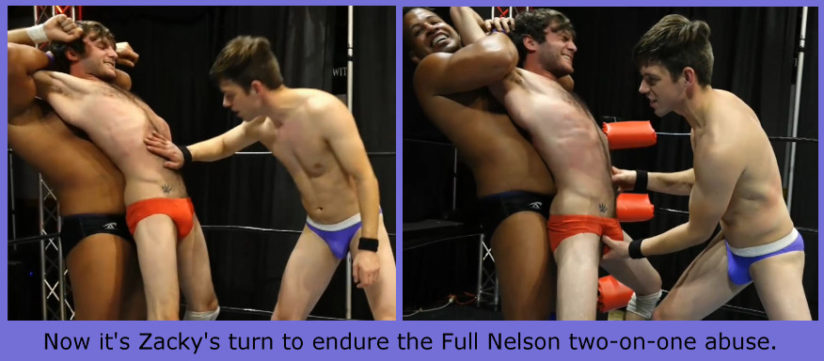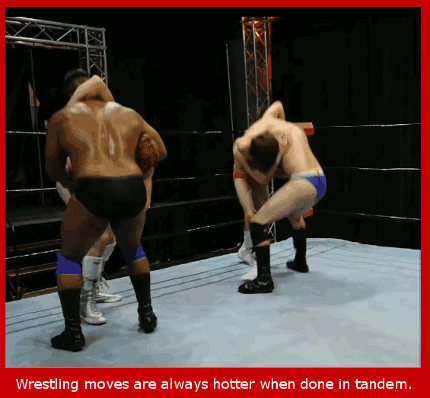 So it was nice to see Wrestler4Hire deliver this solid, entertaining Tag Team match which hits all the marks: Baby-Faces in matching gear (check!), double-teaming (check!), rule breaking Heels (check!), isolated Face in Peril (check!), mirror image moves (CHECK!!).
Wrestler4Hire continues to kill it as we roll into 2019, and they're getting better all the time. Way to go guys, and feel free to keep the Tag Team action coming!