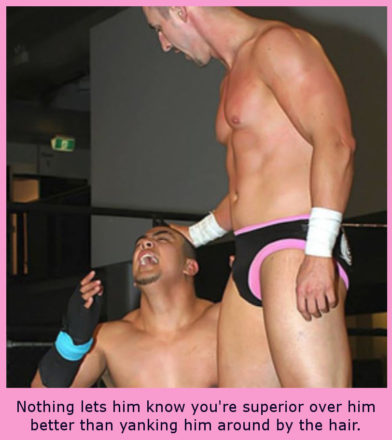 Fighting and wrestling are meant to be manly activities, so when a combatant starts pulling hair, it seems subversive and bitchy, which makes it a little bit kinky.  Fight like a MAN, you sissy!
Check out this pretty-boy in scant pink-trimmed trunks,  which implies a note of  femininity. He emasculates some helpless boy toy by controlling him by the hair.  It's as if he's about to plant that open mouth on his bulge.
I've been finding tons of Hair-Pulling images on social media lately, and I'm re-posting the best ones in this article.  It seems many of you wrestling-perverts also get off on this naughty and sadistic little tactic based on the many hair-pull images being posted in the past couple months.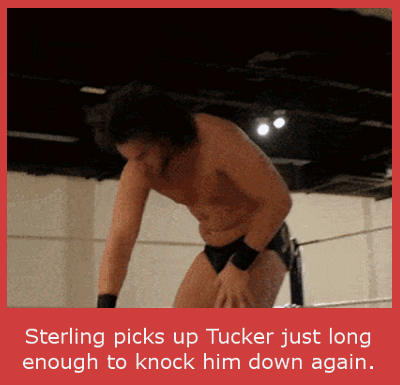 This animation is from the great He Is Out website.  On 5/28/18, He Is Out featured Charlie Sterling, with the long curly hair, just owning Tucker, the helpless punching bag.  And wowie, it's a hot, hot gallery.
When a long-haired cheater pulls a short-haired guy's hair, it always triggers me.  Short-hair should fight back and show Long-hair how it feels, but he never does.
---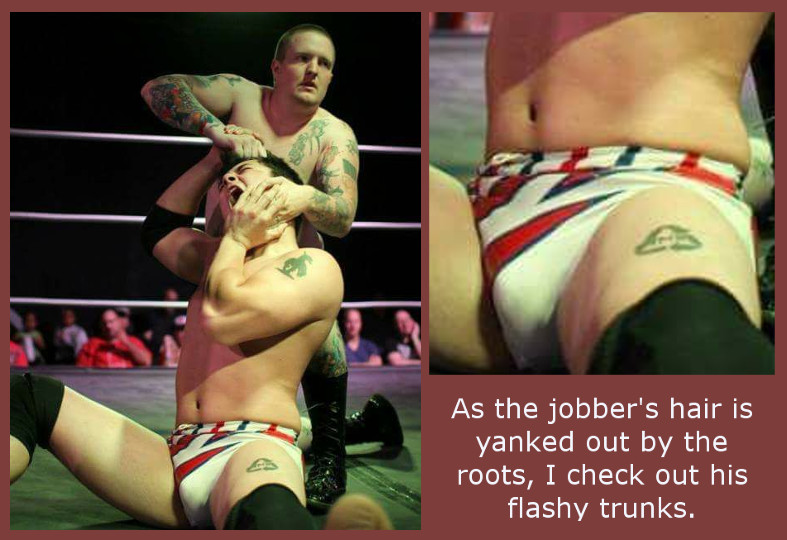 ---
This image was posted by our newest wrestling blogger WR's Screencaps in his 6/23/18 article.  WR really captures Cannon's dominance.  I like how Reign keeps his arms glued to the ring ropes like a good little jobber.
---
I have this hot video from Muscleboy Wrestling in the spankbank folder on my hard drive.  Now Taylor Reign is in the dominant role.  He  punishes (and kissy-faces) cute Logan Cross in the super tall yellow boots.
It's a sexy match up, as you can probably tell from this Camel Clutch moment.
---
This v
ideo clip is actually a preview of the next gallery I'm going to post in a couple days.  It's a classic British Pro Wrestling domination scene, with a tag team in black spandex (literally named "The Monsters") utterly destroying cute young Lewis Hawley in his little fire-engine red trunks.  You're gonna love it!
---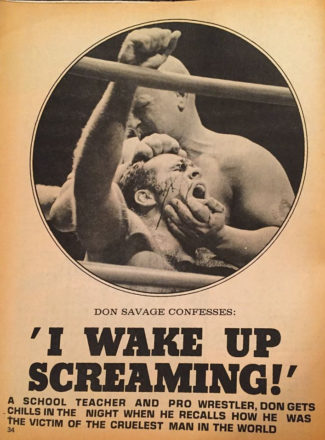 Concluding today's hair-pull gallery is a vintage photo from an old wrestling magazine — from the pre-Internet era when wrestling was still closeted and the homo-erotic aspects were disguised in symbols and innuendo.
Here we see a regular guy, a school teacher named Don Savage, whose side hustle is pro wrestling.   After a brutal match against the "cruelest man in the world," this teacher/jobber is described as a "victim" (which implies he was raped.)  The fact that he wakes up "screaming" means something terrible happened to him, something far worse than mere hair pulling.  We see a trickle of fluid running down his face — is that blood or semen??
Curious and excited readers will certainly want to read the full "confession" and check out all the photos to see what the "cruelest man" did to traumatize the poor school teacher.  This suggestive language coupled with the photo of brutal violence turns this innocent sports-related publication into a porno mag for the right impressionable young readers.
The sexual subtext may seem tame by today's standards (when we can go download a wrestle-fuck porno any time for about $30), but in that era, this sort of magazine seemed highly inappropriate, seedy, raunchy, and salacious — and therefore wildly arousing for the right audience.  The fact that someone recently posted this old photo on Tumblr proves that I'm not the only one who understands and still enjoys vintage wrestle-porn.