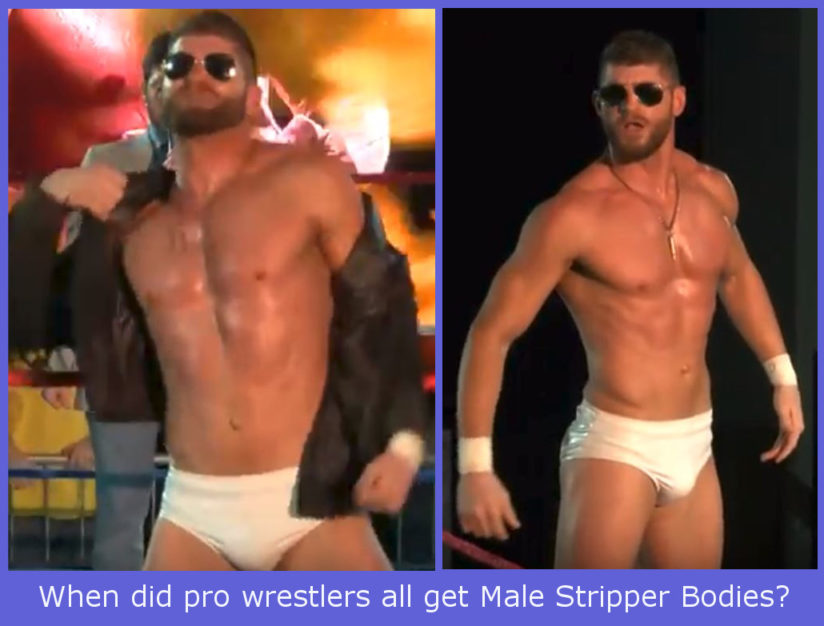 Now that the National Wrestling League has turned Dak Draper into a white-trunks wearing Baby-Face, every episode features the popular Whipping Boy suffering a nice, long beating.  They've finally realized that, when a dude has a ripped, sexy, appealing physique like THAT, we don't want to watch him triumph — we want to see him bent, twisted, mangled, and broken before our eyes.
For his weekly beating in the most recent episode of NWL, Dak was dominated by Christian Rose — another lean hard-body in long black pants tucked into tall boots (a great Heel look!)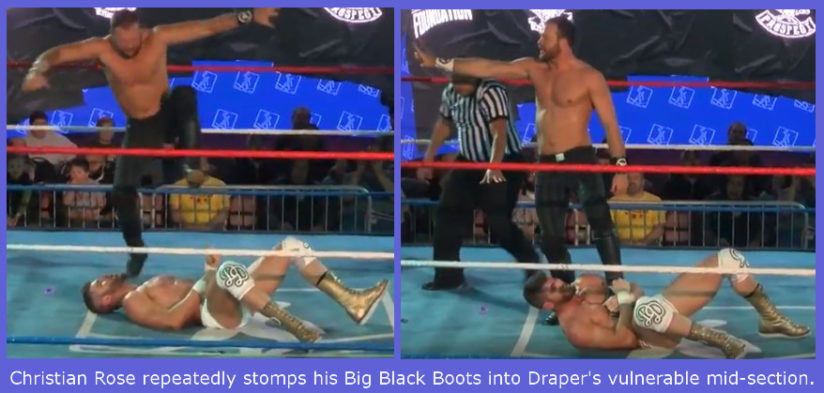 I am pretty impressed by this Christian Rose — he knows what he's doing.  He understands ring psychology and his role as a sexy killer Heel.
For example, he focuses his assault on one body part (as every Heel should), relentlessly targeting Dak's vulnerable ribs and stomach.  Look at him brutally smash Dak under his boots then walk all over him.
---
Oh Christian Rose, you Bad Boy with your lean, tan torso and your tight black pants.  If you keep flexing your biceps like that, you may just steal our attention away from our beloved weakling in his little whitey tighties.
OK, enough peacocking for now.  Go hurt him some more and we'll get back to you.
---
My favorite moments in this match were these long held Ab Stretches that Rose kept applying — again stretching out the shredded mid-section of Dak Draper.
Given that Draper's most eye-catching feature is his hard stomach, it just makes sense that his mid-section should be punished, that Rose should work over and test his abdominal strength.  Like I said, Rose is an impressive Heel.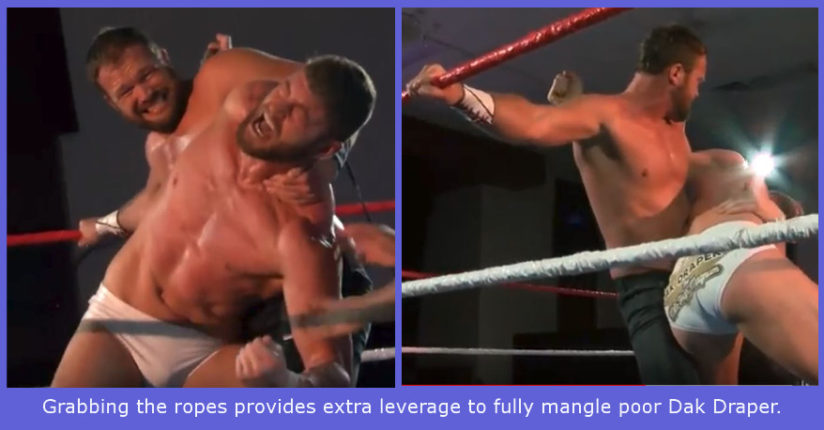 ---
The Ab Stretch is like a test of strength, a Gut Check — as if Rose is pitting his own abdominal might against Draper's to see whose body can over-power whose.
Given that both these dudes are proud of their lean, cut physiques, the Ab Stretch makes perfect sense (and is very compelling to watch.)
---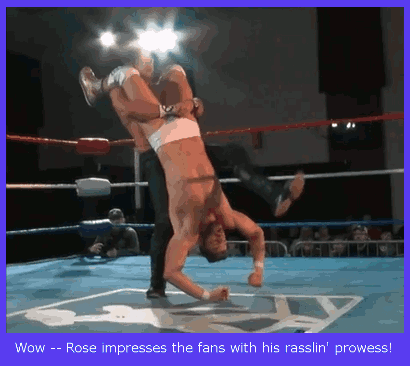 A fuckin Styles Clash, are you serious?!   I did not expect Rose to pull that one out of his bag of tricks– you just don't see this move every day in Indy Wrestling.
This move has destroyed hundreds of wrestlers — basically everyone whom A.J. Styles has used it on.  But Draper demonstrates his Intestinal Fortitude by surviving this Killer Move and going on to win the match!
---
But they can't allow the Whipping Boy to succeed.  Oh no, that won't do at all.  That won't keep the audience turned on and craving more.
So moments after Draper's victory, they send a big bald beast named Letterman in to waylay him.
---
Letterman presents a perfect contrast to Draper (and to Christian Rose as well.)  Where they are lean and shredded, he is beefy and massive.  Where their torsos are bared, he is covered in spandex.  Where they are pretty, he is brutish.
Oh I cannot WAIT to see Draper punished by this fat monster for weeks to come!
I hope they throw Draper's white-clad ass in a cage with this monster next week for some Fat > Hunky action.
---
---