Wow, this stud in his pretty pink robe!  His name is Jeremy Wyatt and he wrestles for the National Wrasslin' League in Kansas City.    (Yes, they spell it Wrasslin' instead of Wrestling, and I love that.)
He calls himself "The Monarch" and the "King of Kansas City" in the tradition of the classic arrogant Heels who wore crowns and capes and made people bow down to them.  This "King" persona toys around with dominance, worship, and other homo-erotic themes.
---
Wyatt recently defended his NWL championship strap in a  title bout against the former Champ, the stunning Dak Draper.  Oh fuck yes, beautiful Dak in his trademark clean white gear!!    Time for some Bearded Alpha Stud vs. Bearded Alpha Hunk actions, what a turn-on!   It's always a banner day in a wrestling fan's life when the hottest, most skilled Top Guys in a federation square off!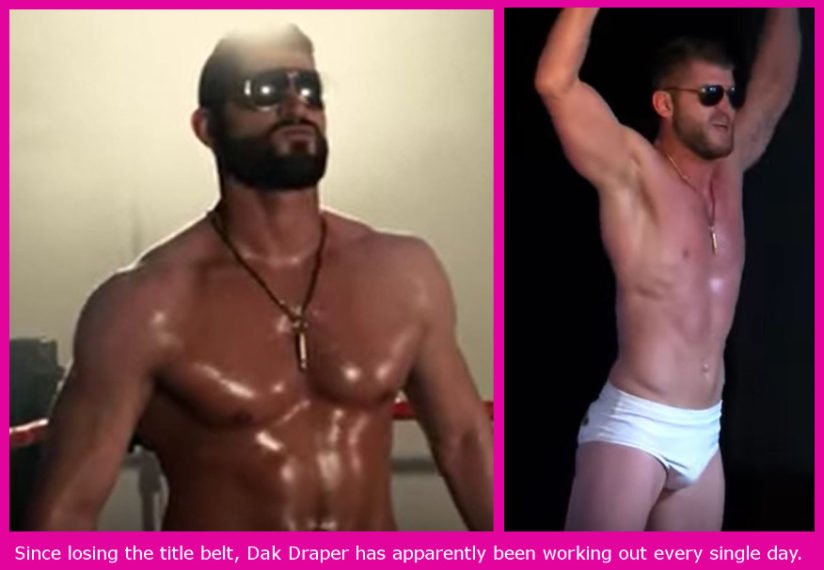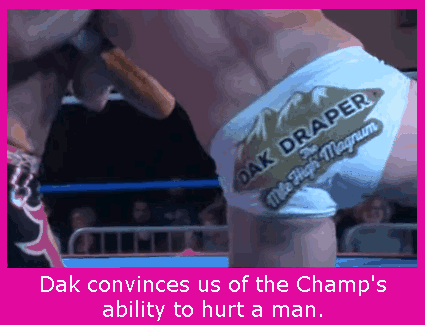 Dak was formerly the Head Hottie In Charge at the NWL, but the Monarch cheated to steal the belt and usurp the throne.
Now that Dak is fighting to regain his former glory, he has become a beloved Fan Favorite.  They actually cheer for him now, and no longer tease him for wearing "Whitie Tighties."
---
The Monarch takes ownership of Draper's left leg, mangling and manipulating it to demonstrate his power over the former Champ.  This Jeremy Wyatt has some mad skills — his arsenal of classic torture moves will really bone you up if you get off on good wrestling.
For example, Wyatt focuses on one body part as any old-school Heel should — in this case, Draper's left leg.  He ties Draper's leg in a knot around his own thigh, and sits down to pour on the pressure.  Fuckin Beautiful Sharp-Shooter!
---
Dak's legs are tied in a knot again, this time around the ringpost!  Wyatt had hooked Dak's left ankle behind his right knee, and locked his right foot behind the post.  I bow down to the Monarch for doing this!
What a humiliation for the former champ, tied up and helpless, his own legs being used to bind him!  HOT!
---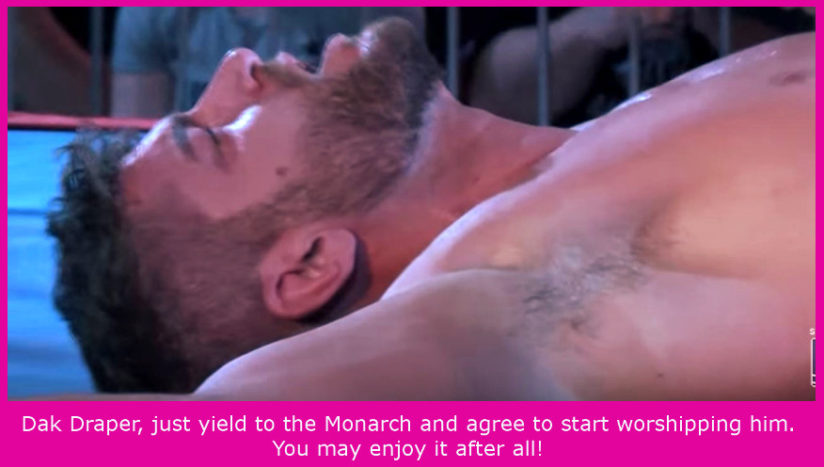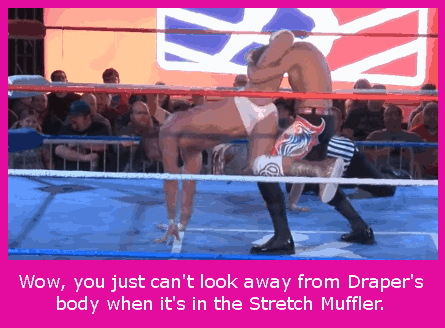 OH YEAH!   I thought the Leg Knot around the ringpost was my favorite scene, but then Wyatt applies his devastating Standing Stretch Muffler and I'm blown away.
Just look at Draper's buff physique as he reaches desperately for the ropes, his lean torso leaving little gaps around his waistband that you can almost peer into.  What a body!   And the sadistic Monarch just continues to pour on the pressure, deSTROYing that leg wrapped around the back of his neck like his pink feather boa.
---
A slick Flyin' Elbow off the top rope further ruins Dak Draper, who just lies there helpless like a throw pillow, granting full permission to the other Alpha Male to crush him.
Now that Draper is a Baby-Face, he's adopted this submissive attitude, at least toward the Monarch, that is kind of turning me on.
---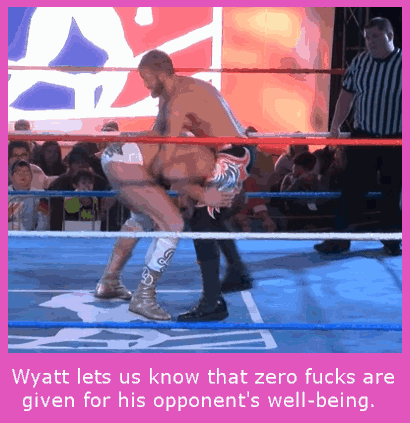 The commentators had teased Wyatt's deadly Pile-Driver earlier, saying something like: "If the Champ hits that Pile-Driver of his, it's all over for Dak Draper."
This foreshadowing of doom makes the delivery of the killer move seem even more dramatic and devastating.  Poor Dak Draper is just no match for this Monarch and his endless supply of well-executed killer moves.
---
I've watched enough pro wrestling to know that the Heel usually cheats to win against a fan favorite like Draper, so the hero won't lose any of his masculine power and sex appeal by losing like a chump.
But in this case, they gave Wyatt a clean win.  He just overwhelms Draper with his superior skill and pins him.
I'm not sure why they're downgrading their prettiest and most beloved Baby-Face, emasculating him like this.  It is a slap in the face to a top Baby-Face to lose cleanly, and makes Draper look weak and vulnerable in our eyes.  Why kill the goose that is laying golden eggs??
The only reason that occurs to me is that maybe the promoters realize this degradation of the best-looking stud in the federation is a sick turn-on for wrestling lovers like me.  So maybe they're torturing Draper for my viewing pleasure.  It worked.