As you may know, I dig Tag Team wrestling — and I especially love when the Wrestle-Porn companies take the extra trouble to set up a Tag Team bout for us.  I try to support and encourage Underground Tag Team Wrestling on this blog so they hopefully will sell many copies and continue giving us plenty more hot 2-on-2 action.
So when I saw that the amazing Muscleboy Wrestling website had produced their first Tag Team bout recently, you know I had to download it immediately to check it out and blog about it here.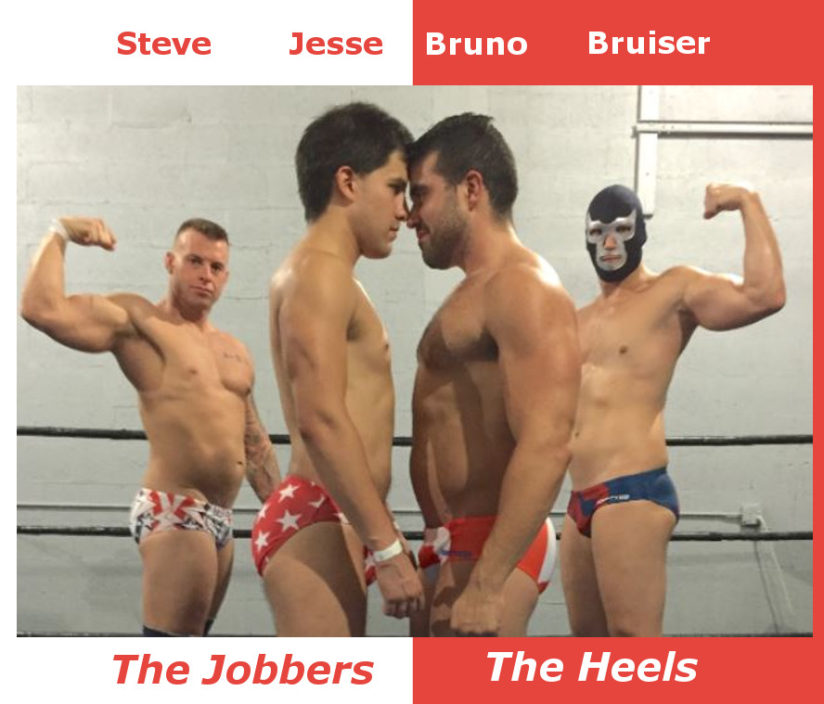 The lean and cute guy in the red trunks decked out in white stars is Jesse Zane.  He is the designated Jobber in the Muscleboy federation.  Everybody gets to beat him up, and just like a Randy Barber or a Randy Mulkey, he seems perfectly fine with that and always comes back for more.  I wonder if his buff partner, Steve Tanner (the buzz-cut Marine flexing in the background, above) was disappointed to learn that they had partnered him up with the most winless jobber they have.
The dominating Heels, who cheat their asses off in their corner of the ring, are Bruno the Beast and the Masked Bruiser.  I'll leave you to sort out which one is which.
Fortunately, these big beefy lugs understand Tag Team wrestling and their role as the Heels.  When they get Jesse isolated in their corner, they punish the fuck out of him.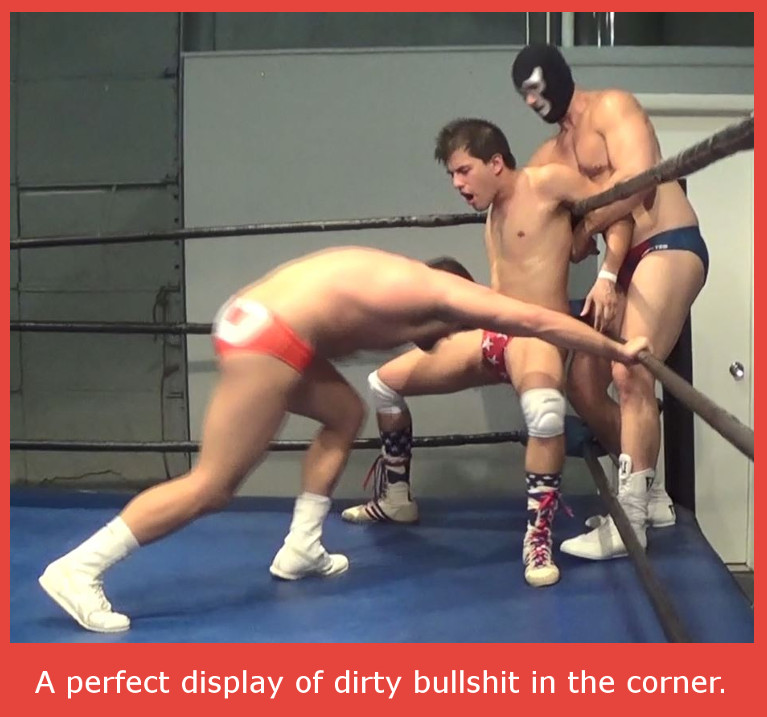 Some Underground feds don't seem to get the psychology of Tag Team rasslin', but the well trained Muscleboys are fully 100% in the know. They perform all the cheating, trash talking, domination, and sweet moves that hit that special part of my brain and make me shiver.
---
Jesse's partner — Steve Tanner — may be too buff and tough looking to pass for a pretty-boy jobber so they kept him barefoot, which adds that aura of exposure and vulnerability we love to see in a jobber.
When he tags in, he doesn't fare any better against these rough, vicious Heels than his boy Jesse had done…
---
Here is a nice homo-erotic hold where it looks like Bruno is about to kiss Steve.  Some Muscleboy matches can get really sexual and explicit, but not this match.
To me, they don't really need to fuck every time.  A well-performed pro-style match with hunky bodies like these are a mind-fuck enough for this wrestling fan.
---
Was every move perfectly executed and convincing?  No, don't expect a WWE level of intensity and perfection.  But is the action brutal and erotic enough to get the viewer off?  Ayup.  I can tick that box a few times already.
This really is an excellent first effort at the Tag Team style — Muscleboy Wrestling continues to impress and excite me.  Somebody at MBW is a pro wrestling lover and does a great job teaching these eager-to-please porn stars how to do it just right.  My only little beef is that the partners did not wear exactly matching gear, which I would've loved even more.
---
We get treated to a few Mirror Image moves, where both Heels lock on the same hold (or very similar) at the same time.   These At-The-Same-Time moments are always a big turn-on in Tag Team matches — thanks, whoever directed and choreographed this scene.  I love it!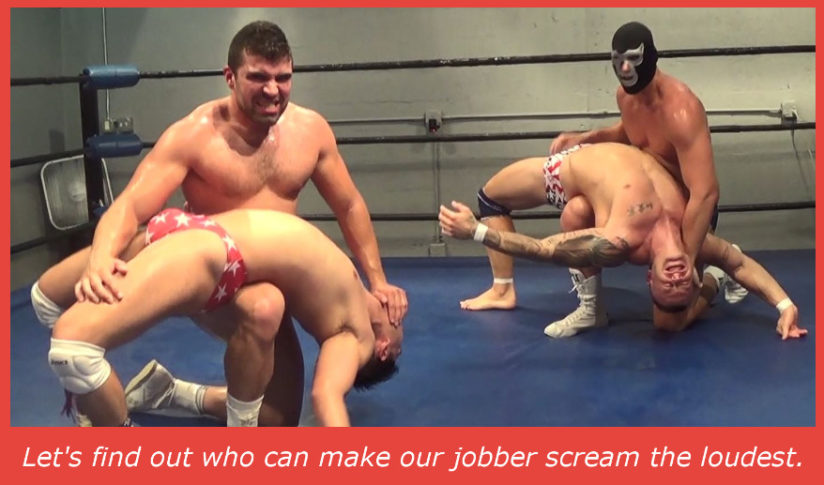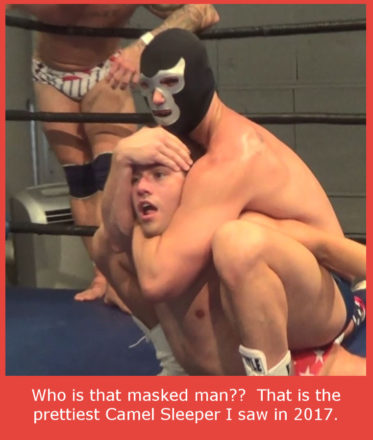 There are many other great moments and titillating displays in this action-packed 24-minute squash.  I actually had a hard time deciding the best sample of screen-caps and animations to post here.  After all, I don't want to give away all the surprises or you won't need to go buy the video.  And I really want you to go buy the video to show our love for Tag Team wrestling.
So let me wrap up with a note of praise for this Masked Bruiser.  He is really talented and well-trained at pro wrestling.  He slaps on a bunch of complex moves that show off his mad skills.
The danger of pairing a masked man with a hunky, masculine partner like Bruno is that the masked man can fade into the background, becoming a silent partner that we forget to gawk at.  But the Masked Bruiser gets our attention with his awesome pro wrestling abilities, surprising me again and again with his obvious talent and expertise in the ring.  I wonder who is under that mask — does anybody know?
For example, he slaps on this really hot Torture Rack that gets me every time.  The Bruiser just looks so fucking strong and dominant in his kinky mask, bending Jesse across his shoulders like a plaything.  Then he takes these jolting steps, bouncing and stomping to jar his victim's spine.
He parades around the ring, stomping and jolting every few steps, showing off his prey, giving both his own partner and Jesse's partner a good look at what he can do to hurt a man.  One hand on Jesse's chin, the other on his cock, it is made very clear that the Masked Bruiser owns this pretty-boy.  This is a level of mastery that can't be learned in an afternoon of training.  Probably you need to watch the whole video to get what I'm saying, but we see really A+ level wrestling from this mystery man.
Then here is Bruno putting his toy Jesse to sleep with those thicc legs.  He says "Wait for it…" then grinds on the pressure to finish the jobber.  Somebody at MBW clearly understands how sexy a Scissor can be…