I found a Tumblr site called Dirty WWE Imagines that I am digging.  Basically the readers send in their kinky sexual fantasies or naughty fetishes involving WWE wrestlers and the webmaster posts the submission under the word "Imagine" along with a GIF image featuring that wrestler.  Definitely Not Suitable For Work.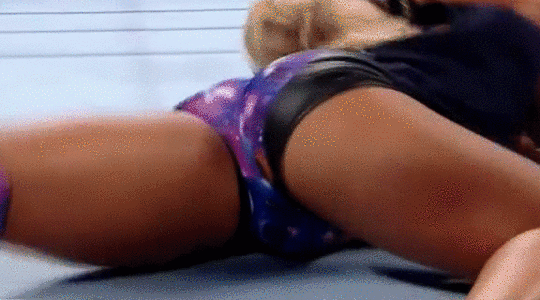 Fair warning — not all the Imagines are homo-erotic.  In fact, the majority are hetero in nature, posted by breeders lusting for their favorite Divas or by horny chicks who want to be owned, spanked, cuddled, or punished by the male wrestlers.  But the site accepts gay Imagines as well, so I've picked out some of the most blatantly queer postings to share here:
That old-school singlet on Pete Dunne is fantastic — nice and tight.  It makes him look like a sleazy 1970's Heel.  Then the bad boy makes a Jerk-Off gesture with his hand, right over his defeated victim's face!  Imagine pulling that cocky punk's hair and teaching him humility by making him blow you!  (I guess I should send my Imagines to the Tumblr site rather than just posting them here…)
These private fantasies posted by other wrestling fans can be a turn-on, especially when it's about a wrestler that you, too, have thought about dominating (or being dominated by.)  You do want to "imagine" what they're describing, and then you find yourself all turned on, knowing someone else out there is into the same fantasy.  I guess that's why this Blog has stayed so popular over the years…
They post 5 Imagines per day on the Dirty WWE Imagines site, but according to the comments, they receive far more and actually have a backlog waiting to be posted.  This is nice to know.  It shows being turned on by pro wrestling is not that strange or uncommon.  It shows we are not the only viewers masturbating over these hunky wrestlers, lusting for them and fantasizing about them.  Apparently there are lots of wrestling fans who tune in and watch the show for other reasons than the story-lines and flashy athletic moves.  (And some of you perverts out there have great imaginations!)  Whoever created the Tumblr site knows it too and is willing to expose this dirty little secret by sharing all our naughty thoughts and kinky desires.