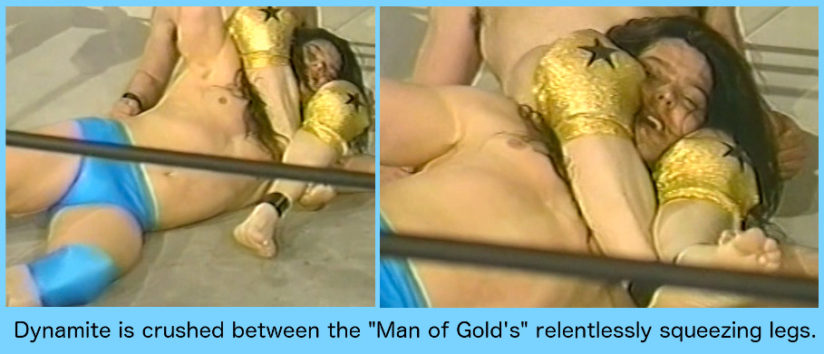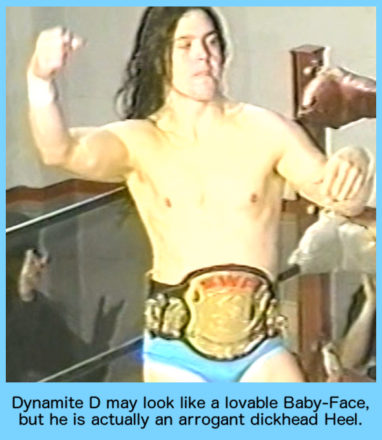 After posting my 10/16/17 article about the old Slammers Wrestling Federation that I had ordered video tapes from in the 1990's, I was pleased to receive comments from a few loyal readers who remembered the SWF — which I referred to the "original underground wrestling fed."
So here is another match from my Slammers video tape archive featuring this long-haired lad named Dynamite D.  Don't let his pretty looks fool you — he was actually the nastiest cheater in the SWF.
---
Dynamite's opponent is a masked hero named "Hombre del Oro" — Man of Gold — who always wore a sparkling golden mask and skimpy trunks made of the same eye-catching fabric.
The masked man always wrestles barefoot which, I know, floats some of your boats out there (and I dare say the SWF promoters knew it too.)
---
We can see that the heroic masked man is the more skilled grappler, catching his lean opponent in a Body-Scissor early in the match, his bare feet locked tightly together.  What wrestle-porn video would be complete without some Scissor action?
We are blessed with some close-ups, lingering on the victim's agony as the masked man fucks with his head.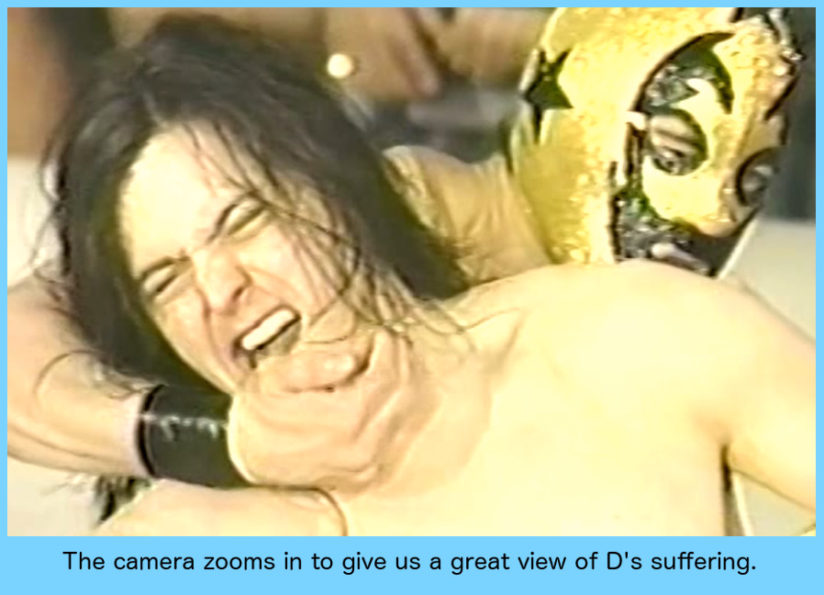 This is a nice long match, over 20 minutes.  It's filled with lots of old-school pro moves, especially from the classically trained Hombre del Oro.  Here he utilizes that old Butt Bouncer that was common back in the 50's.
Dynamite D plays the cowardly prick, prolonging the match by running out of the ring repeatedly to steal a rest break.
---
I decided to write about this match after receiving this request from a fellow SWF fan:
These tapes were very hot. Hombre del Oro was a masked barefoot wrestler, really well built and he won most of the time…. Matches with Dynamite D were also nice, he wore tight blue speedos and white boots.
---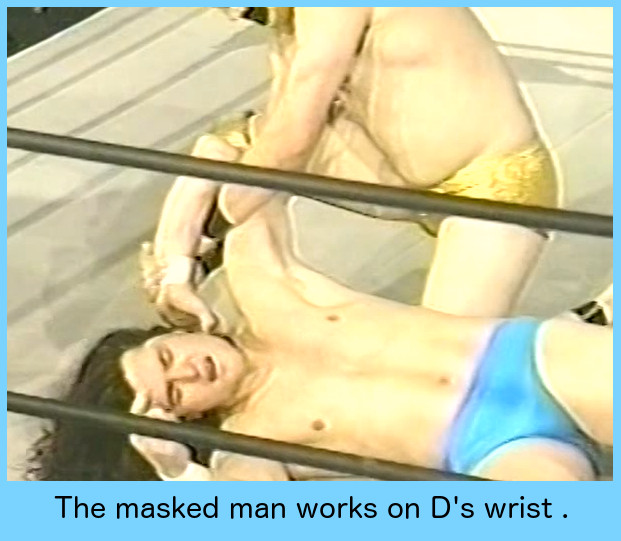 Like most Slammers matches, the guys are lean, young, and scantily dressed.  Oro's golden mask adds a hot classic wrestling vibe.  If I have one complaint, it's just that Oro does not sell enough –does not suffer for long enough as the barefoot Baby-Face.  This may be because of his superior skill level, impatient to sell Dynamite's clumsy attacks when his own are much showier and more beautiful.
---
This is the gallery I was working on when my computer died in November.  Before I had uploaded the video to YouTube but after I tossed the source DVD.  So the video footage is now lost and can't be uploaded to YouTube.  At least I had uploaded these animations and screen captures so you can see how entertaining and sexy these Slammers were, especially for 1990's live studio wrestling.
---