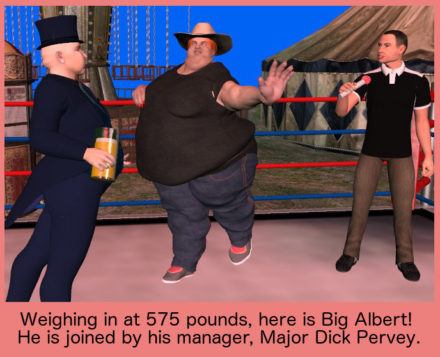 One of my loyal readers who also happens to be a talented artist recently sent me some of his fantastic artwork — a series of images depicting a pro wrestling match.
The first opponent, whom my reader calls "Big Albert," is the huge, gut-sagging chub in the black t-shirt and jeans.
The swole He-Man in the skimpy flag pouch is named "American Muscle" Jeff Terry.  In case you can't guess, the artist is really turned on by Fat vs. Muscle scenes.  Here is how he described his kink in e-mails to me:
"I really like to watch wrestling and I especially like to watch a muscleman fight a fat opponent.  Can you do an article on this subject?  The fat guy tends to win…"
The ultimate humiliation is a fat woman destroying a bodybuilder lol.  But any fat person beating a bodybuilder is humiliating!"
---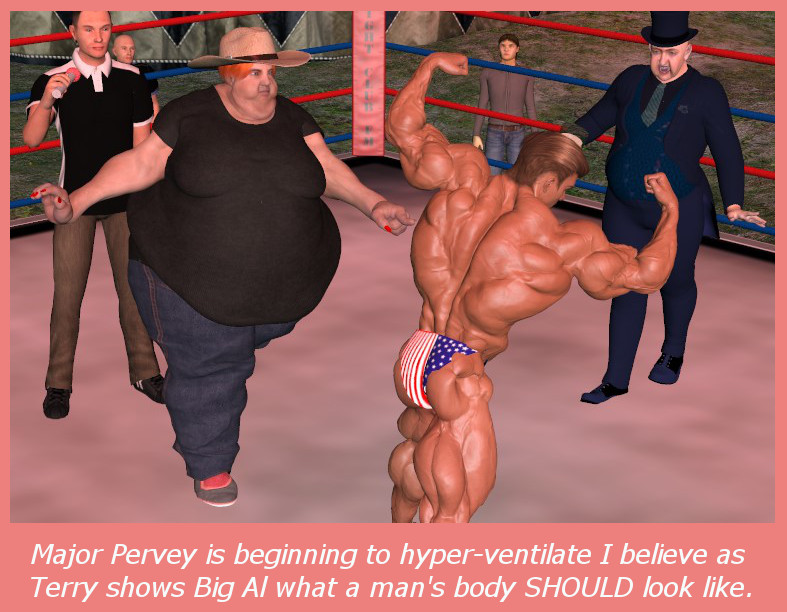 One important aspect of the story, which the artist was careful to mention, is the over-confidence of the spectacular male.  He does not see the obese opponent as a threat, certain he'd never lose to the fat fuck.
"Jeff is the super strong alpha male who feels disgust at the shape of his opponent.  Jeff doesn't think Albert stands a chance and neither does Albert once he sees Jeff's muscled superbody."
---
This cockiness is key to the eroticism of the story.  (Spoiler alert!)   Just like many pro wrestling matches in real life, the more attractive wrestler is presented at the beginning as an effective, powerful, and masculine Real Man.
Later when their fortunes reverse, the confidence will deflate, the strong man will be depicted as weak, the unattractive beast whom society (and the swole opponent) views with disdain will become empowered and dominant over the idealized male.  Something about the inappropriateness and unfairness of this power exchange is arousing.  At least it is to me.  And to this talented artist.  And to many, many wrestling fans.
I am always impressed when artists create these visually stunning, highly detailed images on computer.  We can see every muscle and sinew on that shredded hardbody.  The light and shadow is spot on.  We can even see the wrinkles, seams, and textures in Big Albert's shirt and pants.  Is it difficult and time-consuming to do this using Poser and other drawing programs, or does this artist possess a rare talent to be able to create these exquisitely detailed images?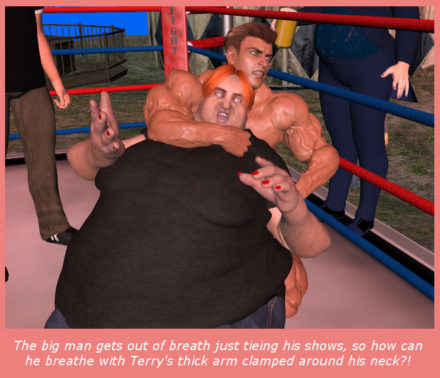 By the way, I added the captions under the artist's drawings, so if you find mis-spellings or just think the text is silly or boring, that is on me — not the original artist.
Well this sets up the scene and concludes today's gallery.  We will pick up the match in a few days and see if Big Albert is a man or a mouse (a really huge, fat mouse.)
To Be Continued…