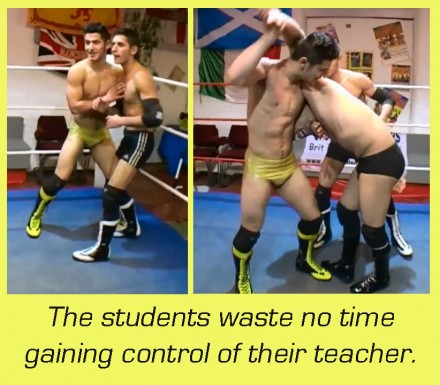 I saw a notice somewhere on social media that "Spotland Scrappers," the underground wrestling video producer in the UK, has opened a new video download store.  It's easier to navigate and more user-friendly than their former site.
So in honor of their new e-store, I decided to check out one of their recent releases.
As you might know, I'm a sucker for unfair Two-Against-One punishment matches, so I couldn't resist ordering Take Two.  According to the description, this video would include, among a couple other matches, a "Mexican Table 2v1 custom match scenario." Sounds intriguing, they had me at "2v1".
This entertaining match features a pair of eager trainees from Spotland Scrappers working together to punish their Team Captain — Young Ady.   Sam Smiler in gold trunks and Ray Junior in dark colored boy-shorts are tired of taking orders from their demanding instructor, so they decide to teach Young Ady a lesson in respect and humility. They proceed to double-team him, bending, twisting, and torturing Ady's body using a series of creative Two-on-One torture holds.  Their coolest torture hold had to be the good old "Mexican Table" maneuver.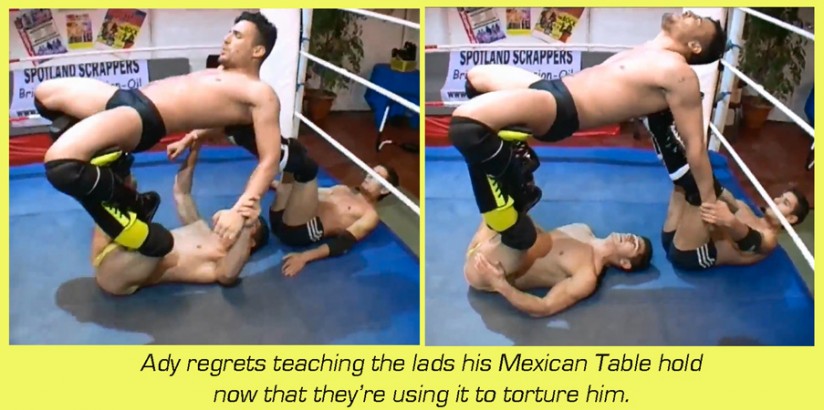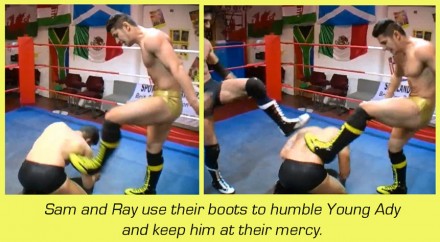 Some of the other Underground video companies could take a lesson on gear selection from these Scrappers.  Their tall shiny boots give off a professional vibe, and seem to be more effective than a bare foot when the stomping begins.
I think Sam Smiler in those spectacular black and yellow boots may be my favorite Spotland Scrapper.  Look what he is doing here with that picture-perfect Headscissor, one foot locked behind the other knee just how I like it.
Ray Junior meanwhile grinds on a tight Figure 4 Leglock, and Young Ady begins to pass out from the torture his trainees are inflicting.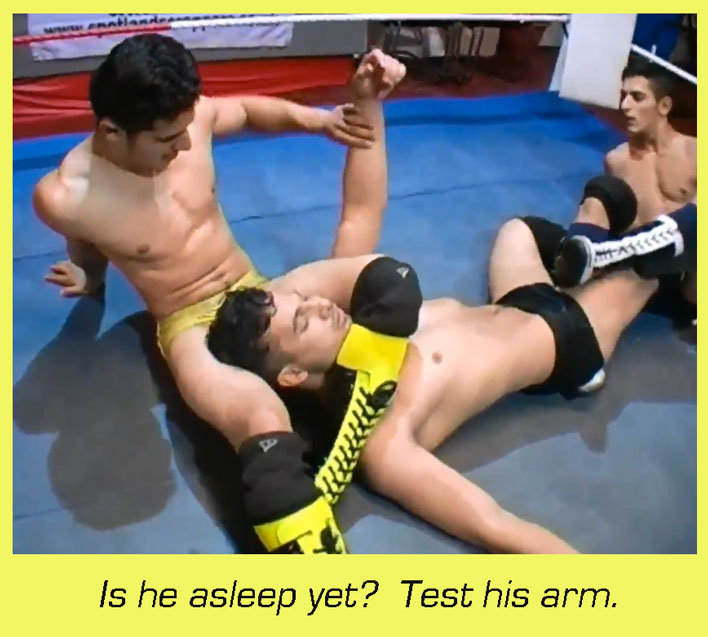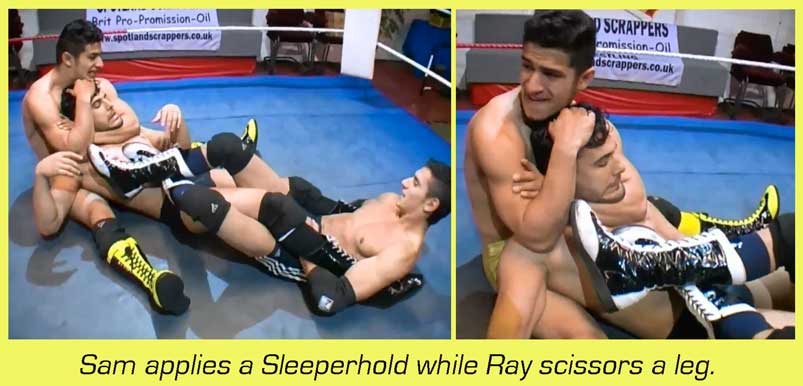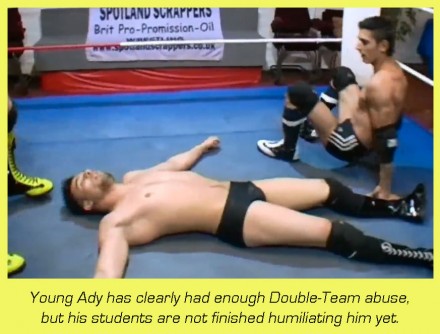 The lads play around with Sleeper Holds on Young Ady, who apparently bit off more than he could chew.  After they bend and break him in every nasty Two-on-One move they can think of, they Sleeper his ass out and leave him sprawled and helpless in the center of the ring in his snug little trunks.
Still not finished teaching him a lesson, Sam puts Ady out cold once again in this gorgeous Laying-in-my-Lap Figure 4 Headscissor while Ray bends and tweaks his legs.  I always figured Young Ady was too proud and selfish to accept the Jobber Bitch role and permit his young sidekicks to dominate him, but in this video, he willingly serves as the Outnumbered Baby-in-Peril.  Jolly good pro wrestling themed production by the scrappy lads across the pond!  I believe this download was well worth every farthing of the 7 Euros or Pounds or whatever I paid for this.