It's that time of year to reflect on where we've been and where we are going next.  This blog began three years ago on 1/1/11.  I had no idea how long it would last or how it would play out.  I just knew I wanted to write about the sport I love and post hot wrestling images, while also explaining "why I like watching pro wrestling."
In total, I wrote 236 articles the first year, 305 in 2012, and this is the 215th article of 2013, for a total of 756 posts — just over 250 per year on average.  I estimate around 10 pictures are included with each post, so there have been over 7,500 images provided on this blog.  (And these statistics only apply to the past 3 years — not counting the 880 galleries from the original Wrestling Arsenal website posted between 2000 and 201o.)
Meanwhile, what has been the level of popularity of this Blog measured by the website traffic over the past three years?  Below is a monthly breakdown:

So we see a fairly normal curve where traffic grew steadily and peaked around August 2012 (plus one spike in January 2013) and has since fallen off.  Why has growth slowed?  Why are we losing, instead of gaining, visitors (the green dots) and page views (the blue bars) over time?
(To be honest, part of me doesn't really care how many "hits" I'm getting on this website as long as I'm turning out great pro wrestling content and commentary– but another part of me doesn't want to invest my time and energy to entertain an ever-decreasing audience.)
Granted, the number of articles I've written per year decreased in total from 305 in 2012 down to 215 this year, but at the same time, has the quality of the content decreased in order to justify not only stunted growth, but significant drops in visitors?  In my estimation, the images and captions are better than ever lately, and the written descriptions are increasingly more compelling and informative.  I've certainly been putting more time and thought into each article.
So why is traffic decreasing?  And why am I receiving fewer positive comments and e-mails of encouragement each week, and less participation in my Caption Contests?  Maybe the decrease in interest in this blog reflects the shrinking popularity of Blogging as a social medium.  Maybe Blogging in general is now seen as old-fashioned, and boring compared to newer, sexier forums like Instagram, Tumblr, or Twitter.
Certainly Blogging calls upon the visitor to read and think, whereas other types of social media are more simplistic and vacuous.  Reading a Blog is like chewing on a steak, but most people would rather just scarf down some sweets.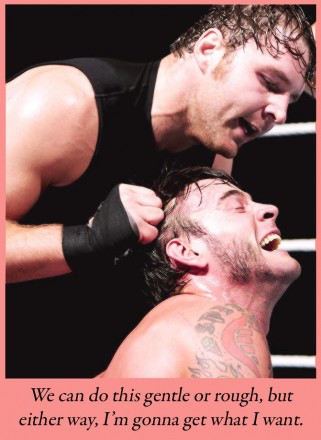 Maybe my writing is getting too long-winded, too hard to digest.  The reason I take the time to analyze the psychology and hidden meanings behind matches is because one purpose of this blog has always been to sort out my feelings for wrestling, to explore in my head why I love it so much.  Now I feel I've accomplished that over the past 756 articles.  No article alone really does the job, but all 756 put together certainly "explain why I like watching pro wrestling."
So these 756 articles are my manifesto — I have little more to say on the subject.  In fact, I find myself revisiting the same topics now, and referring to points I already made years ago.
I've now arrived at a level of understanding on why I love to watch pro wrestling, and continuing to rehash the same subject matter on this Blog isn't really doing anything for me.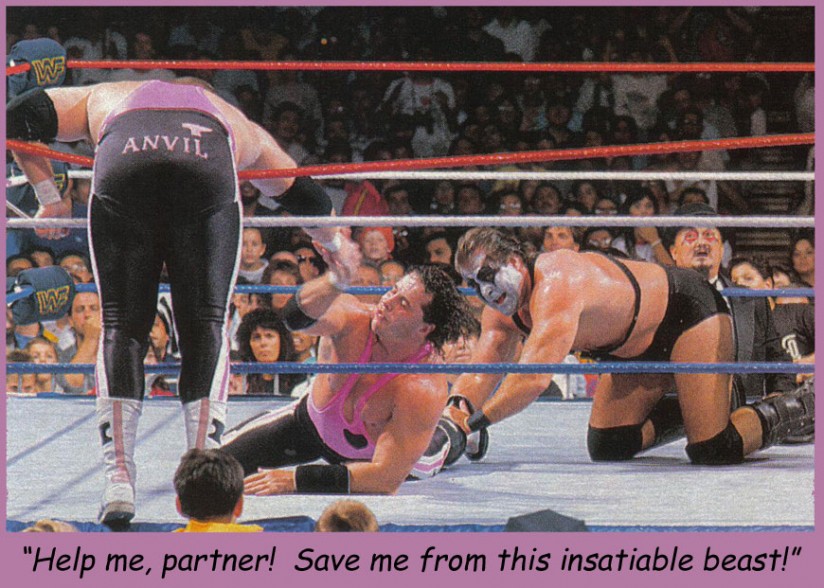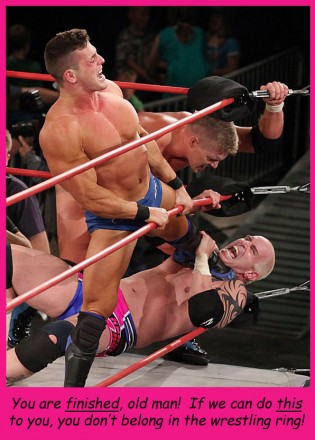 So what is the future of the Wrestling Arsenal blog?  Should I continue to invest time and energy into a sinking ship?  What would my favorite Baby-Face In Peril do when he's on the ropes, tired and suffering?
One option is to Tap Out.  I considered stopping this Blog tomorrow on 1/1/14, exactly three years after it started.  But then I saw a match on YouTube and thought: Hey, that match would make for a great article on the blog! And then I looked on my hard-drive and saw dozens of images where I already wrote a good caption but haven't found the right occasion to post them.  And I thought: Why let these images go to waste after I took the time to create them?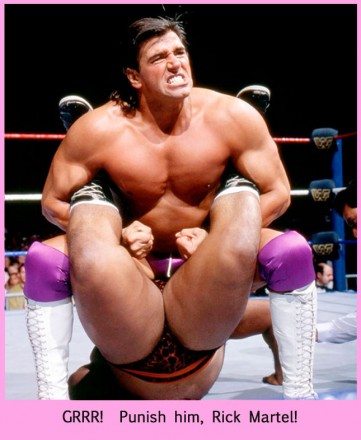 So another option available to a beaten down wrestler is to transform his gimmick — to adopt a new persona or new look, to change his attitude.  So that's what I decided to do with the Wrestling Arsenal blog in 2014 — to transform its energy.
I will write fewer long articles explaining the nuances and psychology of matches — my traffic shows most people don't want to read or think that much anyway.  I will no longer offer the Suffering Sunday series nor any other topic-specific series.  I suspect that you guys are getting bored of the structure and repetition.
The Wrestling Arsenal New Years Resolutions for 2014 are as follows:
Adopt a quicker, simpler approach.
Post more images and less written text.
Each article will be faster and easier to create, so post more frequently: at least 300 posts in 2014.
Forget the structure of specific topics and themes, and just post whatever, whenever.
I will try this new simplified approach in 2014 and see, from the traffic and the comments, if people like it.  If nothing else, it will be easier for me and require less time and thought.
Meanwhile, please continue to support and invest in pro wrestling in your area and across the world. Have a happy and safe New Years and a fantastic 2014!